RIPPED FREAK (60 Hybrid Capsules)
ProteinLab Sports Supplement Supplier / Wholesaler Malaysia presents!
RIPPED FREAK, 60 Hybrid Capsules!
Be safe and rest assure you are getting 100% authentic products at the lowest price when you purchase from ProteinLab Malaysia.
You can also like our Facebook for more promotion news at :
Or you can also follow Instagram for more nutrition tips: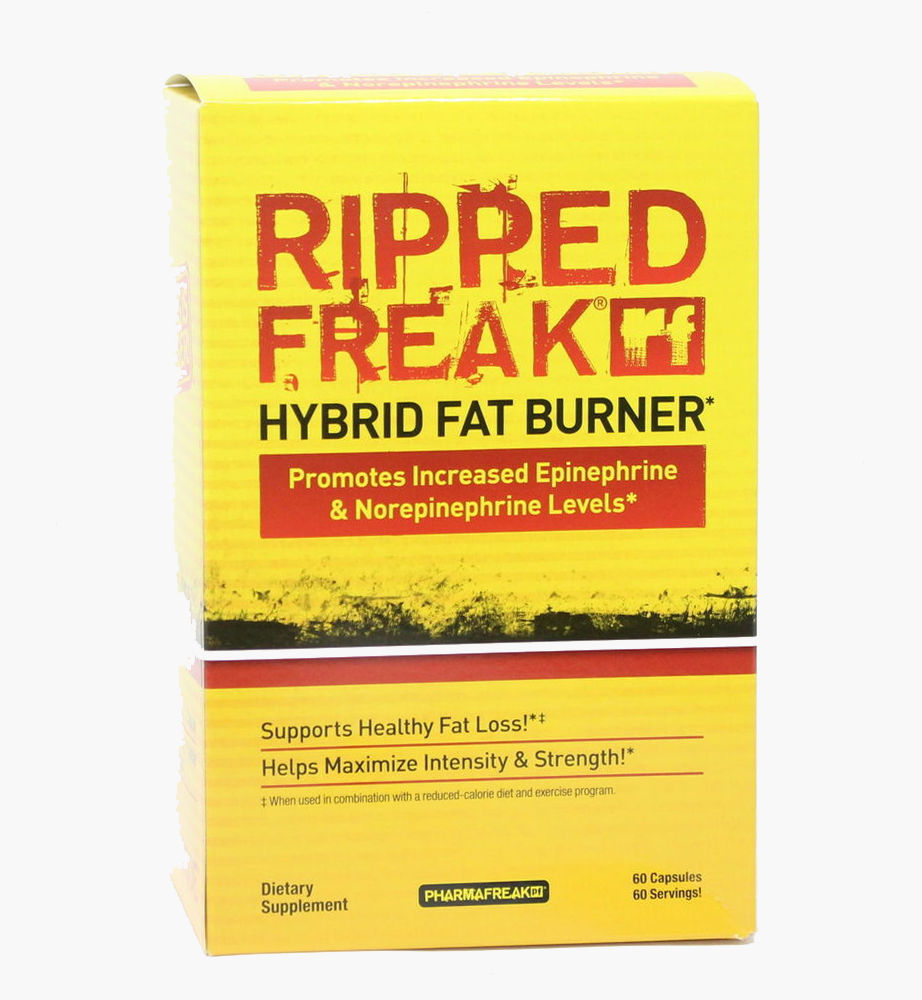 RIPPED FREAK™ - HYBRID FAT BURNER
Help Support Fat Loss*
Maximize Intensity, Energy, & Strength!*
Support Epinephrine & Norepinephrine!*
Delivers Powerful Cutting-Edge Ingredients*
Raspberry Ketone
CH-19 Sweet Red Pepper
Oleuropein Aglycone
Green Coffee Bean Extract
WHAT IS RIPPED FREAK?
RIPPED FREAK® is the world's first and only Hybrid Fat Burner! It's called a Hybrid Fat Burner because it's essentially 3 fat loss supporting formulas in one!* The unique ingredients found in RIPPED FREAK are formulated to promote fat loss through multiple mechanisms of action!*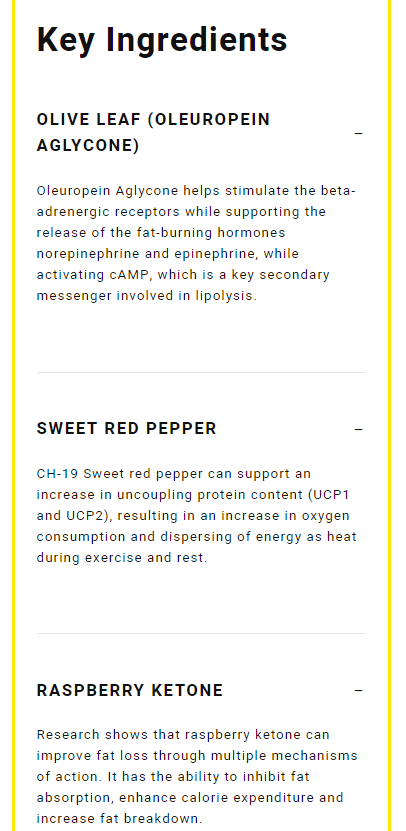 HOW DOES RIPPED FREAK WORK?
RIPPED FREAK's Hybrid formula addresses the 3 major rate-limiting fat loss mechanisms in the body:
Promotes the body's most powerful fat-burning hormones: Norepinephrine and Epinephrine (a.k.a., Noradrenaline and Adrenaline).*
Supports Uncoupling Protein (UCP1 and UCP2) content in the mitochondria – which increases thermogenesis and helps dissipate energy as heat (instead of being stored as fat).*
Increases the activity of Hormone-Sensitive Lipase (HSL) – the most important rate-limiting enzyme in the fat breakdown process.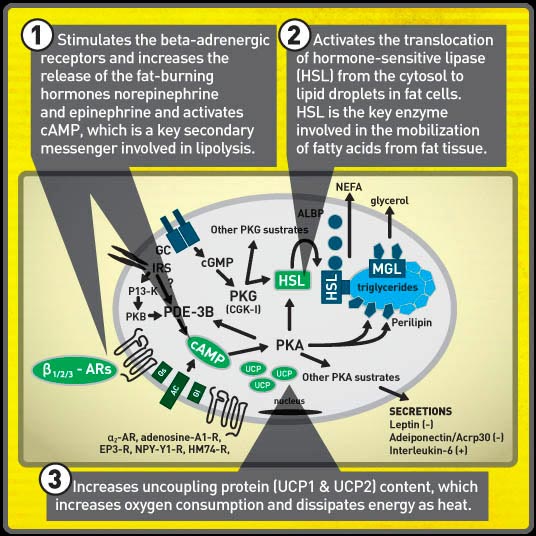 WHAT MAKES RIPPED FREAK UNIQUE?
There are 3 key things that make RIPPED FREAK® different from all other fat burners on the market:
RIPPED FREAK includes some very unique, never-before-seen ingredients in its formula: A unique stimulant extract from Olive leaf called OLEUROPEIN AGLYCONE (OA). A new study recently published in the Journal of Nutritional Sciences & Vitaminology suggests that OA may increase norepinephrine, epinephrine (adrenaline), and uncoupling protein (UCP) levels!*A one-of-a-kind Red Pepper Extract – CH-19 SWEET RED PEPPER (0.75% Capsiate), which is clinically suggested to help increase uncoupling protein (UCP) and energy expenditure during exercise and at rest.*

RIPPED FREAK contains REAL dosages of its active ingredients! Unlike many other fat burners on the market, RIPPED FREAK does NOT include tiny amounts of several ingredients in its formula. Instead, RIPPED FREAK contains a critically selected group of key, fat-loss ingredients, and in HIGH doses, so they can truly provide support for fat loss!*
ONE RIPPED FREAK CAPSULE IS ALL YOU NEED! Unlike many other fat burners on the market that require you to take 2, 3, or even 4 capsules per serving, RIPPED FREAK is so powerful that 1 hybrid capsule is all you need per serving! (The maximum dose per day is 2 capsules! Never exceed this.)
CAN RIPPED FREAK BE STACKED WITH OTHER SUPPLEMENTS?
Yes, RIPPED FREAK® can be stacked with other nutritional supplements. But, do not use RIPPED FREAK with other stimulant or caffeine-containing products at the same time.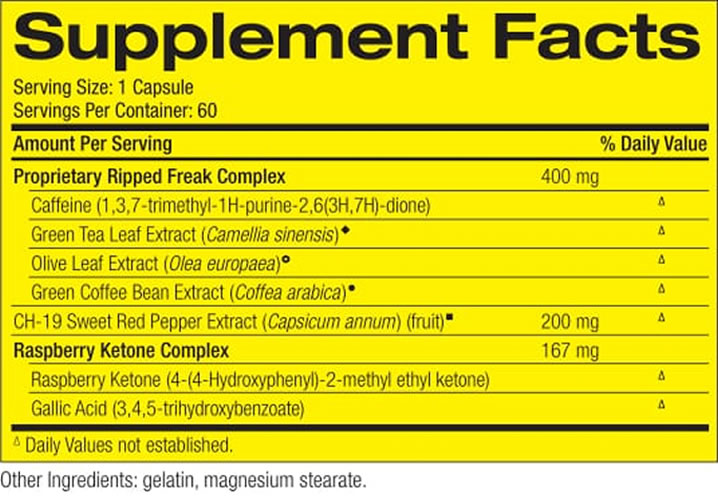 Directions For RIPPED FREAK:
Read the entire label and understand all warnings before us and follow the directions. As a dietary supplement, take 1 capsule of RIPPED FREAK with an 8-ounce glass of water on an empty stomach, first thing in the morning before breakfast. OPTIONAL SECOND SERVING: Take your second serving (1 capsule) early afternoon, while you eat a meal. On workout days, take 1 capsule 30-60 minutes before your workout. Never take more than 2 capsules daily. Drink at least ten 8-ounce glasses of water daily. For maximum results, combine RIPPED FREAK with a healthy diet and a hardcore training program.
CAUTION: RIPPED FREAK is so powerful that 1 capsule is all you need! For maximum absorption and effects take RIPPED FREAK with food in your stomach with at least 8 ounces of water.
Warnings: Keep out of reach of children. Consult a physician before using this product if you have a medical condition, if you require surgery, or if you are taking prescription or over-the-counter medication. DO NOT EXCEED 2 CAPSULES IN A 24-HOUR PERIOD AND DO NOT TAKE WITHIN 6 HOURS BEFORE BEDTIME. Not intended for persons under 18 years of age. Do not use if you are pregnant or nursing. One serving of this product (1 capsule) contains about as much caffeine as three 8-ounce cups of coffee and should not be taken by individuals wishing to eliminate caffeine from their diet. Do not use caffeine-containing medications, foods, and beverages, because too much caffeine may cause nervousness, irritability, sleeplessness, and, occasionally, rapid heartbeat.
* These statements have not been evaluated by the Food and Drug Administration. This product is not intended to diagnose, treat, cure, or prevent any disease.
---