Let's assess some of the main advantages to including whey protein powder in your diet so you can get the full picture of what this supplement is all about.
When most people think of whey protein powder, they instantly think of muscle building. After all, in order to generate more muscle mass in the body, protein is the biggest requirement.
If you fail to get in all the protein you need, you are not going to be successful with the goal of building more muscle mass. While you don't need hundreds of grams of protein a day like some people believe to build muscle, you definitely do need to get in enough.
Something that often gets overlooked however is all the other benefits that whey protein powder has to offer.
Let's assess some of the main advantages to including whey protein powder in your diet so you can get the full picture of what this supplement is all about.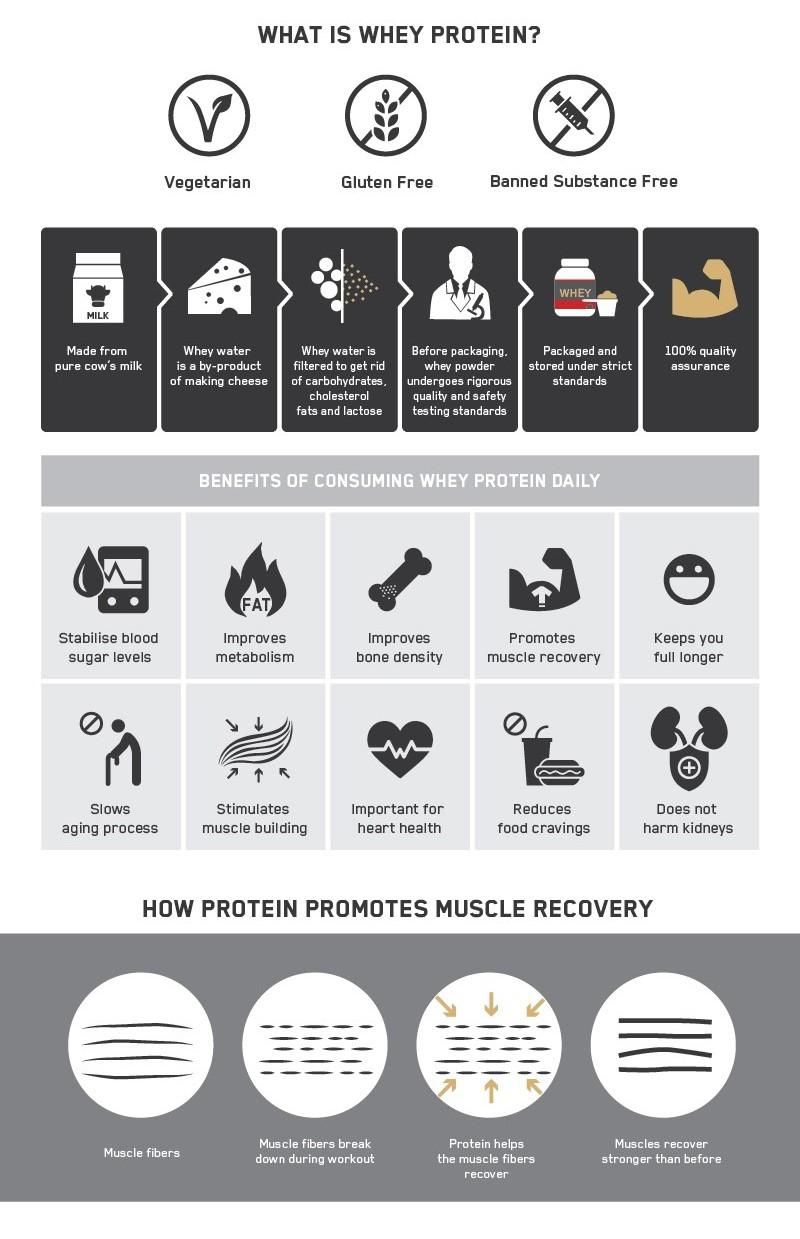 "IF YOU FAIL TO GET IN ALL THE PROTEIN YOU NEED, YOU ARE NOT GOING TO BE SUCCESSFUL WITH THE GOAL OF BUILDING MORE MUSCLE MASS."
THE TYPES OF WHEY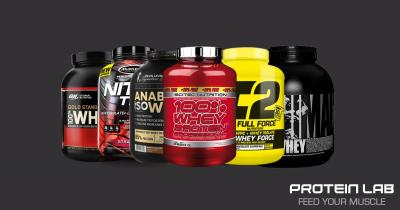 Right off the start it's important to realize that not all forms of whey protein powder are created equally. There are a few different varieties that will differ slightly in make-up, so choosing the right variety for your goals will be important.
The four main variations of whey protein powder include whey protein isolate, whey protein concentrate, hydrolyzed whey protein, and undenatured whey concentrate.
Whey protein isolate contains the greatest protein concentration coming in at 90-95%, while the rest of the whey protein powders range from 25-89% total protein content. Most will be towards the higher end and you can easily evaluate the protein content by looking at the nutritional information on the particular protein you are purchasing.
Whey protein isolate also contains the lowest level of lactose, so anyone who is currently lactose intolerant will definitely benefit from this factor. It tends to be lowest in fat as well, so really one of the best well rounded proteins available.
IMMUNITY
One advantage to including whey protein in your diet regularly is the support for a healthy immune system. Immunoglobulin is an antibody that is found in whey protein powder in concentrations of as much as 10-15%.
SUPPORT FOR HEART HEALTH
One of the key issues in supporting heart health is making sure that saturated fat intake is kept low and blood pressure remains under control.
In one study researchers had a group of 20 healthy adult males consume either a fermented milk supplement with added whey protein concentrate or a placebo for an eight week period.
After the eight week period elapsed they investigated the effects of the supplement on the levels of HDL, triglycerides, and systolic blood pressure and found that the subjects taking the whey protein supplement had higher levels of HDL (good cholesterol) and suppored healthy triglyceride and systolic blood pressure levals already in healthy range.


BETTER WEIGHT CONTROL

Maintaining a healthy body weight and composition is a main priority of most people and by regularly including whey protein powder in the diet, you can help accomplish this.
Studies have demonstrated that calcium is a mineral that helps to influence the energy metabolism and positively promote a better body composition. In one study calcium fortified cereal was compared to calcium fortified cereal plus non-fat milk in terms of increasing weight and fat loss and it was seen that the addition of the milk substantially amplified the weight loss effects that were seen.
One point that should be noted is the researchers did make mention of the fact that while a higher dairy consumption can help support healthy body composition, in those who are already overweight simply adding more dairy to their diet will not have much of an effect; at that point, calorie reduction needs to come into play as well.


CONCLUSION
As you can see, there are a number of benefits to using whey protein powder apart from it being a convenient way to meet your protein requirements. With all the different flavors and varieties available today that cross an entire price spectrum, it is one of the top supplements that you should be adding to your diet for overall health and well-being.