Team ProteinLab Malaysia
Protein Lab was officially registered on 9 June 2015 to deliver high quality sport supplements with an affordable price. Team Protein Lab, having the passion to help and support every individual in achieving their fitness, bodybuilding as well as overall health and sporting goals.
Protein Lab is later renamed as ProteinLab Malaysia on February 2017, still with the same objective in mind - to provide customers with genuine and high quality sport supplements at an affordable price. Here at Team ProteinLab Malaysia, we are passionate about creating a fitter and stronger society with a healthier lifestyle.
Thanks to our customers' constant support, ProteinLab Malaysia has managed to grow and are now supplying to various resellers and retailers in Malaysia, Thailand and Singapore. This is a great step forward for ProteinLab Malaysia to bring only authentic and genuine sport supplements to our consumers. This movement also allows ProteinLab Malaysia to combat counterfeit products which are believed to cause harm to our consumers' health.
Through intense research, ProteinLab Malaysia imports sport supplements which are aimed to support consumer lifestyle, sports, bodybuilding, fitness and overall health for everyone. From a humble beginning of Protein Lab sport supplement sales, we are driven by the result from our clients' improvement. ProteinLab Malaysia's founders and team will always be here to provide sport supplements advice and nutrition consultation whenever you need it. Be rest assured that our Team ProteinLab founders have promised that they will gladly work longer hours or take the extra mile just to bring the best and most affordable supplement to your door step; just to see your muscles being well fed and that you are on track with your fitness goal. You can trust that with us, you are purchasing authentic and sport supplements of high quality from ProteinLab Malaysia. Together let's work together to "#FeedYourMuscles".

Below are the information of the people whom make ProteinLab Malaysia the cheapest and biggest wholesales sport supplement supplier in Malaysia:
Kevinn Khoo Teng Shang
M.Sc. Technopreneurship
Head Of Product & Market Analyst
Although having high expertise in technological field, the desire and passion to be pre-eminent in the field of bodybuilding and nutrition kept him up to date with the latest research, studies and hype on bodybuilding supplements. To top it out, he has been actively competing in
Mr. Penang competition for 3 years whilst representing Gym Rakyat Timur Laut Gym.
With fortitude, willpower and endless determination of product research in these massive market of supplement, his marketing abilities are often used to stimulate and cloud filler supplement as top brands. He will guarantee that every batch of imported Protein Lab supplement consist only of
high quality ingredients at an affordable price.
You can be rest assured he will ensure that all Protein Lab supplements are safe, checked and of top quality.
In addition to this, he will always ensure the imported supplements are from reputable companies and that the ingredients listed are as accurate as they can be; as there are countless companies out there selling supplements where the ingredients on the label doesn't actually match the contents.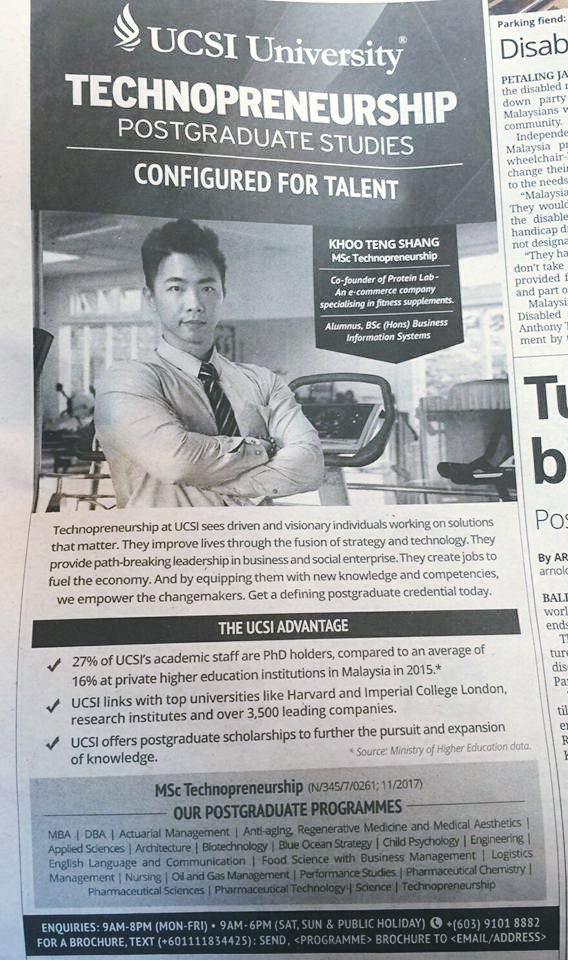 Kelvin Teng
B.A. (Hons) Accounting & Finance
Head Of Inventory & Market Management
Not only does he carry a degree in accounting, he also has experience in event management, sales and recruitment. Having a dedicated, diligent and meticulous work ethic along with the ability to build long lasting client relationships, he ensures that our customers are always his top priority. All Protein Lab inventories are well kept, safe, sheltered and secured under his management.
He believes in providing only the best to our customers, including communicating effectively with clients whenever the need for his consultancy and advice is needed to ensure that the supplements are able to meet his clients' goals. Moreover, he also has the ability to motivate our team to perform to their maximum potential and keep them aligned with company goals. He also excels in organizational and planning skills and is willing to take on new challenges heads on.