Optimum Nutrition (ON) Micronized Creatine Powder (600G)
Optimum Nutrition, Inc. (ON) is part of Glanbia, a leading international cheese and nutritional ingredients group. ON owns and operates two premium sports nutrition brands, Optimum Nutrition and American Body Building (A.B.B.). Together, these brands provide active adults around the world with a comprehensive line of powdered, bar, tablet, capsule, and ready-to-drink products.
Company Owned & Operated Manufacturing
With state-of-the-art production facilities in Aurora, Illinois; Walterboro, South Carolina, and Sunrise, Florida, ON is one of the few sports nutrition companies to manufacture in every product category. From the very beginning in 1986, Optimum Nutrition has always taken a hands-on approach to maintain the very highest standards of quality.

OPTIMUM NUTRITION TRUE STRENGTH
True Strength is a journey. It never rests, it never quits. It's about overcoming obstacles, accomplishing goals, and recognizing achievements. And then it resets to achieve again. As your trusted sports nutrition partner in goal achievement, ON demonstrates that same passion while crafting our products. From the raw materials, we source to our state-of-the-art manufacturing processes, no compromises are made. You set the bar higher after every workout, we set the bar higher to redefine the industry standards and ensure you realize optimum results.
QUALITY
An extensively studied sports nutrition ingredient, creatine monohydrate has been shown to support muscle size and strength gains. ON's creatine powder has been micronized to stay in solution longer than non-micronized powders, and because it's unflavored you can stack one rounded teaspoon into your post-workout protein shake or mix the powder into the flavored beverage of your choice.
CONSISTENCY
Optimum Nutrition has been spotting the efforts of goal-driven individuals since 1986. As one of the few companies to operate state-of-the-art manufacturing facilities that are GMP compliant, ON assures that every shake will mix up effortlessly because of its first-to-market instantiation process. You also expect each shake to taste the same as the last and you're next. That's the kind of consistency ON delivers.
WHAT IS CREATINE?
Creatine is a molecule that is produced in the body from amino acids. It's primarily made in the liver and (to a lesser extent) in the kidneys and pancreas. Creatine stores high-energy phosphate groups in the form of phosphocreatine. These phosphate groups are donated to ADP to regenerate it to ATP, the primary energy carrier in the body. This role in energy production is particularly relevant under conditions of high energy demand, such as intense physical or mental activity. Creatine can be found in some animal-based foods and is most prevalent in meat and fish. Athletes commonly take it as a powder or in capsules.
What IS CREATINE'S MAIN BENEFIT?
The primary benefit of creatine is an improvement in strength and power output during resistance exercise.
INGREDIENTS: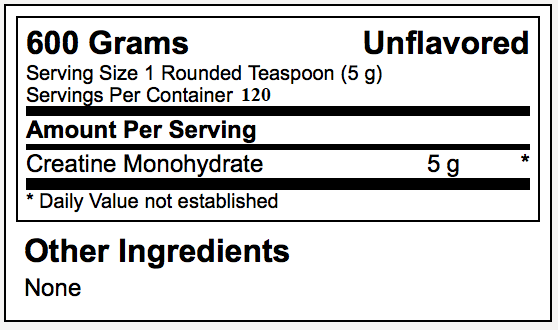 SUGGESTED USE:

Add 1 rounded teaspoon of MicronizedCreatine Powder to a glass filled with 8-12 oz of cold water or fruit juice. Then mix it up with a spoon.
𝐏𝐫𝐨𝐭𝐞𝐢𝐧𝐋𝐚𝐛 𝐬𝐩𝐨𝐫𝐭𝐬 𝐬𝐮𝐩𝐩𝐥𝐞𝐦𝐞𝐧𝐭 𝐬𝐮𝐩𝐩𝐥𝐢𝐞𝐫/𝐰𝐡𝐨𝐥𝐞𝐬𝐚𝐥𝐞𝐫 𝐌𝐚𝐥𝐚𝐲𝐬𝐢𝐚 𝐩𝐫𝐞𝐬𝐞𝐧𝐭𝐬!
Optimum Nutrition (ON) Micronized Creatine Powder (600G)!!
Be safe and rest assured you are getting 100% authentic products at the lowest price when you purchase from ProteinLab Malaysia.
You can also like our Facebook for more promotion news at :
Or you can also follow Instagram for more nutrition tips:
---