Optimum Nutrition (ON) Gold Standard Whey Protein (10LBS)
ProteinLab sports supplement supplier/wholesaler Malaysia presents!
Optimum Nutrition (ON) Gold Standard Whey Protein (10LBS)!!
Be safe and rest assured you are getting 100% authentic products at the lowest price when you purchase from ProteinLab Malaysia.
You can also like our Facebook for more promotion news at :
ProteinLabMalaysia
Or you can also follow Instagram for more nutrition tips:
Kevinn Khoo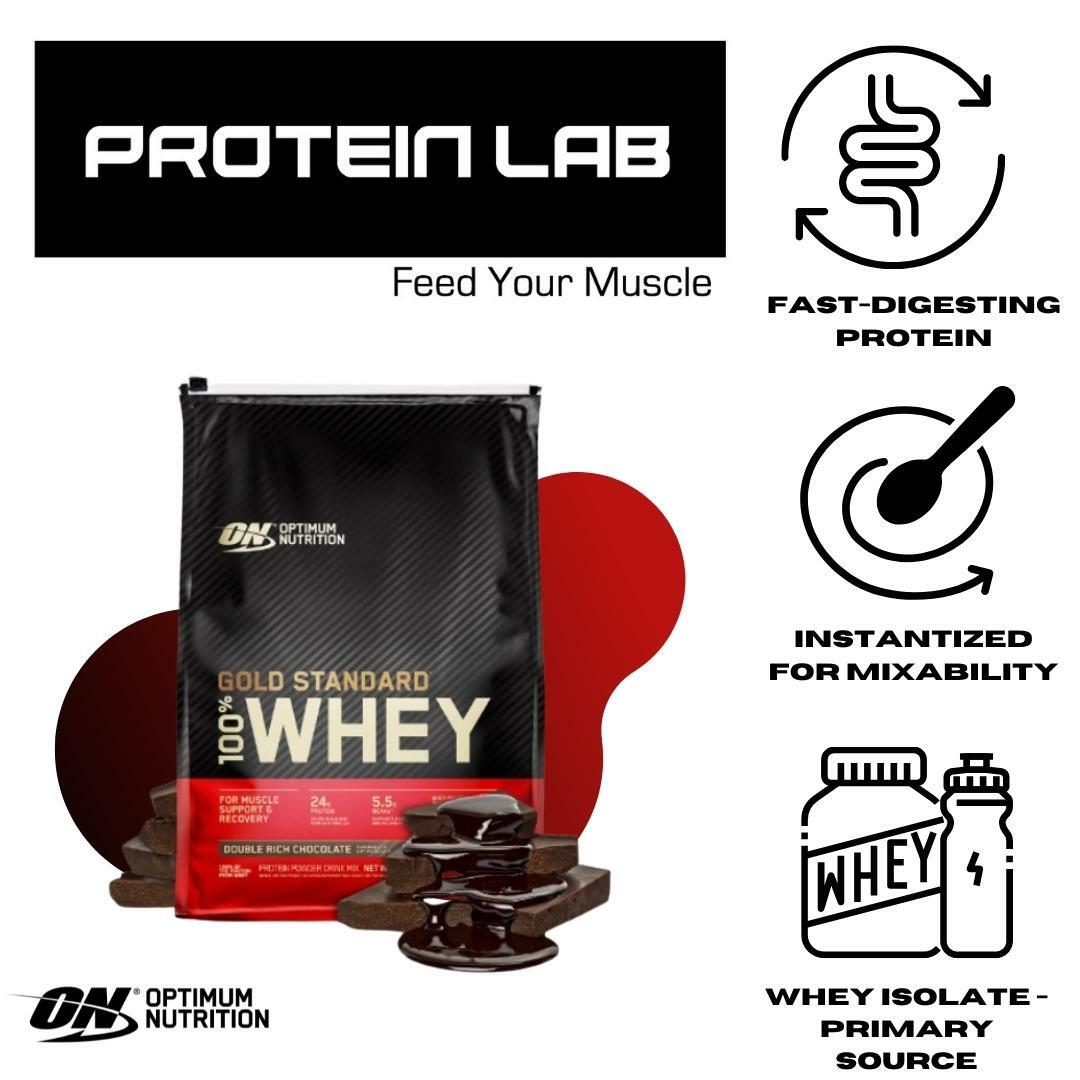 Whey Protein Isolates (WPI) are the purest form of whey protein that currently exists. WPIs are costly to use, but rate among the best proteins that money can buy. That's why they're the first ingredient you read on the Gold Standard 100% Whey label. By using WPI as the primary ingredient along with premium ultra-filtered whey protein concentrate (WPC), we're able to pack 24 grams of protein into every serving to support your muscle-building needs after training. ON's attention to detail also extends to mixability. This superior quality powder has been instantized to mix easily using a shaker cup or just a glass and spoon. There's no doubt that this is the standard by which all other whey proteins are measured.
Optimum nutrition's gold standard of 100% whey uses pure whey protein isolates as the primary ingredient. Combined with ultra-filtered whey protein concentrate, each serving provides 24 grams of all-whey protein and 5.5 Grams of naturally occurring branched-chain amino acids (BCAAs) which are prized by athletes for their muscle building qualities. With more than 20 tempting flavors to choose from, on's gold standard 100% whey gives you plenty of ways to keep workout recovery interesting.


PRODUCT FEATURES :
100% ORIGINAL PRODUCT

Brand: Optimum Nutrition
Category Type: Protein
Flavor: Chocolate
Form Factor: Powder
Servings: 149
Product Weight: 10 lbs.
Servings Scoop: 1 Scoop
Packed with whey protein isolates
For maintaining and increasing lean muscle mass
Instantized to mix easily with a spoon
Each serving provides over 5 grams of BCAAs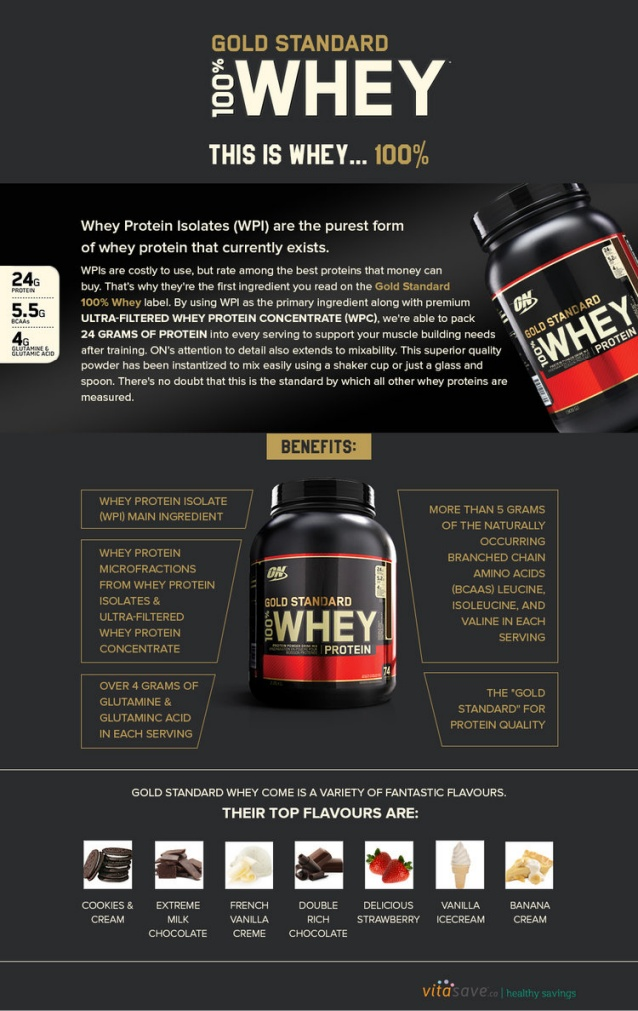 Suggested Use: To encourage a positive nitrogen balance, consume approximately 1 gram of protein per pound of body weight per day from a combination of high protein foods and supplements. For even better results, consume your daily protein allotment over 4-6 small meals spread evenly throughout the day.
Example: 180lb x 1g protein/lb body weight=180g day
180g ÷ 6 small meals = 30 g protein/meal
Each serving of ON 100% Whey Gold Standard™ provides 24 grams of protein.
Spoon Stirred: Gold Standard 100% Whey is Instantized. That means if you forgot your shaker cup or don't have time to get out of the blender, you can just add one rounded scoop of Gold Standard 100% Whey to a glass with 6-8 oz. of water or your favorite beverage. Then mix it up with a spoon. Stir for about 30 seconds or until the powder is completely dissolved.
Tip: Adjust the taste of your Gold Standard 100% Whey by varying the amount of liquid that you use to prepare it. For a bolder flavor with slightly more body and sweetness, mix each scoop with 4-6 oz of water, milk, or your favorite beverage. For a milder tasting, less sweet shake, use 8-10 oz of liquid per scoop.
Shaker Cup: Bringing a shaker cup with you to the gym is the best way to get a dose of protein immediately after your workout. Just pour in 6-8 ounces of your preferred beverage and then add one rounded scoop of Gold Standard 100% Whey to your shaker cup. Cover and shake for 25-30 seconds.
Blender: Add one rounded scoop of Gold Standard 100% Whey to a blender filled with 6-8 oz of water or your favorite beverage. Blend for 20-30 seconds. Then add 1 or 2 ice cubes and blend for an additional 30 seconds.
Shake Up Your Shake: By adding fresh or frozen fruits, peanut butter, flaxseed oil, coconut, or other ingredients, you can make an even more delicious shake.
Stack Your Shake: You can make Gold Standard 100% Whey an even better post-workout product by adding supplements like creatine, glutamine, BCAA, and concentrated carbohydrate powders.
Think Outside the Glass: Gold Standard 100% Whey can be used for more than just protein shakes. Try mixing a scoop into oatmeal, yogurt, or the milk that you pour over your morning breakfast cereal. Better yet, increase the protein content of muffins, cookies, brownies, etc. by adding a scoop or two to your baked goods recipes.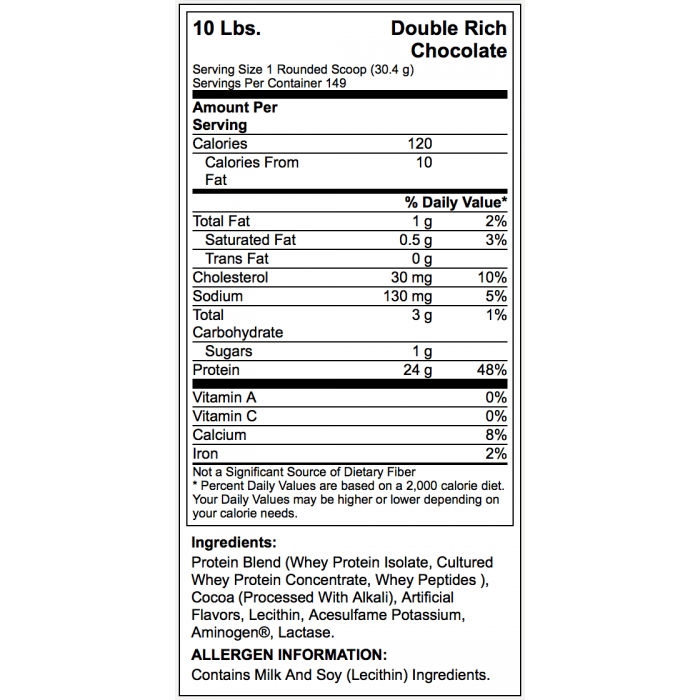 At ON we are proud to know that we are one of the few sports nutrition companies that own and operate their own production facilities. While it's true that ON is one of the world's largest producers of sports nutrition products, we remain focused on being recognized as the best. In fact, our requirements for raw materials are so strenuous that it's not unusual for ON Quality Assurance Technicians to reject entire truckloads of raw materials that do not meet our high standards. We like to think that we take as much pride & care in crafting our award-winning supplements as our consumers do with crafting their physiques and fitness accomplishments.
Other Ingredients: Protein Blend (Whey Protein Isolate, Whey Protein Concentrate, Whey Peptides), Lecithin, Acesulfame Potassium, Artificial Flavor
Storage Instructions: Store in a cool dry place.
Warning: KEEP OUT OF REACH OF CHILDREN.
Notice: Use this product as a food supplement only. Do not use it for weight reduction.
Manufactured in the USA in our NSF GMP Registered facility.
Aminogen is a registered trademark of Triarco Industries, Inc.
Naturally Occurring Amino Acid Profile
Essential Amino Acids (EAAs)
Tryptophan
Valine*
Threonine
Isoleucine*
Leucine*
Lysine
Phenylalanine
Methionine
11 G Typical amount per serving
Conditionally Essential Amino Acids (CAAs)
Arginine
Cystine
Tyrosine
Histidine
Proline
Glutamine & Glutamic Acid
7.7 G Typical amount per serving
Nonessential Amino Acids (NAAs)
Aspartic Acid
Serine
Glycine
Alanine
5.3 G Typical amount per serving
*Total BCAAs 5.5 grams
NOTICE: FOR USE AS A DIETARY SUPPLEMENT ONLY. DO NOT USE IT FOR WEIGHT REDUCTION.
ALLERGEN INFORMATION: THIS PRODUCT CONTAINS WHEY DERIVED FROM DAIRY AND LECITHIN (TO IMPROVE MIXABILITY) DERIVED FROM SOYBEANS
---