Optimum Nutrition (ON) Amino Energy + Electrolytes 30 Servings
ProteinLab sport supplement supplier / wholesaler malaysia presents!
Optimum Nutrition (ON) Amino Energy + Electrolytes 30 Servings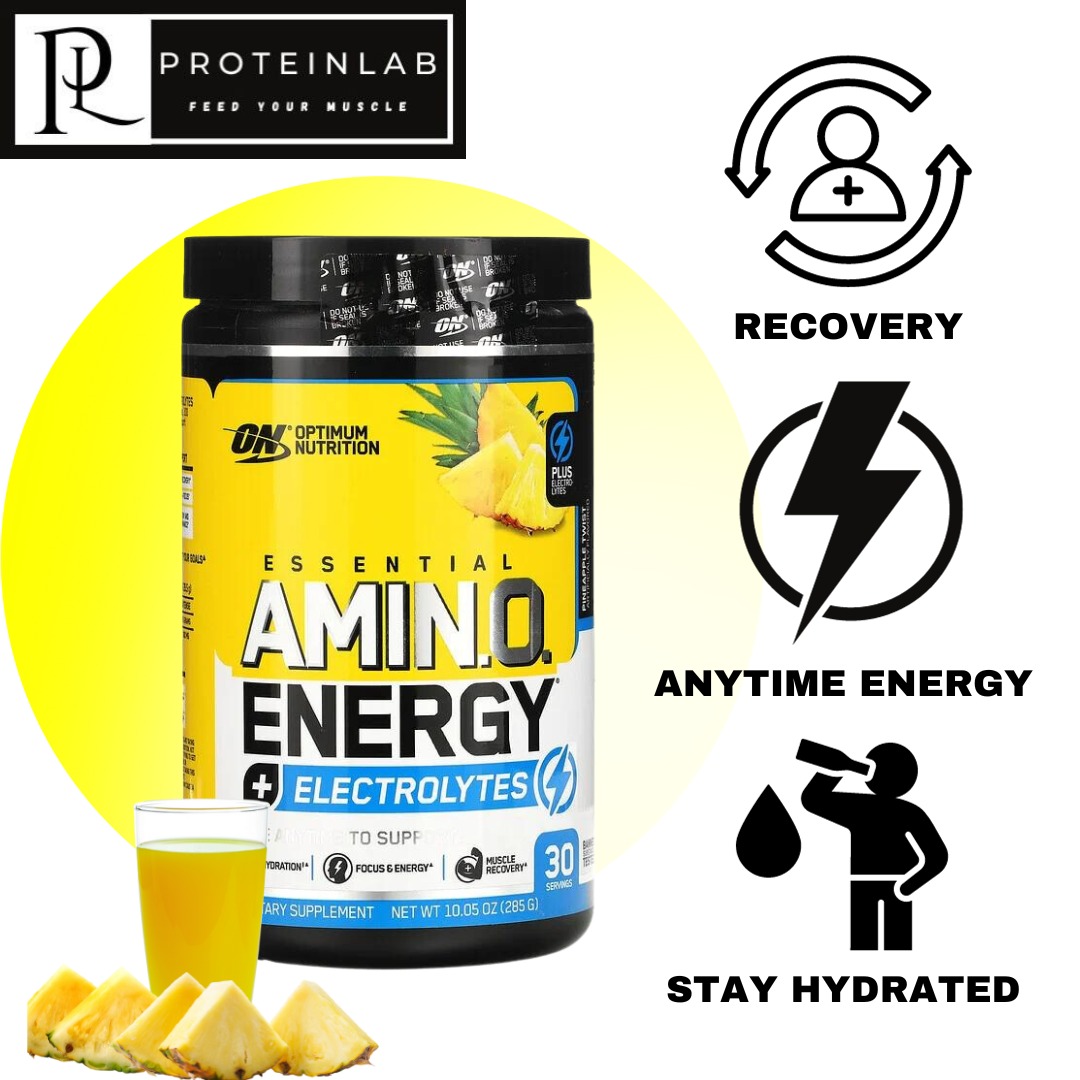 SUPPORTS ENERGY, RECOVERY, PERFORMANCE & ENDURANCE
Mix up ESSENTIAL AMIN.O. ENERGY™ + ELECTROLYTES anytime you want a fruit flavored boost of energy with amino acids for muscle supports and electrolytes to help replace what's lost through sweat. You can determine what's appropriate for any situation, adding a 2-scoop serving to cold water for an afternoon pick-me-up or increasing the performance matrix to 4 or 6-scoops.
Essential Amino Acid Delivery
Muscle Recovery
Energy and Focus
Hydration Support
ELECTROLYTES EXPLAINED

Electrolytes are chemicals that form ions in body fluids. They help make sure specific bodily functions run at optimal levels. Too few electrolytes will cause the body to cramp. As serious athletes know, cramping can make a big difference on race day. So how do we prevent cramping and keep our body running at its peak performance levels? We keep it supplied with the needed amount of electrolytes.

Proper fueling during exercise requires more than replenishing calories and fluids; it involves consistent and adequate electrolyte support as well. Electrolyte needs vary much more than either caloric or hydration needs, so you will have to experiment quite a bit in training until you have this aspect of your fueling tailored to your specific requirements under various conditions.

Electrolytes are analogous to the motor oil in your car—they don't make the engine run, but they're absolutely necessary to keep everything running smoothly. Proper functioning of the digestive, nervous, cardiac, and muscular systems depends on adequate electrolyte levels.

Muscle cramping, though there are many theories as to why it happens, usually involves improper hydration and/or improper electrolyte replenishment. No one wants to cramp, of course, but remember, cramping is a place far down the road of electrolyte depletion.
How To Use
Mix two scoops in 10-12 fl oz of cold water.
Recommended Use for Healthy Adults:
For Pe-Workout Energy and Hydration Support: Take 2-6 scoops with at least 10-12 fl oz 30 min before training.

For Post-Workout Muscle Recovery Support: Take 2-4 scoops with at least 10-12 fl oz of water after training.
Warnings
Consult your physician before using this product you are taking any medications or are under a physician's care for medical condition. Not for use those under the age of 18, men that are pregnant, trying to get pregnant, or nursing, or those that are sensitive to caffeine or beta-alanine. Do not consume caffeine from other sources while taking this product as too much caffeine may cause nervousness, irritability, sleeplessness, and occasionally rapid heartbeat. Beta-alanine may cause a harmless, temporary tingling or flushing sensation.
Do not combine with alcohol. Do not exceed 6 scoops within any 4 hour period or 10 scoops within any 24 hour period. Consume as part of a healthy diet or exercise program, and drink at least 100 fl of water per day, Exercise may increase your need for fluid intake.
Be safe and rest assure you are getting 100% authentic products at the lowest price when you purchase from ProteinLab Malaysia.
You can also like our Facebook for more promotion news at :
Or you can also follow instagram for more nutrition tip :
---