Optimum Nutrition 100% Plant Protein 1.76lbs ( 20 Servings )
Optimum Nutrition 100% Plant Protein ( 20 Servings ) is now available in ProteinLab Malaysia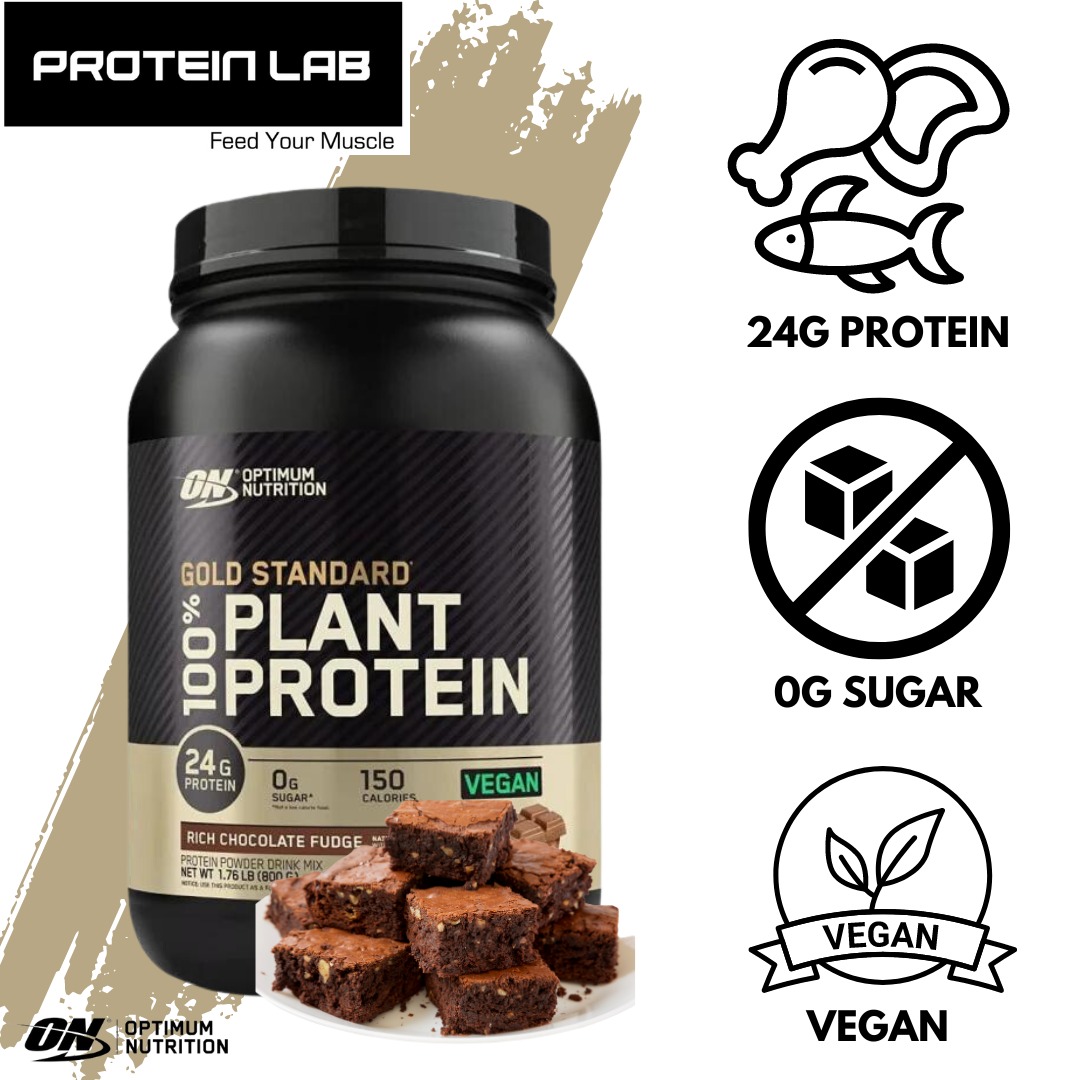 Health-conscious people, take note! Optimum Nutrition is pleased to announce the availability of our highly regarded 100% Plant Protein in handy 20-serving tubs. Prepare to enjoy the amazing advantages of plant-based nutrition in a convenient and portable manner!
Leave compromises behind! The precise amino acid profile that your body requires to thrive is provided by Optimum Nutrition 100% Plant Protein. Peas, brown rice, and Sacha Inchi are some of the purest plant-derived protein sources found in this food, and it also contains a wealth of other vital nutrients that assist muscle building, healing, and general health.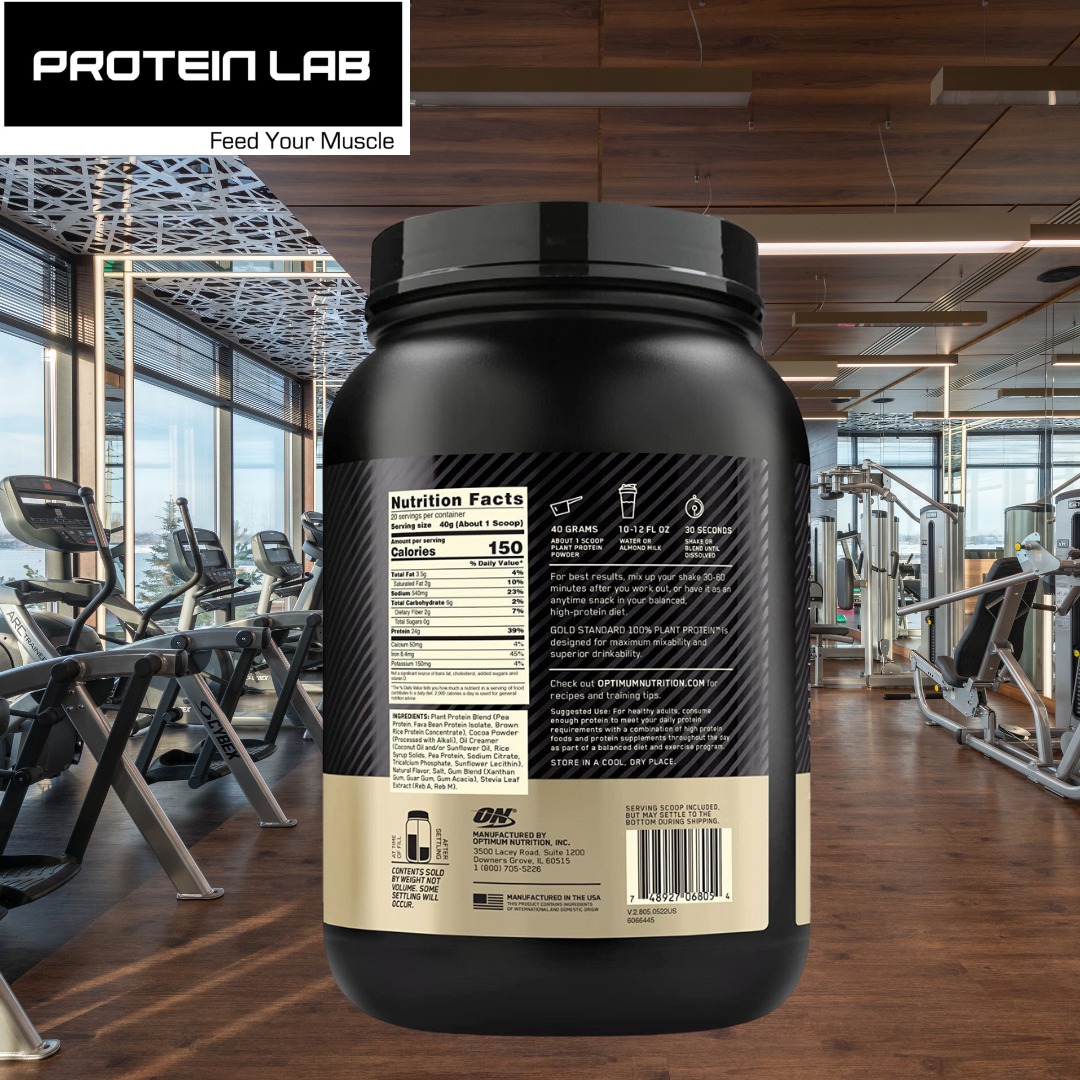 We understand the importance of convenience in your busy life. That's why Optimum Nutrition 100% Plant Protein now comes in convenient 20-serving packs, perfect for on-the-go nutrition. Each serving is precisely measured and expertly sealed, ensuring freshness and preserving the quality you expect from Optimum Nutrition.
These are the 10 benefits of consuming Optimum Nutrition 100% Plant Protein:
1.Complete Plant-Based Protein: Optimum Nutrition Plant Protein provides a complete amino acid profile, offering all the essential amino acids necessary for muscle growth, repair, and recovery.
2.Muscle Building and Repair: The high-quality plant-based protein in Optimum Nutrition Plant Protein supports muscle protein synthesis, aiding in the development and maintenance of lean muscle mass.
3.Vegan and Vegetarian-Friendly: Optimum Nutrition Plant Protein is entirely plant-based, making it an excellent choice for vegans, vegetarians, or individuals looking to incorporate more plant-based options into their diet.
4.Digestive Ease: Optimum Nutrition Plant Protein is typically easier to digest compared to protein sources derived from animal products, minimizing digestive discomfort.
5.High in Fiber: Plant-based proteins often contain higher amounts of dietary fiber, which promotes healthy digestion, regulates blood sugar levels, and supports overall gut health.
6.Cholesterol-Free: Unlike some animal-based protein sources, Optimum Nutrition Plant Protein is free from cholesterol, contributing to heart health and overall well-being.
7.Nutrient-Rich: Optimum Nutrition Plant Protein is not only a great source of protein but also contains essential vitamins, minerals, and antioxidants derived from plant sources, supporting overall nutritional balance.
8.Sustainable Choice: Opting for plant-based protein sources reduces the environmental impact associated with animal agriculture, making Optimum Nutrition Plant Protein an environmentally sustainable choice.
9.Allergen-Friendly: Optimum Nutrition Plant Protein is free from common allergens such as dairy, soy, and gluten, making it suitable for individuals with specific dietary restrictions or allergies.
10.Versatile and Delicious: Optimum Nutrition Plant Protein comes in a range of delicious flavors, allowing you to enjoy a satisfying and tasty protein shake, smoothie, or recipe while meeting your nutritional needs.
Proteinlab sports supplement supplier/wholesaler Malaysia presents!
Optimum Nutrition 100% Plant Protein Rich Chocolate Fudge( 20 Servings )
Be safe and rest assured you are getting 100% authentic products at the lowest price when you purchase at Proteinlab Malaysia.
You can also like our Facebook for more promotion at:
Or you can follow us on Instagram at:
---