Optimum Nutrition (ON) Essential Amino Energy (30 Servings)
ProteinLab sports supplement supplier/wholesaler Malaysia presents!
Optimum Nutrition (ON) Essential Amino Energy (30 Servings)!!
Be safe and rest assured you are getting 100% authentic products at the lowest price when you purchase from ProteinLab Malaysia.
You can also like our Facebook for more promotion news at :
ProteinLabMalaysia
Or you can also follow Instagram for more nutrition tips:
Kevinn Khoo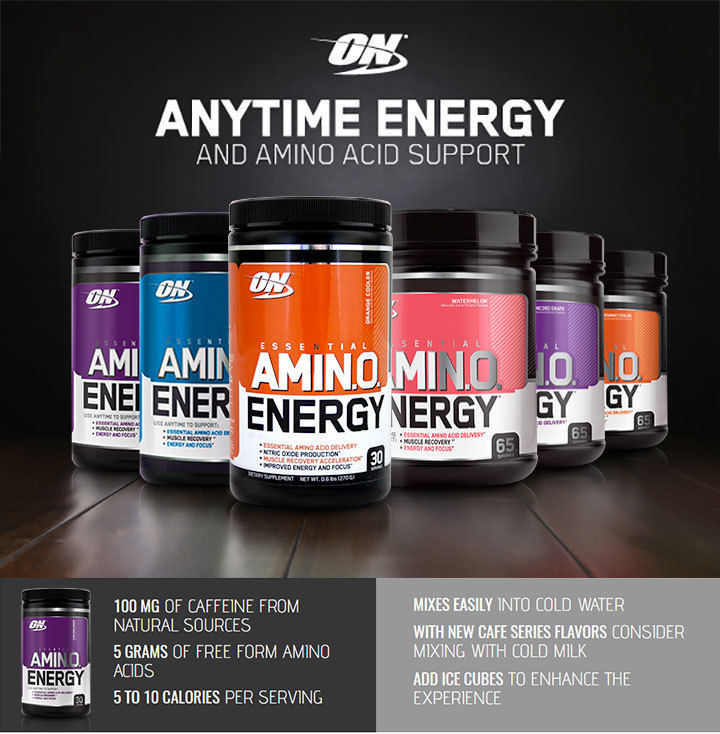 Essential AMINO Energy Overview
Optimum Nutrition's Essential Amino Energy is a revolutionary new 2-in-1 muscle-building and energy-boosting supplement.
It is extremely versatile in its ability to be used as a pre-workout drink, intra-workout drink, or as an anytime muscle-building energy booster. It contains all the essential amino acids with extra taurine, l-glutamine, l-leucine, and beta-alanine.
The energy boost is from all-natural green tea and green coffee extract and helps to stimulate both body and mind, revving the metabolism while simultaneously priming the muscle cells to receive the amino.

ON's Amino Energy is commonly used first thing in the morning to provide essential amino acids to muscle cells and stimulate the metabolism with natural caffeine. If you like to work out in the morning, try taking 2-4 scoops of Amino Energy 30 minutes before you start working out for an extra kick and muscle-building boost. Amino Energy is also popular as a pre-workout supplement for those who like to work out later at night and want the benefits of a pre-workout drink without the overload of stimulants. With Amino Energy, you get the best of both worlds, burning fat with natural thermogenic and building muscle with high-quality amino acids.

Essential AMIN.O. Energy Description from OPTIMUM NUTRITION
Everybody wants a lean muscular physique. Like anything worth having, wanting it isn't enough. You have to commit to a rigorous diet and training program that will tax your strength mentally as well as physically. To help satisfy these demands, ON's Essential Amino Energy combines an optimal ratio of rapidly absorbed free-form amino acids- including muscle-building BCAAs and arginine for a more intense vascular pump - with natural energizers, beta Alanine, and N.O. boosting ingredients to help you reach your next level. And at just 10 calories per serving it makes a big impression without denting your diet. Mix up Essential Amino Energy by itself - or stack it with your favorite powdered supplements - anytime you want to dial up mental focus, physical energy, N.O. production, and recovery support.
Directions :
Mix two scoops of ESSENTIAL AMINO ENERGY in 10-12 oz of cold water.
FOR AN AMINO ACID BOOST: Consume one or more servings first thing in the morning and/or between meals.
FOR PRE-WORKOUT ENERGY: Take 1-3 servings 20-30 minutes before training.
FOR POST-WORKOUT RECOVERY: Take 1-2 servings immediately after training.
TIPS: ESSENTIAL AMINO ENERGY contains 50 mg of caffeine per scoop, so do not consume after 5:00 PM if you have difficulty sleeping. ESSENTIAL AMINO ENERGY also contains beta-Alanine and may cause a temporary tingling sensation on your skin. This is normal. With continued use, the intensity of the sensation will decrease or disappear.
Warnings:
KEEP OUT OF REACH OF CHILDREN. Check with a qualified health care professional before taking this product if you are pregnant or nursing a baby, under 18 years of age, have any known or suspected medical conditions, and/or if you are taking any prescription or OTC medications.
---