Mutant Whey Core Series 5lbs
ProteinLab sport supplement supplier / wholesaler malaysia presents!
Mutant Whey Core Series 5lbs!
Be safe and rest assure you are getting 100% authentic products at the lowest price when you purchase from ProteinLab Malaysia.
You can also like our Facebook for more promotion news at :
Or you can also follow instagram for more nutrition tip :

WHY CHOOSE MUTANT®?
We all know that protein helps build muscle. You create that demand for growth with training – high intensity training. Hardcore. Pushing yourself to progress. It takes serious effort to train effectively, and serious dedication to eat correctly in order to reach your goals. It only makes sense then that you want your protein made by a company as serious as you are.
NEW & IMPROVED!
NEW 100% 4-WHEY PROTEIN FORMULA

TRUE PROTEIN TESTED

BETTER MIXING

100% GREAT TASTING

PLUS+ ENZYME FORTIFIED

ADDED 4TH NEW FLAVOUR TOO – COOKIES N CREAM!
SO, HOW SERIOUS ARE WE?
Born out of a deep love for the iron, MUTANT® truly is a result of the market DEMANDING hardcore products that actually are made to work – not just look pretty or be the most popular kid on the block. We know what it's like to be the outcast. The one toiling away in the dark corner of the gym, late at night. We know the sacrifices required. In an age when a lot of the industry has gone softcore, MUTANT refuses to gear down. We aren't afraid to wear our hearts on our sleeves. Crank it up a notch. We eat, sleep, and breathe iron. MUTANT never expected the mainstream to accept us; but that won't stop us from making sure everyone knows our name!
HOW SERIOUS ARE YOU?
You might have dreams of being a 300 pound freaky mutant one day. Or you may just want to add thirty pounds to your bench. Being MUTANT® isn't about the size of the body - it's about the size of the heart. Inside you there is a prime physical specimen. You can't wait to do what people have told you could not accomplish. You thrive on that challenge, and long to destroy their misguided notions. In order to reach your goals, you're gonna have to recognize that all the important factors need to be addressed. Right here and now, is the time to address your protein.
WHY CHOOSE MUTANT WHEY?
At MUTANT® we are athletes ourselves (we too, use what we make). So we are seriously dedicated to quality and great taste. Many around the world agree, as we have been serving up MILLIONS AND MILLIONS of pounds of quality proteins made in our own licensed facility since 2005. That serious dedication goes into every serving of MUTANT® WHEY. So do yourself a favour – be a little different - go with quality AND great taste from a brand that's a little different. Thank you for joining MUTANT® NATION. Welcome - and enjoy.
Nutrition facts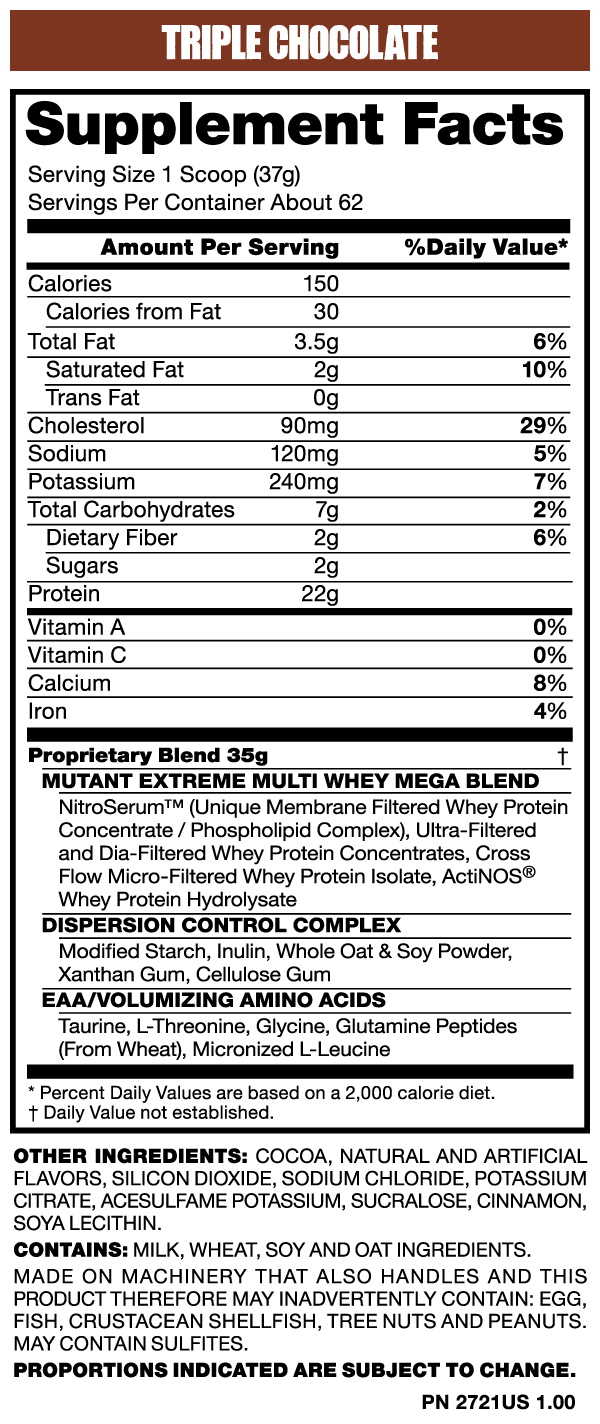 Directions For Whey: Add 1 level scoop to 6-8 fl oz (180-240 mL) of cold water, shake vigorously for 10 seconds, and slam it back!
Warnings: Use this product as a food supplement only. Do not use for weight reduction. Do not use if packaging has been tampered with. Packed by weight, not by volume. Settling of product occurs after filling. Keep out of reach of children. Store in a cool, dry place.
* These statements have not been evaluated by the Food and Drug Administration. This product is not intended to diagnose, treat, cure, or prevent any disease.
---