*CLEARANCE* (EXPIRED ON 05/22) Everbuild Liquid L-Carnitine + Chromium 450ML (Raspberry)
𝐏𝐫𝐨𝐭𝐞𝐢𝐧𝐋𝐚𝐛 𝐬𝐩𝐨𝐫𝐭𝐬 𝐬𝐮𝐩𝐩𝐥𝐞𝐦𝐞𝐧𝐭 𝐒𝐮𝐩𝐩𝐥𝐢𝐞𝐫/𝐖𝐡𝐨𝐥𝐞𝐬𝐚𝐥𝐞𝐫 𝐌𝐚𝐥𝐚𝐲𝐬𝐢𝐚 𝐩𝐫𝐞𝐬𝐞𝐧𝐭𝐬!
Everbuild 𝐋𝐢𝐪𝐮𝐢𝐝 𝐋-𝐂𝐚𝐫𝐧𝐢𝐭𝐢𝐧𝐞 + 𝐂𝐡𝐫𝐨𝐦𝐢𝐮𝐦 𝟒𝟓𝟎𝐌𝐋 (𝐑𝐚𝐬𝐩𝐛𝐞𝐫𝐫𝐲)
Be safe and rest assured you are getting 100% authentic products at the lowest price when you purchase from ProteinLab Malaysia.
You can also like our Facebook for more promotion news at :
Or you can also follow Instagram for more nutrition tips:
Be safe and rest assured you are getting 100% authentic products at the lowest price when you purchase from ProteinLab Malaysia.
LIQUID L-CARNITINE + CHROMIUM™
Dietary Supplement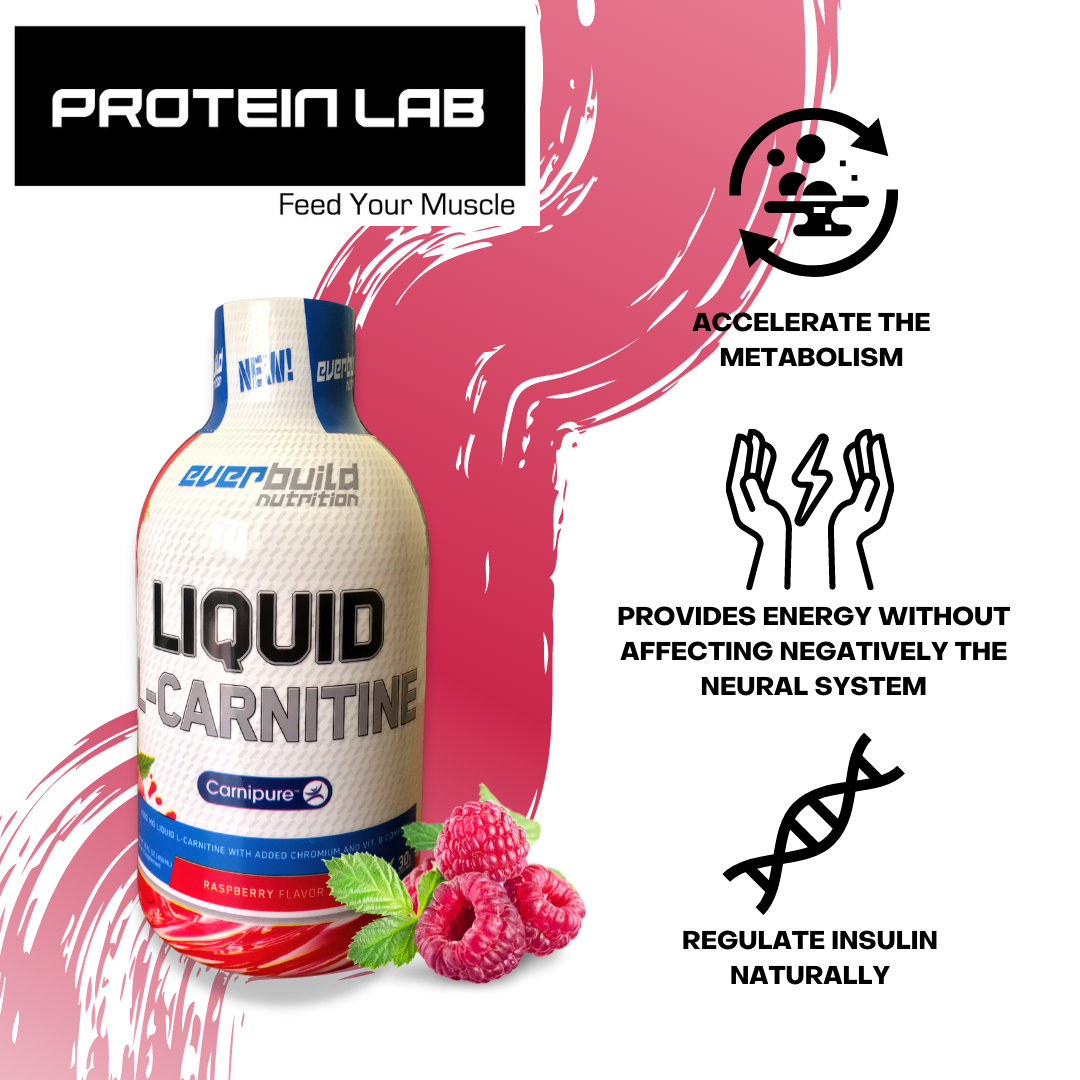 Liquid Carnitine + Chromium is a liquid solution that combines L-carnitine, chromium picolinate, and B-complex vitamins, which are three of the most efficient active ingredients for fat loss. The concentration of Liquid Carnitine + Chromium is 1500 milligrams per single dose of 15 ml, which sets this Everbuild product apart from other liquid carnitine solutions.
Benefits:
Accelerate the metabolism
Increase the fat loss
Faster absorption
Provides energy without negatively affecting the neural system
Promote heart and cardiovascular health
Regulates the insulin levels
Regulates the blood sugar levels
Accelerate the recovery time after physical stress
The L-carnitine in Liquid Carnitine + Chromium is responsible for transporting fatty acids through the cell membrane of muscle cells. This product is highly recommended when the athlete seeks definition and wants to remove excess fat since it delivers fatty acids to the mitochondria inside the cell, where they may be used for energy. Carnitine also aids in the removal of any waste products produced during the process from the cell. When it comes to cardio and weightlifting with the goal of greater calorie expenditure and leaner and finer body composition, Carnitine's transport function makes it an indispensable food supplement. When compared to pills and capsules, the liquid form of l-carnitine is the most effective since it ensures rapid and complete absorption of the active component, which is critical for the product's effectiveness.
Chromium is a vital mineral that aids in fat and carbohydrate metabolism in the body. It keeps blood sugar and cholesterol levels in check. Because of its involvement in controlling blood glucose and insulin sensitivity, it is an important element in maintaining a healthy weight.

B-vitamins are also an important component of the formula since they help to create red blood cells, tone the nervous system, and maintain lean body mass. Their fundamental role is that if they are not present in the bloodstream or muscle tissues, the metabolism will not function properly.
Flavor: Raspberry

For this product is used the highest quality patented L-Carnitine - Carnipure®
One dose: 15 ml
Servings per container:30
Suggested use:1 dose 1-3 times daily. Preferably on an empty stomach, after waking up, or before training.
Recommendations:
Do not exceed the daily recommended use!
Do not use it as a substitute for a balanced diet!
Store in a cool, dry place, under 25˚C away from direct sunlight!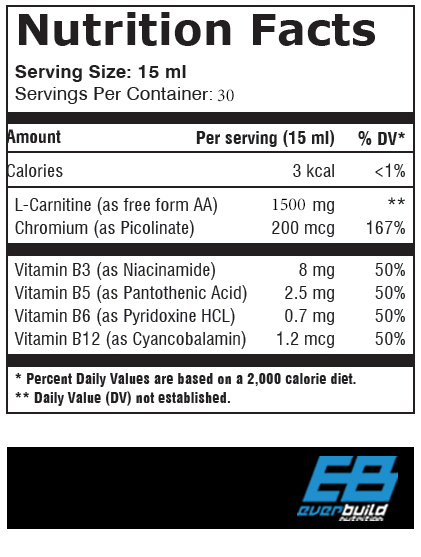 ---