SciTec Nutrition Testo Punch (120 Capsules)
ProteinLab sports supplement supplier/wholesaler Malaysia presents!
SciTec Nutrition Testo Punch 120 Capsules!!
Be safe and rest assured you are getting 100% authentic products at the lowest price when you purchase from ProteinLab Malaysia.
You can also like our Facebook for more promotion news at :
Or you can also follow Instagram for more nutrition tips:
*Zinc contributes to the maintenance of normal testosterone
levels in the blood
TESTO PUNCH is an ultra-sophisticated, comprehensive Testosterone, Estrogen, and libido optimization support matrix with 12 carefully selected potent ingredients! Besides DAA (D-Aspartic Acid) and herbal ingredients – including Maca – it provides important vitamins and minerals! Maca has traditionally been used as an aphrodisiac, it's a legendary sex-enhancing root. Testofen® is a Fenugreek extract with a minimum of 50% Fenuside™. Fenugreek is a well-known, versatile herb that contains over 100 phytochemical constituents, including Furostanol Saponins and Steroidal Saponins. While Fenugreek has multiple applications, Testofen® has been shown to increase sexual desire and help maintain sexual health and muscle mass. The group of Saponin glycosides that Testofen is standardized to is named Fenuside™. TESTO PUNCH contains Boron; and the flavonoid Quercetin as well, which helps to inhibit the conversion of Testosterone to Estrogen. Nettle lignans may help decrease the binding of sex hormone-binding globulin (SHBG) to Testosterone and this may help ensure that free Testosterone, which is the active form! Nettle extract is best used with Saw Palmetto! Vitamin B5 contributes to the normal synthesis and metabolism of steroid hormones, Vitamin D, and some neurotransmitters. Vitamin B6 helps with the regulation of hormonal activity and reduces tiredness and fatigue. Vitamin D contributes to the maintenance of normal muscle function and has a role in the process of cell division. Zinc contributes to normal fertility and reproduction and to the maintenance of normal testosterone levels in the blood.
TESTO PUNCH provides a full month cycle!
Directions
Take 2 capsules with breakfast and 2 capsules with dinner daily.
Allergen info
Manufactured in a facility that processes milk, egg, gluten, soy, peanuts, nuts, celery, fish, and crustacean ingredients.
Warnings
Use this product in conjunction with food as part of a healthy, balanced diet, not as a substitute for such! Keep out of reach of children! Don't exceed the recommended daily dosage!
Size
120 capsules - 30 servings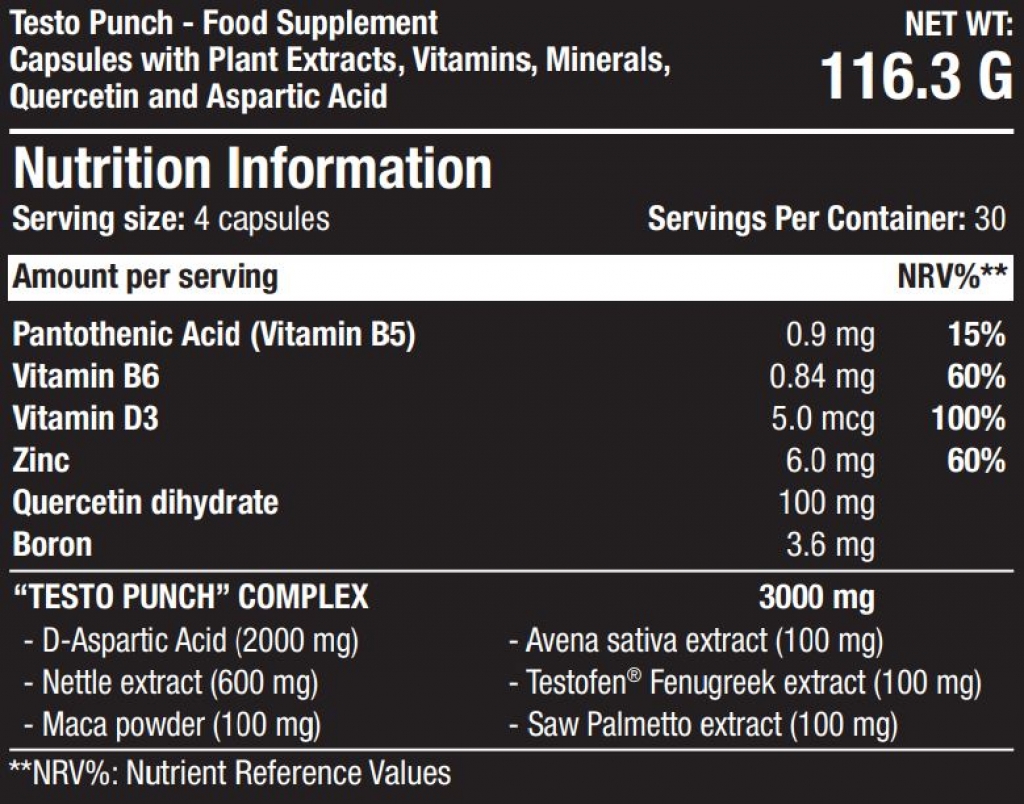 INGREDIENTS: D-Aspartic Acid, Bovine Gelatine, Urtica dioica (Leaf) 10:1 extract, Avena sativa (Seed) 5:1 extract (Oat ), Lepidium meyenii (Root) powder, Quercetin extracted from Sophora japonica bud (84%), Serenoa repens (Fruit) 12:1 extract, Testofen® Trigonella foenum-graecum (Seed) Extract (50% Fenuside™), Anti-Caking Agent (Magnesium Stearate), Boric Acid, Zinc Sulfate Monohydrate, Color (Titanium Dioxide), Cholecalciferol, Calcium D-Pantothenate, Pyridoxine HCl
---