Everbuild Nutrition MassBuild Sachets (50g)
Everbuild Nutrition MASS BUILD Sachets are Now Available!
Mass Build is 100% Lean Gain.
For any gym goers or fitness lover, the qualities of whey protein have been a matter of public knowledge for a long time. It has an essential amino acid blend, designed to stimulate an anabolic response from training from mTOR metabolic pathways, acting as an anabolic switch.
Everbuild Mass Build mixes easily and tastes great in milk or water! Fills you up with high-quality macronutrients, without leaving you full so you can use it as a boost to your daily nutrition. It is also the No.1 Award Winning Supplement
The Comparison
Everbuild 100% Lean Mass Carbohydrate blend compared to Rapid Release Carbohydrate and Standard Carbohydrate.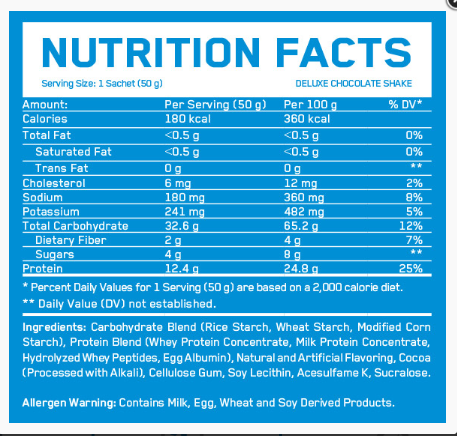 The High Carb Matrix
High protein gainer, creatine matrix, and amino acid supplement! Mass Build is a "triple stack" product designed for lean muscle mass, strength, and cutting-edge recovery. MASS BUILD is not a simple run of the mill high carb gainer. Each serving also provides a significant amount of high-quality protein matrix from sources with high Biological Value (BV) and Protein Efficiency Ratio (PER) - easily digestible, muscle protein-building material that you actually use to gain size where it counts.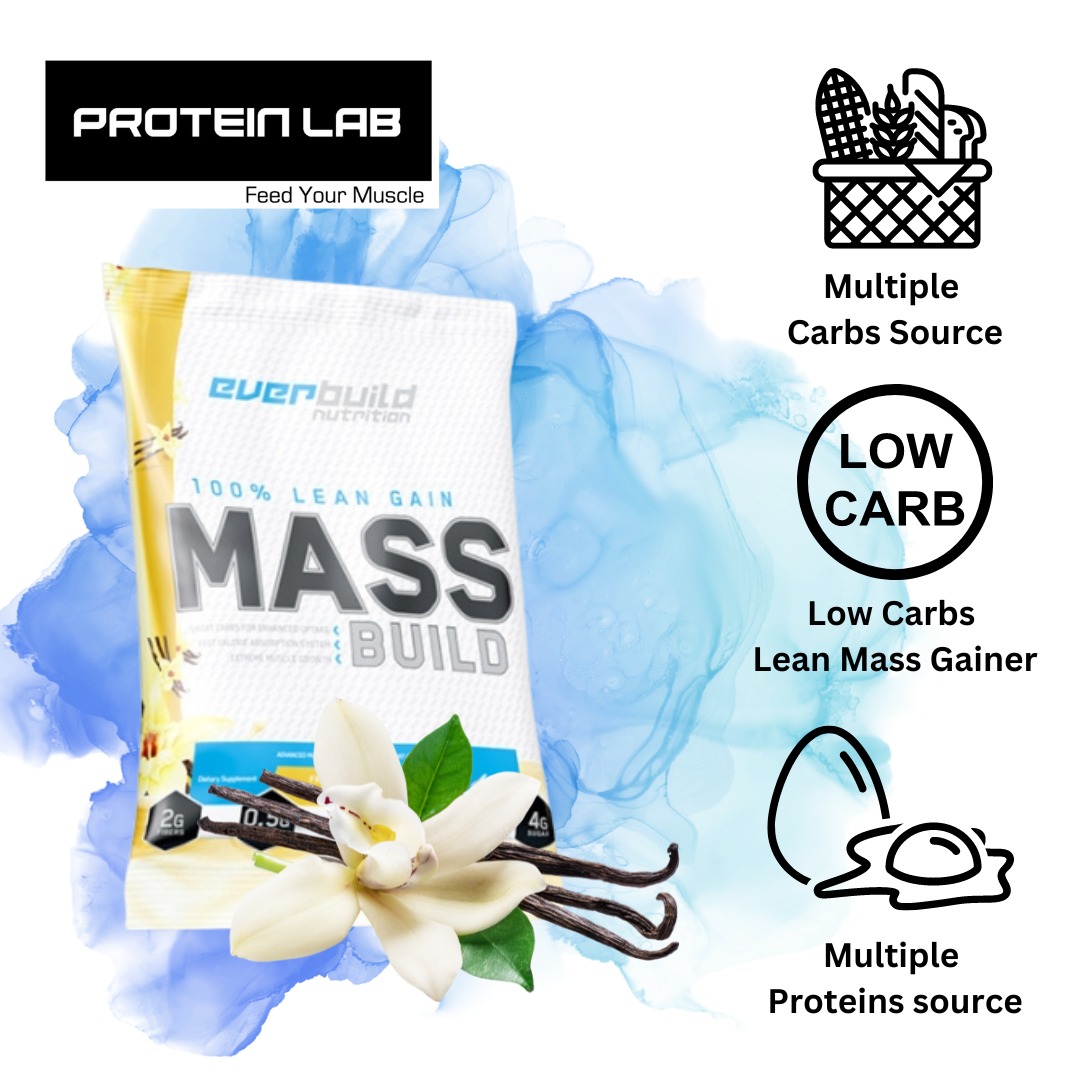 Benefits from Whey Protein Isolates
Speeds up recovery
Easy to absorb
No sugar
No fat
Has a comprehensive modern creatine matrix
Maximum muscle growth
Cutting edge recovery
Another tip from our founder @Kevinn.Khoo is that he would prefer mass gainers such as Everbuild Nutrition Mass Build 100% Lean Gain as it is higher in protein to carbs ratio. Because at the end of the day, he would prefer to build muscle rather than fat mass. The ratio of Protein:Carbs in Everbuild Nutrition Mass Build 100% Lean Gain Mass Build would be 1:2 which is quite ideal for replenishing muscle mass. To make Everbuild Nutrition Mass Build 100% Lean Gain Mass Build an even more outstanding mass gainer compared with mass would be that they are using a carbohydrate blend instead of a single source carbohydrate that can release the nutrition into your bloodstream at an extended period of time rather than just spike up your insulin for a short period of time. In addition to that, they also use protein blends instead of just a single source of protein such as whey protein which plenty of company use. This allowed for a constant amino acid supply into your muscle cells for recovery and muscle building.
ProteinLab sports supplement supplier/wholesaler Malaysia presents!
Everbuild Nutrition Mass Build 100% Lean Gain Mass Build (50g)
Be safe and rest assured you are getting 100% authentic products at the lowest price when you purchase from ProteinLab Malaysia.
You can also like our Facebook for more promotion news at:
Or you can also follow our Instagram for more nutrition tips:
---