Cellucor C4 Original 30 Servings
ProteinLab sport supplement supplier / wholesaler malaysia presents!
Cellucor C4 Original 30 Servings
Be safe and rest assure you are getting 100% authentic products at the lowest price when you purchase from ProteinLab Malaysia.
You can also like our Facebook for more promotion news at :
Or you can also follow instagram for more nutrition tip :
1.6g CarnoSyn® Beta- Alanine
1g Creatine Nitrate (NO3-T®)
150mg Caffeine
1g Arginine AKG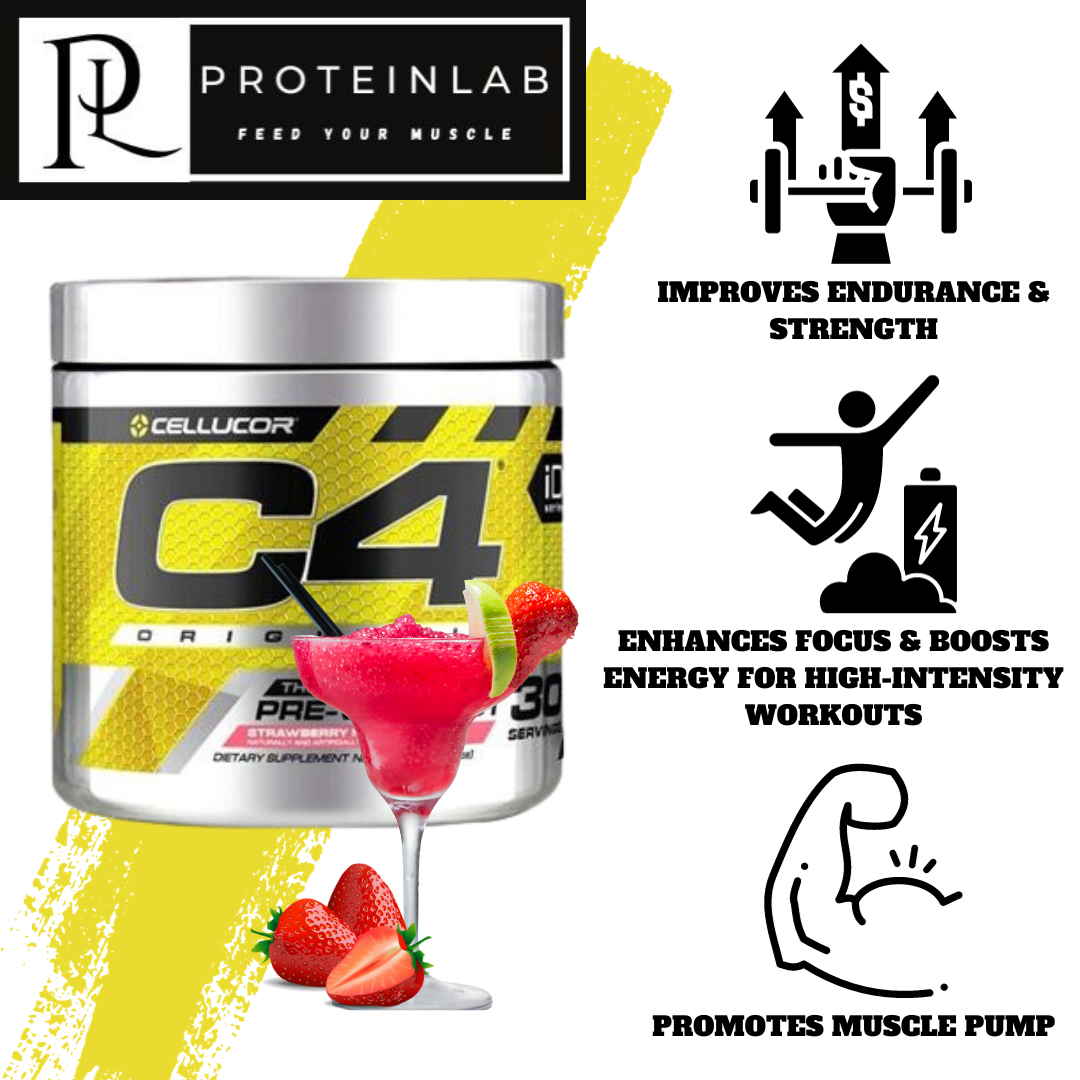 AMERICA'S #1 SELLING PRE-WORKOUT*
Explosive energy, heightened focus and an overwhelming urge to tackle any challenge...that's the C4 experience. Millions of people­ ranging from beginners all the way up to the elite competitors, have relied on C4 pre-workout to help them turn their ambitions into achievements.
As America's #1 selling pre-workout*, C4 Original lives up to its solid reputation with a classic formula for advanced energy, endurance, focus and pumps! But with a new bottle design and more delicious flavor options for you to choose from, you'll feel like it's your very first time experiencing the C4 pre-workout you know and love.
Whether you're just starting a fitness journey or you're striving to reach that next level, C4 Original will help you unlock your full potential.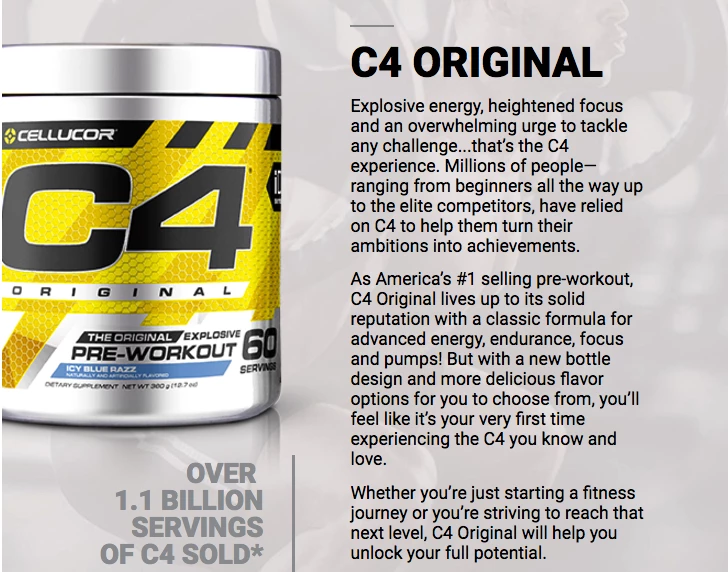 WHAT'S IN C4?
C4 was the blast heard around the world when it launched in 2011. It's helped gym junkies, weekend warriors, and competitive athletes everywhere rise to become their own versions of legendary.
The Fourth Generation C4 is the next level of innovation and refinement. Its formula is now more dialed in, more potent, and includes the breakthrough ingredient, TeaCor™ for improved energy that comes on quickly and lasts longer.*
The C4 formula includes ingredients that help promote energy, pumps and performance.*
Beta Alanine: An amino acid that supports muscular endurance. Beta Alanine produces a tingly sensation throughout the body that lets you know it's working.
Creatine Nitrate: Creatine bound to Nitrate. Creatine Nitrate produces two desirable effects on performance: Creatine for strength and Nitrate for pumps.*
N-Acetyl L-Tyrosine: It is a core part of the essential energy blend. It helps support peak mental and physical performance.*
Caffeine: A popular and proven source for energy.*
Benefits:
Contains 150 mg of caffeine anhydrous. Caffeine anhydrous supports energy, mental alertness and can help in the performance of cognitive tasks and reaction times.
Features CarnoSyn® beta-alanine. Beta-alanine is an amino acid which provides muscle pH buffering properties.
Supplies creatine nitrate (No3-T®). Creatine nitrate is a novel, university studied form of creatine.
Provides Arginine Alpha Ketoglutarate. Arginine is a precursor to nitric oxide which helps fuels nitric oxide production in the body.
Contains TeaCrine® (tetramethylruci acid typo/theacrine), an alkaloid which is structurally similar to caffeine.
Supplies N-Acetyl L-Tyrosine, for antioxidant support
Includes velvet bean (mucuna pruriens) seed extract (standardized for L-Dopa).
WE KNOW FLAVORS
Fruit Punch, Icy Blue Razz, Watermelon and many more… We appreciate the art of creating flavors that people love. You should enjoy every sip of your pre-workout. C4 will make your workout that much sweeter.
EXPERIENCE EXPLOSIVE WORKOUTS*
The taste of C4 when you take a sip. The tingly sensation you feel as it travels through your body. The surge of motivation that hits you at the perfect moment-- right before you're about to hit your workout...the only word to describe it is explosive.
Everything you love about your favorite pre-workout lives on, and the next chapter of your most epic workouts has just begun.
How To Use
Take one serving (1 scoop) of C4® Original, mixed with 6 fl. oz. of water 20-30 minutes before training. During your workout, it is recommended that you drink plenty of water or performance beverages such as Cellucor Alpha Amino® to stay hydrated. Some individuals may experience a harmless tingling sensation which is attributed to beta-alanine. USE ONLY AS DIRECTED.
Warnings

THIS PRODUCT IS ONLY INTENDED FOR HEALTHY ADULTS, 18 YEARS OF AGE OR OLDER. Do not use if pregnant, nursing, currently taking PDE5 inhibitors or nitrates for chest pain. Do not take this product before consulting a licensed, qualified, health care professional if you are taking any other dietary supplement, prescription drug or over-the-counter medication; or if, you suspect you have or have been treated for, diagnosed with or have a family history of, any medical condition. This product contains caffeine and should not be used in combination with caffeine or stimulants from other sources. Discontinue use 2 weeks prior to surgery. Immediately discontinue use and contact a medical doctor if you experience any adverse reaction to this product. Do not use this product continuously for more than 8 weeks. Do not use if safety seal is broken or missing. Store in a cool dry place. KEEP OUT OF REACH OF CHILDREN. This product is sold by weight, not volume. Some settling of powder may occur during shipping and handling, which may affect the density of powder. This product contains the servings indicated when measured exactly by weight.
---