BPI One More Rep Pre-Workout (25 Servings)
Proteinlab Supplement Supplier / Reseller proudly present to you!!
BPI One More Rep Pre-Workout (25 Servings)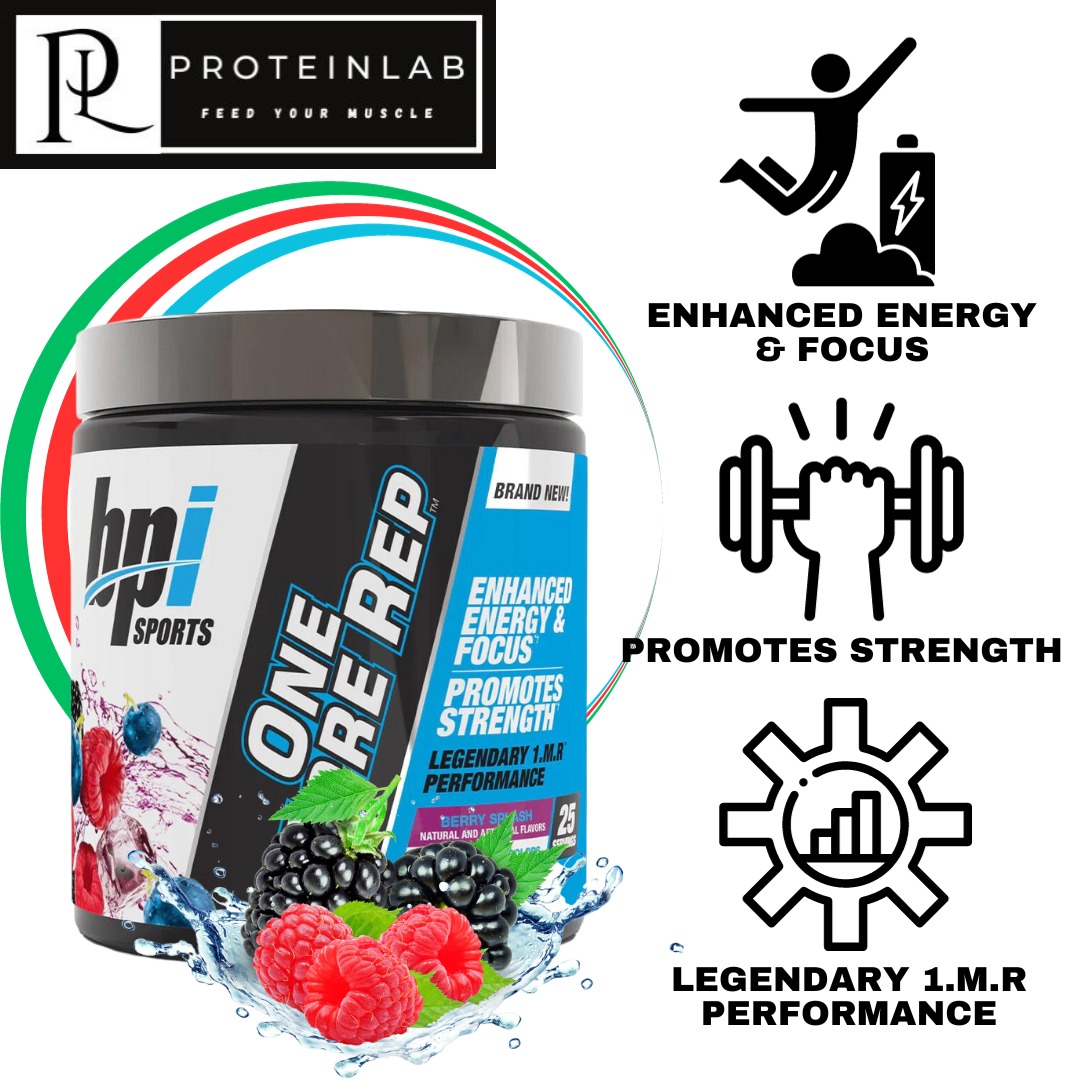 One More Rep™ is the evolution of our legendary pre-workout, 1.M.R™. Now available in Malaysia at Proteinlab Malaysia.
✅ Boost Performance
✅ Increased Energy
✅ Increased Focus
✅ Muscle Pumps
While it supplies the same intense energy, this new formula delivers a broader range of benefits for today's more versatile athletes and bodybuilders.
Packed with on-trend ingredients including beetroot powder, citrulline, and carnitine, One More Rep™ promotes focus, pump, endurance, strength, recovery, muscle growth, and even fat burning.
Beetroot powder is a potent ingredient that helps improve blood flow for increased endurance, efficiency, and muscle pumps.
Citrulline may help enhance anaerobic performance and optimize recovery, while carnitine transports fat cells to mitochondria, where they are burned for energy.
The infusion of betaine and beetroot not only enhances your pump and muscle performance tremendously, but it also supports digestive health and improves your heart health.
Key ingredients in BPI One More Rep that helps Enhance Energy Focus & Promotes Strength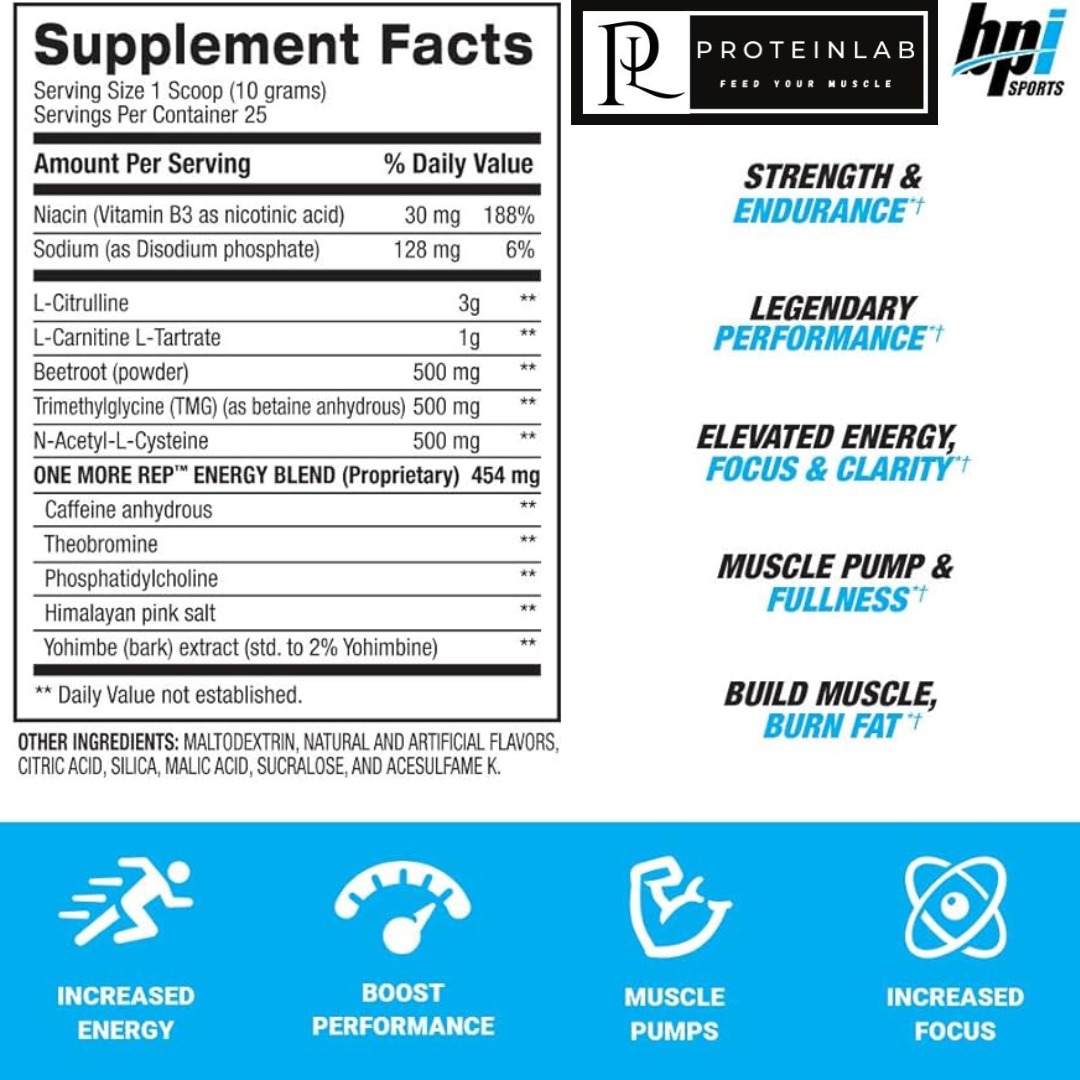 Beetroot Powder: Rich in dietary nitrates, which can help dilate blood vessels, lower blood pressure, and improve cardiovascular function. This may reduce the risk of heart disease. The nitrates in beetroot powder can help improve endurance and exercise performance by increasing oxygen delivery to muscles. Beetroot powder boosts nitric oxide levels in the body, which helps to relax blood vessels, therefore improving blood flow, and supporting healthy blood circulation to the body.
N-Acetyl-L-Cysteine (NAC): N-Acetyl-L-Cysteine (NAC) benefits sports performance by acting as a powerful antioxidant, reducing oxidative stress, and combating muscle fatigue. It supports muscle recovery, enhances endurance, and aids in respiratory health, making it easier to breathe during intense exercise. NAC's immune system support and cognitive benefits help athletes stay healthy and maintain mental focus, crucial in competitions. Additionally, it assists the body in adapting to environmental stressors. These combined effects can lead to improved athletic performance, faster recovery, and a reduced risk of post-exercise illnesses.
Citrulline: Is an amino acid commonly found in certain foods and is also available as a dietary supplement. It offers a range of potential health benefits, such as improved training performance, due to its ability to increase endurance, reduce muscle fatigue, and enhance overall exercise performance. Citrulline also aids in the removal of ammonia and lactic acid, which can cause muscle fatigue and soreness. Citrulline may also help in regulating blood pressure, making it a potential supplement for those with hypertension. Citrulline's role in increasing nitric oxide production can be beneficial for men with erectile dysfunction (ED) by promoting improved blood flow to the genital area.
Betaine: This is a naturally occurring compound, that can enhance sports performance in several ways. It helps increase power and strength, particularly in resistance training exercises, by aiding in muscle protein synthesis. Betaine also supports endurance and reduces fatigue by improving oxygen utilization and reducing lactate buildup. Its osmoregulatory properties maintain cellular hydration, reducing the risk of dehydration and muscle cramps during intense physical activities. Moreover, betaine contributes to overall energy metabolism and supports healthy methionine levels, vital for muscle function. These combined benefits make betaine a valuable addition to an athlete's regimen, boosting physical performance and recovery.
Carnitine: Carnitine is a type of supplement that helps with fat utilization by guiding the fat in your body to utilize it for the muscles instead of staying at just a certain area of your body.
Be safe and rest assured you are getting 100% authentic products at the lowest price when you purchase from ProteinLab Malaysia.
You can also like our Facebook for more promotion news at :
You can also follow Instagram for more nutrition tips:
---