*CLEARANCE* (EXPIRED ON 09/22) Maxler Beauty Collagen
ProteinLab sports supplement supplier/wholesaler Malaysia presents!
Maxler Beauty Collagen!
Be safe and rest assured you are getting 100% authentic products at the lowest price when you purchase from ProteinLab Malaysia.
You can also like our Facebook for more promotion news at :
Or you can also follow Instagram for more nutrition tip :
What is Maxler Beauty Collagen?
Surely we all know that collagen does more than just enhance your beauty and youthfulness. Proteinlab brings Maxler Beauty Collagen to Malaysia just for you. When it's come to health and fitness, we understand that your internal health will also portray how you look externally. External beauty is always important when it comes to the first impression and having a good complexion will always leave a positive impression on anyone.
Collagen is one of the key ingredients that help your body to stay young and healthy inside and out. Maxler Beauty Collagen is an AMAZING product that not only has Collagen but it has many different types of herbs that help boost the skin, and immune system and help you stay young.
Nowadays more study has been done on collagen and they are hailed as the "fountain of YOUTH," sought after by many who wish to maintain that young, vibrant skin.
The production of Collagen is carried out by the body, but with age, this process gets hindered, which speeds up aging and breaks health. Maxler Beauty Collagen improves overall well-being by enhancing the structure of hair, nails & skin and promoting healthy aging.

Maxler Beauty Collagen is strongly suitable for glowing skin and anti-aging.
Pairing Collagen up with state of art proprietary blend super ingredients such as:
Elderberry (from 100 mg of 10:1 extract)

Blueberry (from 100 mg of 10:1 extract)

Aloe Vera Leaf Gel (from 5 mg of a 200:1 extract)

Hyaluronic Acid

Grape Skin Extract

Coenzyme Q10

Extramel® melon pulp concentrate (14,000 IU SOD/g)

Ceramosides™ wheat seed extract

BioPQQ™ (Pyrroloquinoline Quinone Disodium Salt)

Hydrolyzed Bovine Collagen




What makes Maxler Beauty Collagen superior compared with other collagen products?
Looking at the proprietary blend listed above we easily know Maxler Beauty Collagen is using top-notch standardized active ingredients proven dose. Collagen products in Malaysia usually contain only 1 type of collagen or overpriced collagen drinks. Which usually only support beautifying purposes such as maintaining the youthfulness of the skin, and promoting strong hair, nails, and bones. Collagen in Malaysia is rarely used for overall well-being. We bring Maxler Beauty Collagen from Germany to Malaysia just for your fitness and wellness goal. Using Germany's state-of-the-art technology, Maxler Beauty Collagen is infused with these powerful ingredients which help with overall internal and external beauty and wellness.
Elderberry (from 100 mg of 10:1 extract)
Strong 10:1 Ratio (10 lbs of elderberries to make 1 lb of beauty collagen extract!). Infused with innate anti-aging and free radical fighting properties, elderberries keep your skin radiant for longer periods. Furthermore, they also act as a natural detoxifying agent and help prevent distressing skin conditions like breakouts, boils, and scars. Elderberry flower water is known to restore skin health and lighten the freckles. Elderberry fruit extract can also reduce inflammation and bruising. In addition to that, Elderberry extract can help treat herpes as well. The antioxidants in the berry can fight the herpes virus and give relief.
Blueberry (from 100 mg of 10:1 extract)
Again with a strong 10:1 Ratio (10 lbs of Blueberries to make 1 lb of Maxler Beauty collagen extract!). Blueberries are jam-packed with vitamins and antioxidants, making them incredible natural skin glowing ingredients. Moreover, the chemicals in blueberries stimulate the hair follicles, thereby boosting hair growth. What is more special is that Maxler Beauty collagen knows that anti-aging is one of the top sought-after natural skincare benefits. The antioxidants present in blueberries combat free radicals from sun exposure, which can cause damage to our skin over time and speed up the aging process. Blueberries also contain significant amounts of zinc and iron, both skin-friendly elements. To top it up, blueberries contain vitamin E and the antioxidants lutein and zeaxanthin, which directly benefit optical health.

Well, what is beauty without brains right? Maxler beauty collagen is a perfect not only design to let you stay young, but design to boost your body system in every expect. Studies have shown that, over time, blueberries may contribute to better memory and improved mental health. Blueberry extract in beauty collagen can also help to prevent premature hair graying as B vitamins can inhibit hair from losing its pigment. And since blueberries are an excellent source of B12, your hair may maintain its natural color even longer if you eat them regularly. At the same time, the abundant antioxidants found in blueberries reduce the buildup of "bad" LDL cholesterol in our arteries, which may lead to cardiovascular disease and stroke.
Aloe Vera Leaf Gel (from 5 mg of a 200:1 extract)
Aloe Vera gel contains powerful antioxidants belonging to a large family of substances known as polyphenols. These polyphenols, along with several other compounds in aloe vera, help inhibit the growth of certain bacteria that can cause infections in humans. Aloe Vera is known for its antibacterial, antiviral, and antiseptic properties. This is part of why it may help heal wounds and treat skin problems. Maxler Beauty 200:1 extract will ensure you get the most potent standardized extract delivered into your body. The aloe vera gel available in Maxler beauty collagen can slow the aging of the skin. In a 2009 study of 30 females over the age of 45, taking oral aloe vera gel increased collagen production and improved skin elasticity over a 90-day period.
Hyaluronic Acid
Like collagen, hyaluronic acid is a compound actually found in your skin already. "Hyaluronic acid helps your skin retain water so that it stays hydrated and smooth," says Amanda Doyle, MD, a dermatologist at Russak Dermatology in New York. "Studies show that ingesting it orally leads to the improvement in the appearance of skin by actually softening wrinkles and increasing luster.". New York City-based plastic surgeon Norman Rowe, MD agrees that you could see improvement: "Hyaluronic acid supplements are often used to improve the appearance of skin by keeping it moist and supple in addition to supporting healthy joints and vision," he says. "The use of hyaluronic acid supplements for skin has been rising in popularity because people are drawn to its reputation to create a youthful, radiant appearance without any negative side effects."
Grape Skin Extract
Anthocyanins are also the source of many health benefits, making red grapes the most useful type of dietary supplement. These supplements often use the grape skins, since this is the part of the plant with the highest concentration of anthocyanins. Red grape skin extract is very high in resveratrol, which accounts for many of its health benefits. These benefits include supporting heart health, cholesterol level management, antioxidant support, and the body's ability to manage healthy blood sugar levels.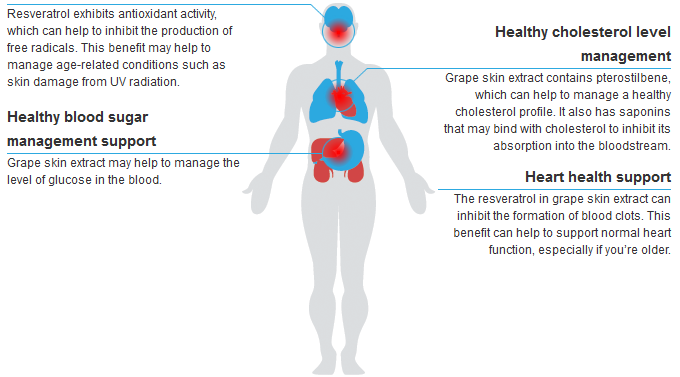 Coenzyme Q10
Our skin is a very complex biological membrane. Our skin is a living, breathing part of our body that has the ability to regenerate and repair itself. Coenzyme q10, or just q10 for short, is a naturally occurring molecule, found in large quantities in our mitochondria (the engine of our cells) that protects elastin and collagen. Our mitochondria have high concentrations of Coq10, which is a strong antioxidant. CoQ10 seeks out and neutralizes free radicals, reducing their concentrations and minimizing their effect on collagen and elastin in the skin. Without molecules like Coq10, our skin would dramatically degrade.
Extramel® melon pulp concentrate (14,000 IU SOD/g)
Extramel® is a unique melon juice concentrate obtained from a proprietary variety of the Cantaloupe melon. Extramel® has been clinically proven to improve well-being by favoring stress relief and improving both mental and physical abilities. Natural and bioactive, Extramel® acts by boosting the body's natural antioxidant defenses, thus preventing oxidative stress, a key agent of emotional stress physiology.
Ceramosides™ wheat seed extract
CERAMOSIDES™ have been developed to be the most efficient source of oral phytoceramides for skin hydration and anti-aging. When aging, we start losing ceramides, resulting in dry and itchy skin, pulling sensations, and wrinkles. Taking phytoceramides orally helps restore the skin's ceramides content. CERAMOSIDES™ bring new ceramides to the skin via the bloodstream and help restore the water barrier and replenish cracks. Skin gets more hydrated and plumped. CERAMOSIDES™ are the ultimate moisturizer for smooth and youthful skin, replenishing the wrinkles and giving a healthy glow.
BioPQQ™ (Pyrroloquinoline Quinone Disodium Salt)
This is a molecule found in your body called pyrroloquinoline quinone, or PQQ for short, which has many benefits for your health, most notably boosting the production of mitochondria. Referred to as an all-natural "fountain of youth," PQQ's ability to power up your mitochondria does a lot for your health and longevity. When you have more mitochondria, it impacts your energy level, metabolism, and resilience to disease. PQQ also protects against oxidative stress with its super-antioxidant power and may keep you feeling young for many years to come. It turns out the molecule PQQ stimulates normal levels of nerve growth factor production, which, in turn, protects nerve cells and supports healthy nerve cell growth.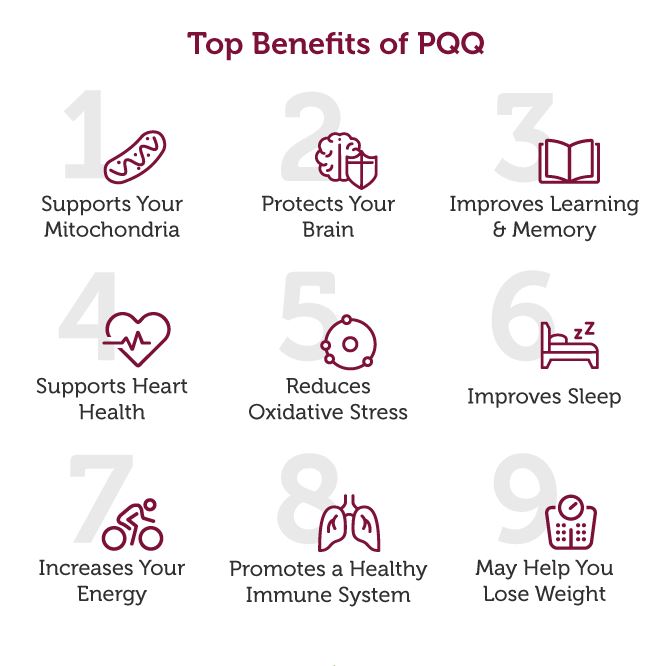 As we age, our brains are more susceptible to damage caused by harmful free radicals in the environment. This can impact attention span, the ability to learn, and memory. If you are first exposed to some type of oxidative stress (usually caused by free radical damage), and later take PQQ, it may improve memory and reduce the harm caused to cells.
Hydrolyzed Bovine Collagen
As compared to other proteins hydrolyzed bovine collagen supplements can be easily digested and absorbed by your body and help to increase your muscle strength. Many studies also support that adding collagen supplements to the daily diet may help to fight against chronic joint pain and symptoms of osteoarthritis.75% of the dry weight of your skin is collagen protein and there are more than 20 types of collagen found in your body, out of which Type-I & Type-III is the major constituent of your skin.

Maxler beauty collagen which derives from bovine collagen is a great source of Type-I & III. Therefore the bright sides of consuming bovine collagen supplements in your daily diet may slow the skin aging process by enhancing the skin collagen level and boosting your skin health. Many studies also support that adding collagen supplements in the daily diet may help to fight against chronic joint pain and symptoms of osteoarthritis. Bovine collagen supplement is a great source of collagen type I & III and is an abundant source of many essential amino acids that are helpful in the synthesis of various other types of collagen and many other proteins. And as you know collagen is the most important constituent of your bone, therefore, taking bovine collagen supplements can help to improve your bone health.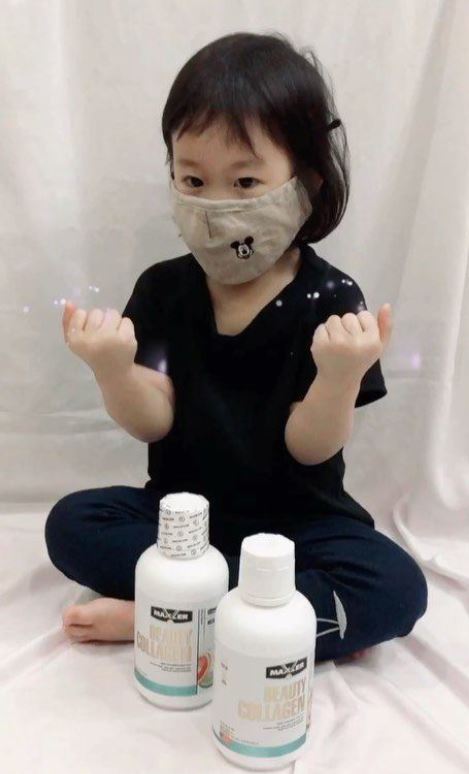 The body produces Collagen naturally, but that ability diminishes with age, so it's important to take a supplement to boost your body's Collagen stores as well as trigger Collagen's long-term production.

Beauty Collagen has been formulated with a unique blend of active ingredients that includes Hydrolyzed Collagen, Biotin, Hyaluronic Acid, Coenzyme Q10, and Aloe Vera to help boost your natural collagen, elastin, and hydration.
Beauty Collagen supplies your body with key ingredients to stay young, healthy, and beautiful inside and out.

Directions: Take 1 serving (2 tablespoons, 30 ml) liquid pure or diluted with water.
To Sum It Up, Maxler Beauty Collagen has been amazing beauty collagen.
It has super ingredients such as:

🥰 Elderberry: Anti-aging & prevents skin conditions such as breakouts & scars

🥰 Blueberry: Skin glowing, boosts hair growth & anti-aging

🥰 Aloe Vera 🍃 Gel: Heal wounds & treat skin problems

🥰 Hyaluronic Acid: Improve appearance by keeping it moist & supple

🥰 Coenzyme Q10: Antioxidant & protect cells from oxidative damage on the skin

🥰 Biotin: Improve hair growth, strong nails, and smooth skin

Come and get Maxler Beauty Collagen and be beautiful and youth looking inside and out ♥️
---