Scitec Nutrition BCAA Xpress (700G)
ProteinLab Sports Nutrition Supplement Supplier / Wholesaler Malaysia presents!
Scitec Nutrition BCAA Xpress (700G)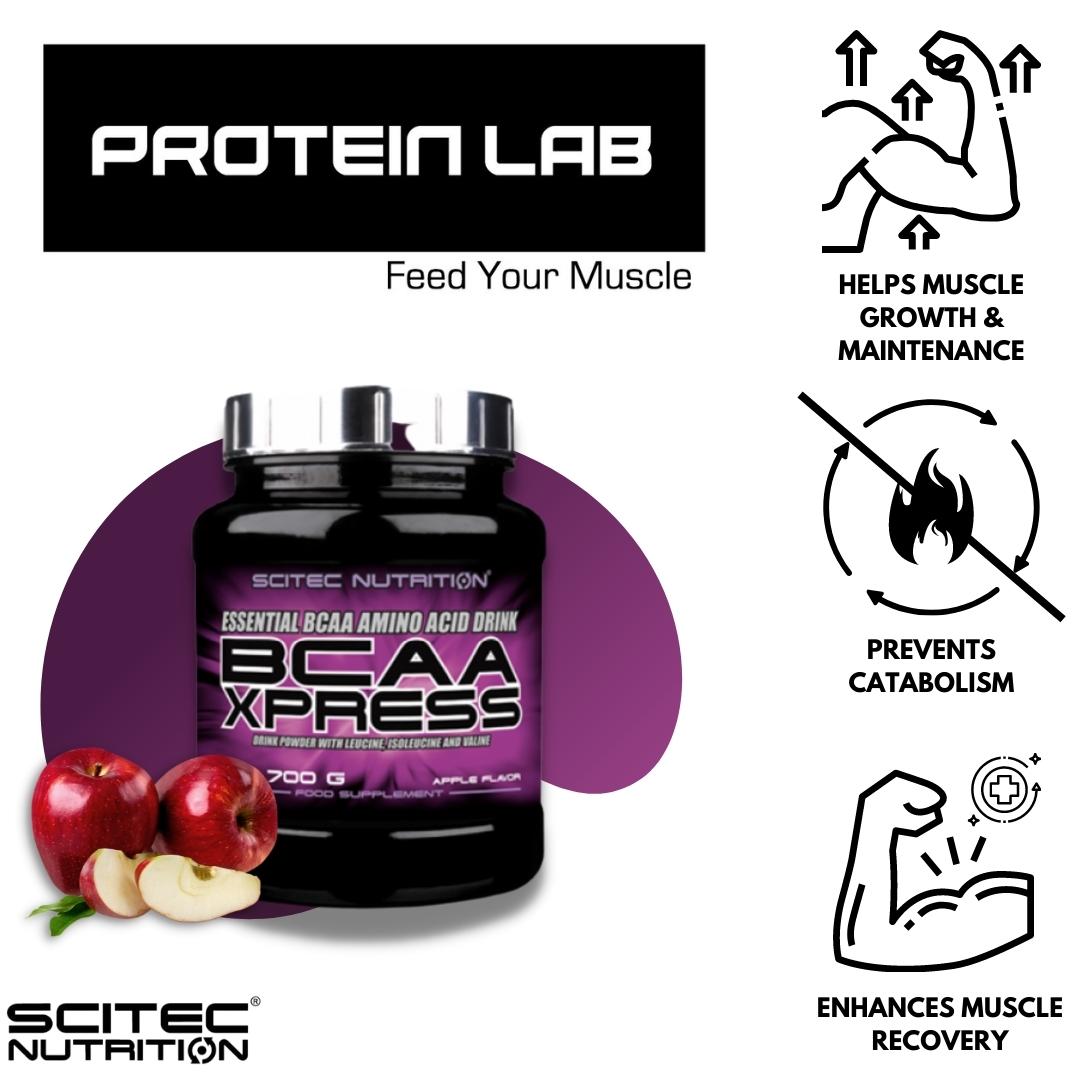 Scitec Nutrition presents BCAA XPRESS, the ideal INTRA-WORKOUT formula to promote muscle recovery and provide you with an extra energy boost to enhance your training regime.
PRODUCT DESCRIPTION
This product comes in a powder form comprised of a 2:1:1 ratio of BCAAs (L-Leucine, L-Isoleucine, and L-Valine).
BCAAs: Branched Chain Amino Acids are made up of 3 of the 9 Essential Amino Acids (L-Leucine, L-Isoleucine, and L-Valine), which are called "essential" because although they are very important for the human body since they contribute to approximately 33% of Lean Muscle Mass, your body cannot produce them by itself. The only way for you to get these necessary Amino Acids into your body is from food (Tuna, Chicken Breast, Beef, Nuts) or nutritional supplements such as this BCAA XPRESS. BCAAs supplementation is especially advised for people who regularly have high-intensity workouts, Vegans, and Vegetarians.
The BCAAs active ingredients of this product:
Promote Muscle Recovery by aiding Protein Synthesis in your body.
Prevent the breakdown and hypotrophy of your muscle tissue by acting as an anti-catabolic agent.
Helping reduce post-workout muscle fatigue and general tiredness by replenishing the BCAAs needed by your body after high-intensity training.
Aiding in reducing lactic acid levels in your muscles during training to increase and enhance your workout performance.
WHEN TO USE THIS PRODUCT
INTRA-WORKOUT: Taking BCAA Xpress after you train enables you to get protein into your body faster, giving the muscles the fuel they need to recover and avoid muscle fatigue after an intense workout.
HOW TO USE THIS PRODUCT
Add 1 (12 g) SCOOP included in the package to 20 ounces of water.
Mix the powder with the liquid to create a delicious apple-flavored shake (see our Scitec Nutrition Shaker).
For best results use it during a workout to replenish the body, avoid muscle fatigue and gain an extra energy boost to continue your training.
ALLERGEN INFORMATION
Manufactured in a facility that processes milk, egg, gluten, soy, peanuts, nuts, fish, and crustacean ingredients.
QUALITY GUARANTEE
Scitec Nutrition is one of the leading manufacturers of Sports Supplements, with its own production, packaging, and distribution capabilities.
Our industry experience spanning more than 20 years, proves that we continue to fulfill our promise of Superior Product Quality to all our customers and partners.
Our production site is certified according to GMP, HACCP, ISO 9100, FSSC, and IFS standards, and our facilities are registered with the FDA.
BCAA Xpress is guaranteed to be hormone-free, and free from pesticides and banned substances.
Warnings
Use this product in conjunction with food as part of a healthy, balanced diet, not as a substitute for such.
KEEP OUT OF REACH OF CHILDREN! DO NOT EXCEED THE DAILY RECOMMENDED DOSAGE!
Be safe and rest assured you are getting 100% authentic products at the lowest price when you purchase from ProteinLab Malaysia.
You can also like our Facebook for more promotion news at :
Or you can also follow Instagram for more nutrition tips:
---