MyProtein Impact Whey (1kg)
ProteinLab sport supplement supplier / wholesaler malaysia presents!
MyProtein Impact Whey (1kg)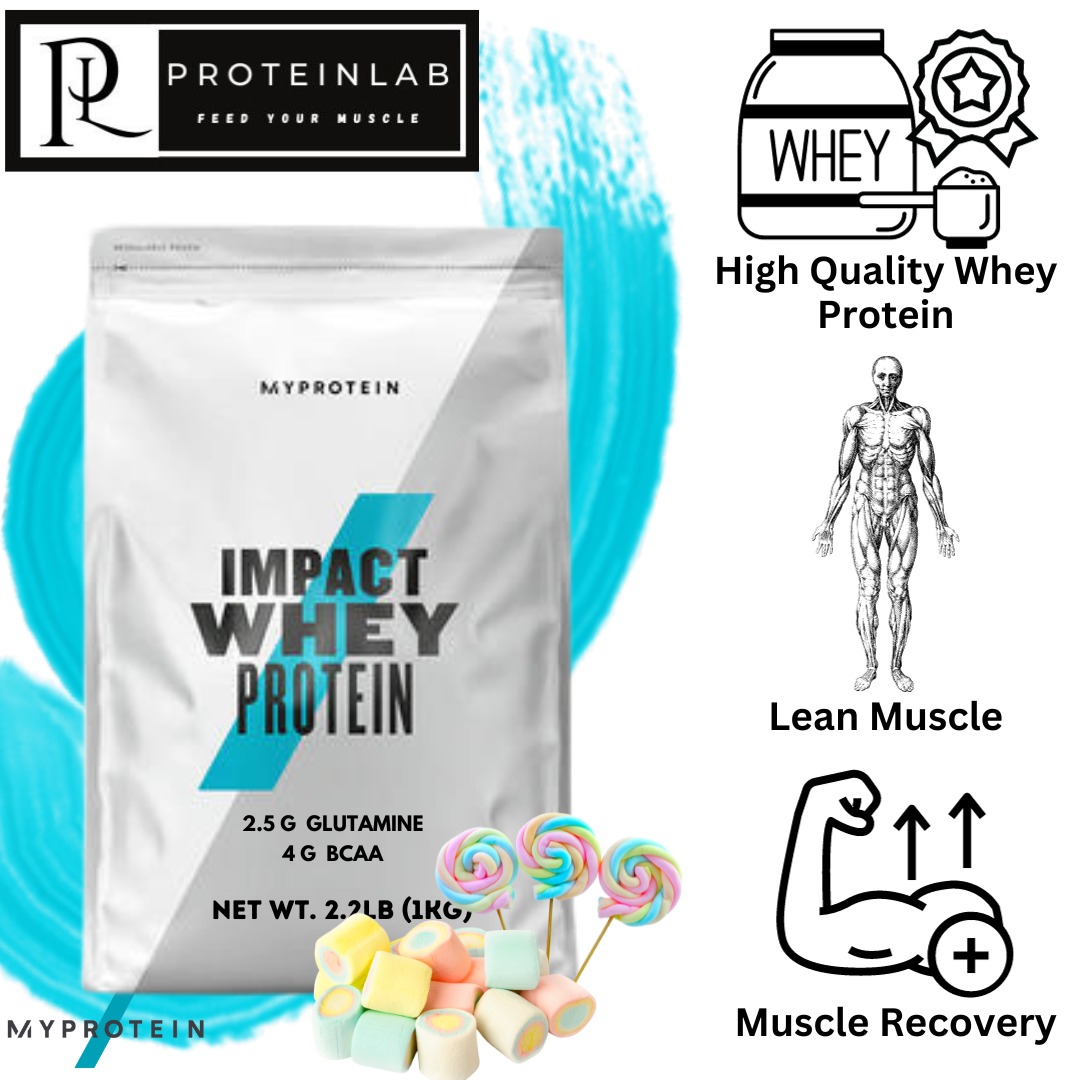 Created with premium, grass-fed whey, it's packed with an impressive 21g of protein per serving, delivering the protein you need from a high-quality source.
Ranked Grade A by independent tester Labdoor for both quality and value, Impact Whey Protein is officially certified as one of the best protein powders on the market.
It also provides you with all the essential amino acids, including 4.5g of BCAAs providing the building blocks for new protein – before, during, and after workouts – as well as 3.6g of glutamine, which helps muscular development.
With just 1.9g of fat and 1g of carbs, Impact Whey Protein is the perfect way to support all your training goals. And it comes in a range of indulgent, mouthwatering flavours, too!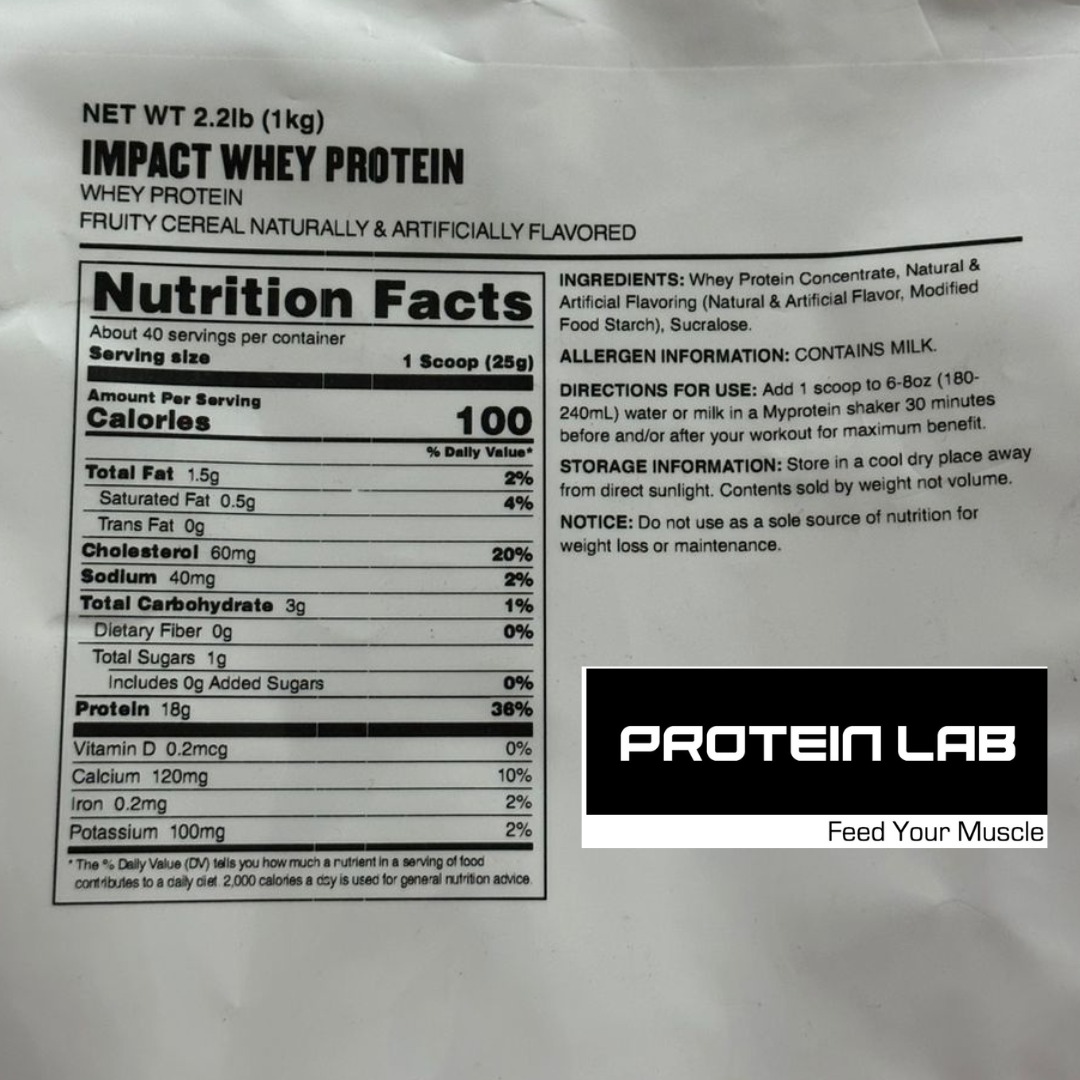 Why Choose Myprotein Impact Whey Protein (1kg)?
It's convenient, high-quality protein that helps grow and maintain important muscle1 — and with just 1.9g of fat, 1g of carbs, and only 103 calories per serving, it's here to support all your fitness goals.
It also includes the essential amino acids, including 4.5g of BCAAs — these naturally occur in protein which helps to build and repair new muscle1 — so you're always ready for the next session.
When to take Myprotein Impact Whey Protein?
It's fast absorbing, so we recommend adding 1 large scoop (25g) to water or milk 30-60 minutes post-workout — but it's ideal any time for a convenient way to get the protein you need.
What does Impact Whey Protein work well with?
Get some extra help to power through that difficult last set — add a scoop of Creatine Monohydrate to your shake — it's proven to increase physical performance in successive bursts of short-term, high-intensity exercise.
Here are some Benefits of taking Whey Protein:
Muscle Growth: Whey Protein is rich in essential amino acids, thus making it a perfect choice for promoting muscle protein synthesis and muscle growth.
Weight Management: Whey Protein can help you with weight loss or maintainence by increasing feelings of fullness and promoting fat reduction while maintaining lean muscle mass.
Improved Recovery: Whey Protein helps in post-workout recovery by reducing muscle soreness and promoting muscle repair.
Enhance Strength: Whey Protein may help improve your strength and performance in resistance training workouts.
Nutrient Absorption: Protein can help improve the amount of essential nutrients and minerals your body absorbs.
Immune System Support: Several protein sources contains immune-boosting ingredients, which can assist your body to fight illnesses.
Convenient: It's a convenient way to increase your protein intake, especially for those individuals who are always occupied or on a restricted diet.
Vital For Tissue Repair: Protein is important for the repair and maintenance of various tissues, not just muscles.
Be safe and rest assured you are getting 100% authentic products at the lowest price when you purchase from ProteinLab Malaysia.
You can also like our Facebook for more promotion news at :
You can also follow Instagram for more nutrition tips:
---