Everbuild Nutrition PRE BUILD (20 Servings) - 600g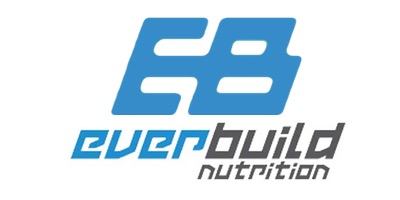 Everbuild Nutrition PRE BUILD (20 Servings) - 600g
PREBUILD by Everbuild is now available in Malaysia, is a unique Elite PreWorkout fitness supplement blend, designed specifically to enhance mental focus, and fat energy utilization and improve physical workout strength, performance, and muscle pump. The product contains a special mixture made from vitamins, amino acids, electrolytes, and Creapure ®- a world-renowned formula of creatine monohydrate.
What are some effects to be expected from EN Pre-Build Pre Workout:
Burn belly fat fast
Support usage of fat as an energy source
Supports long endurance
Increases energy levels
Improves gym performance
Improved heavy lifting performance
Support cognitive ability for beating PR
Helps to maintain optimal hydration
Gives more strength
Increases muscle growth
Supports mental focus and motivation
Helps to transform fat into pure energy
Anti-inflammatory effect
Proteinlab Malaysia is proud to present Everbuild Nutrition (EN) Pre-Build to your attention the first of their new line of elite supplements, specifically manufactured for extreme fitness and bodybuilding enthusiasts. EverBuild PREBUILD is a product with a complex multi-component formula that improves performance during intense physical activity and at the same enhances fat burning. Each ingredient is proven to work and is added in the newest addition to the impressive Everbuild catalog boosts the different aspects of the pre-workout preparation and their combined impact on the body. Everbuild PreBuild pre-workout is guaranteed to work and give you the best results you ever had!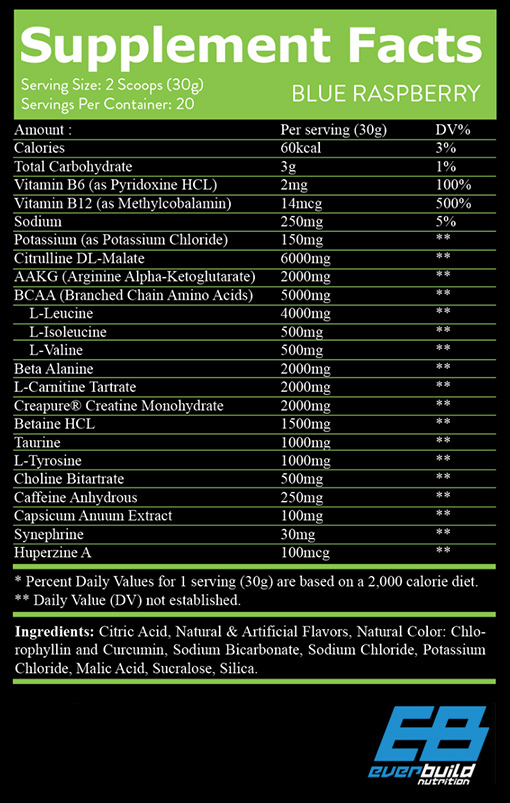 PREBUILD contains a list of important amino acids such as BCAA (L-leucine, L-isoleucine, L- valine), which support muscle growth; L-tyrosine, which takes part in protein synthesis and production of neurotransmitters and thus improves mood, muscle strength and reduces symptoms of fatigue; arginine alpha-ketoglutarate (AAKG) which is one of our founder favorite compounds to enhance pump and free radical protection. AAKG is also an easily digestible combination of the amino acid L-arginine and the alpha-keltoglutarataric acid which supports nitric oxide balance and regulates blood pressure. PREBUILD also contains sodium and potassium - electrolytes that help the body remain hydrated throughout your workout session and efficiently boost energy levels.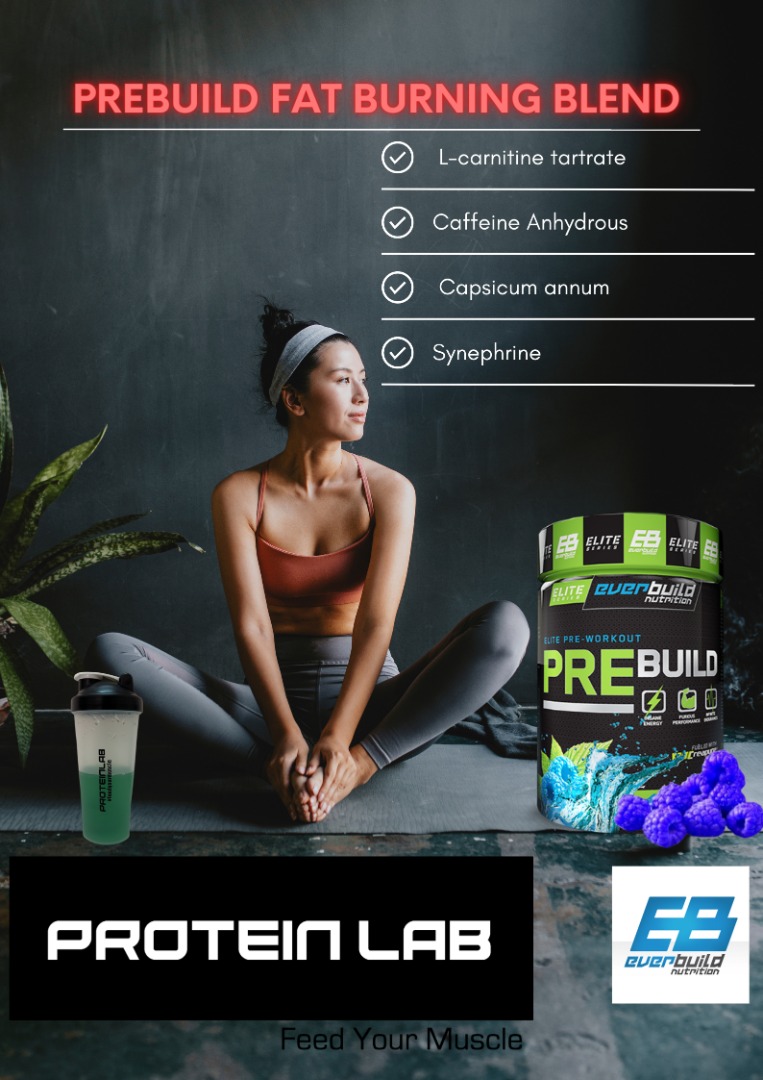 PreBuild Fat Burning Blend
PreBuild pre-workout formula is further enriched with L-carnitine tartrate which effectively helps with losing body fat by transporting fatty acids to cell's mitochondria in which carnitine helps burn fat by encouraging cells to utilize fatty acids as energy. Other than swinging your body from using mainly glucose as an energy source into using fat as an energy source, carnitine supplementation also helps to reduce muscle soreness, increase oxygen uptake, improve power output, enhance blood flow, and promote recovery. PreBuild Preworkout uses L-carnitine L-tartrate as tartrate is able to enhance absorption, allowing for quicker fatty acid transport.
Well, extra tips here for you guys who read this here at ProteinLab Malaysia, is that many do not know this, but choline's synergy with carnitine! Several studies have investigated the effects of pairing choline (particularly a higher 2g dose of bitartrate) alongside carnitine, finding that choline increases carnitine retention in the body, allowing for longer-lasting fat burning! Heck don't just take our founder @Kevinn.Khoo's word for it, you can check out more studies below:
1) Effect of Choline Supplementation on Rapid Weight Loss and Biochemical Variables Among Female Taekwondo and Judo Athletes
2) Choline supplementation alters carnitine homeostasis in humans and guinea pigs.
3) Carnitine and Choline Supplementation with Exercise Alter Carnitine Profiles, Biochemical Markers of Fat Metabolism and Serum Leptin Concentration in Healthy Women.
4) Choline supplementation reduces urinary carnitine excretion in humans.
In addition to that, PreBuild also includes a pure extract from capsicum annum, well known for its ability to increase body temperature and strong anti-inflammatory properties. Most profound is the added synephrine which is shown to increase lipolysis, energy expenditure, fat oxidation, and maximum oxygen intake (V02max), as well as carbohydrate mobilization, primarily during selected segments of resting conditions before and 30 minutes after resistance exercise. As you would expect from a mild stimulant that increases energy expenditure, the main benefit of synephrine supplementation is faster weight loss. For example, one study found that a single dose of 50 milligrams of synephrine increased basal metabolic rate by 65 calories over the course of the next 75 minutes. Lastly, PreBuild include what any fat burner or pre-workout supplement needed the most, Caffeine! Well, it is not farfetched to say it is the major ingredient for PreBuild pre-workout. However, unlike other brands which loaded their fat burners or pre-workout with caffeine hoping/praying you to get the hook or addicted to the stimulant. EverBuild decided to design Prebuild differently and just dose it at 250mg of caffeine as Prebuild is loaded with so much of other active proven-to-work ingredients. How does caffeine help you? Caffeine inhibits adenosine (a neurotransmitter that encourages relaxation and sleep), which not only increases alertness but also reduces appetite and increases thermal heat. Caffeine also stimulates cyclic adenosine monophosphate (cAMP) activity by inhibiting phosphodiesterase enzymes in muscle and fat tissues. This increases thermogenesis, encouraging the body to expend and burn more energy. At 250 milligrams, this dose of caffeine is certainly not on the higher end of what some of you may like to see. However, it's a solid dose that will no doubt ignite your internal engine, heating things up and providing a solid energy kick while not loading your body up with too many stimulants. Well, if you want more, you can just always just add an additional 1/2 scoop into your pre-workout to get PreBuild into the next level of weight crashing energy formula.
PreBuild Weight Crashing Blend
The inclusion of Vitamins B6 and B12 also fight symptoms of fatigue and support mental focus. PREBUILD by Everbuild Nutrition contains Creapure ®- a world-class proprietary blend of creatine monohydrate, which is one of the most famous and effective supplement ingredients for boosting energy and strength. However, what ProteinLab Malaysia's founder loves the most in this pre-workout energy blend would be the inclusion of up to 6g of Citrulline DL-Malate, 2g of AAKG, and 2g of Beta-Alanine. L-citrulline DL malate is a precursor to arginine which will increase your body's nitric oxide levels and may also support cardiovascular health. Nitric oxide aids in transmitting signals to the cells allowing for intercellular communication. More blood flows into your body will help you to get the pump for muscle growth faster. L-citrulline DL malate synergizing with AAKG (Arginine Alpha-ketoglutarate) itself is like a super-boost to your nitric oxide level in which the ammonia and lactic acid in your body is easily removed. AAKG is practically L-arginine with better bioavailability. AAKG also has the potential added benefit of producing ATP by enhancing mitochondrial function. This is based on the fact that the alpha-ketoglutarate in AAKG is used within mitochondria as an energy producer. By having more blood flow and oxygen in your body, toxins are swept away quickly. When you lift weight this toxin will build up in high concentrations, which resulted in the burn you felt while working out. Removing it fast from your system allows you to get on your next working set in not so fatigue conditions.
Infinite Endurance
The supplement complex is specifically designed to meet the requirements of professional athletes. More sets and reps are expected after a single dose of this masterpiece of sports science. Succeed where others have failed and stay on track through the whole workout driven by the Endurance blend of PREBUILD.
Insane Energy
Increasing and accelerating your energy, metabolism and mental focus is essential for an excellent workout. PREBUILD is an exceptional combination giving you the fuel you need to accomplish the results you crave for. Cross the boundaries of your genetics and take what is yours.
Furious Performance
Increasing the overall performance is a top priority when you are choosing a pre-workout complex. Everbuild Nutrition is proud to present you with a unique formula. It will successfully make your workout a personal battle with your limits giving you a chance to conquer your dreams.
One dose: 2 scoops = 30 g.
Servings per container: 20
Suggested use: Mix 2 scoops with 335-475 water or beverage of your choice and consume 20-30 minutes before working out!
Recommendations:
Do not exceed the daily recommended use!
Do not use it as a substitute for a balanced diet!
Store in a cool, dry place, under 25˚C away from direct sunlight!
ProteinLab sports supplement supplier/wholesaler Malaysia presents!
Everbuild Nutrition PRE BUILD (20 Servings) - 600g
Be safe and rest assured you are getting 100% authentic products at the lowest price when you purchase from ProteinLab Malaysia.
You can also like our Facebook for more promotion news at :
Or you can also follow Instagram for more nutrition tips:
---