BSN Protein Crisp Bar
ProteinLab sport supplement supplier / wholesaler malaysia presents!
BSN Protein Crisp Bar!
Be safe and rest assure you are getting 100% authentic products at the lowest price when you purchase from ProteinLab Malaysia.
You can also like our facebook for more promotion news at :
Or you can also follow instagram for more nutrition tip :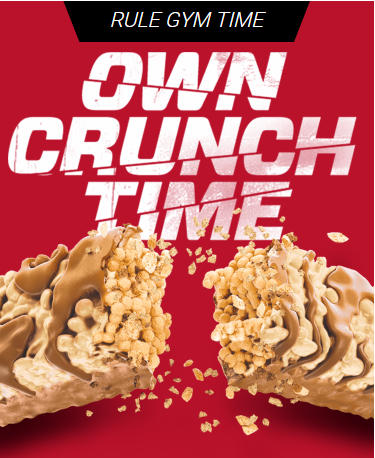 UNAPOLOGETICALLY UNIQUE.
INSANELY IRRESISTIBLE.
Busting your ass in the weight room doesn't have to mean punishing your taste buds during recovery. Reward yourself with BSN's new PROTEIN CRISP BAR, a serious combination of incredible taste and unique texture without compromising your macros.
At just 230-240 calories, each PROTEIN CRISP BAR is loaded with 20g of premium proteins and only 2-4g of sugar. And with a light, rice-crispy texture filled with decadent flavor in each crunch, every day will taste like a cheat day.
Tear into six savagely delicious flavors—Chocolate Crunch, Vanilla Marshmallow, Peanut Butter Crunch, Salted Toffee Pretzel, Mocha and S'mores—for an ultra convenient, protein-packed snack between meals, after your workout or whenever you crave a guilt-free bite on the go. You've earned it.
TEAR INTO SIX SAVAGELY DELICIOUS FLAVORS...
Chocolate Crunch
Bold, rich chocolate flavor and a crave-worthy crunch to drive your taste buds wild with every bite. This is as decadent as it gets.
Peanut Butter Crunch
The irresistibly creamy taste of peanut butter and a satisfying crunch combine for an insanely delicious experience from start to finish.
Vanilla Marshmallow
An indulgent combination of vanilla and marshmallow flavors packed into a light rice-crispy texture for serious satisfaction on the go.


Salted Toffee Pretzel
Rich, caramelized flavor of toffee collides with the savory taste of pretzel to pack a sweet and salty punch in every crunch.


Mocha
A delicious combo of coffee and cocoa packed in a crispy-crunchy texture. Come and get it, mocha lovers.


S'mores
Inspired by a throwback treat—feast on toasted marshmallow, decadent chocolate and sweet graham cracker flavors. No bonfire needed.


UNIQUE TEXTURE.
DECADENT TASTE.
Light, rice crispy-like texture
Six insanely decadent flavors
20g of Premium Proteins
Only 2-4g Sugar
230-240 Calories per bar

Directions For Protein Crisp: For healthy adults, consume enough protein to meet your daily protein requirement with a combination of high protein foods and protein supplements throughout the day as part of a balanced diet and exercise program.
---