(LAST UNIT) VITAXTRONG 100% CREATINE 5000 (300G)
ProteinLab sports nutrition supplements supplier/wholesaler Malaysia presents!
VITAXTRONG 100% CREATINE 5000 (300G)!
Be safe and rest assured you are getting 100% authentic products at the lowest price when you purchase from ProteinLab Malaysia.
You can also like our Facebook for more promotion news at :
Or you can also follow Instagram for more nutrition tips: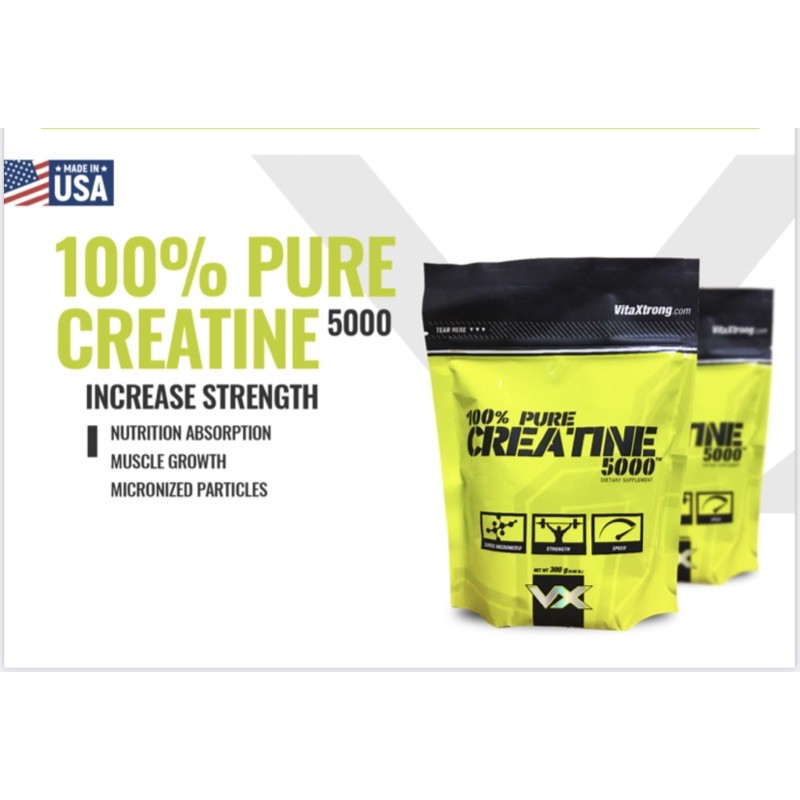 INTRODUCING CREATINE 5000
Unleash your inner beast and maximize your muscular development today with Creatine 5000™. Creatine 5000™ supplies 5,000mg of pure, pharmaceutical-grade creatine monohydrate in every serving to help you increase strength and power safely and naturally. Plus, it's micronized to be 17x smaller than normal creatine, so it absorbs faster, hits your muscles quicker, and gives you a quick shot of the muscle energy you need without upsetting your stomach.
ULTRA-PURE CREATINE
So pure, in fact, that it meets pharmaceutical-grade quality standards and is 100% pure. That means no fillers. No added ingredients. And no unwanted or potentially harmful contaminants and byproducts. Simply 5,000mg of the safest, purest, and highest quality creatine monohydrate ever made available for sale.
THE BEST MUSCLE BUILDER IN THE WORLD
Creatine Monohydrate is the best muscle builder in the World. It's back by clinical studies...and HUNDREDS of them. It's proven to build muscle...and lots of it. It's proven to increase strength...by leaps and bounds. It's proven to help you build a bigger bench press, build bigger arms, bigger legs, and boost muscular endurance, too. It's even proven to reduce levels of myostatin, a protein in your body that works to keep your muscles small. So how does it work?
BIGGER-LOOKING MUSCLES IN DAYS!
The great thing about Creatine is you get results within days. In addition to loading your muscles with creatine phosphate, it also super-hydrates muscles with water, too. And this causes your muscles to swell up and look visibly bigger - even when you're not in the gym. But this effect is not just for looks. In fact, this muscle-swelling effect is also a key mechanism that forces muscle cells to grow bigger.
Directions:
Follow the loading phase for the first 7 days. Then, maintain by consuming the recommended amount in the maintenance phase each day after. Mix thoroughly with cold water, a protein shake, or a beverage of your choice. Vary liquid amount depending on your personal taste.
WARNING:
Do not use if pregnant, nursing, or using any prescription medication. Discontinue use and consult with your healthcare practitioner if any adverse reactions occur. Drink at least 1 gallon (3L) of water per day when supplementing with Creatine Monohydrate. Keep out reach of children.
Store in a dry, cool place.
**When taken at maintenance phase dosge.
---