TEST FREAK 2.0 (180 Capsules)
ProteinLab Sport Supplement Supplier / Wholesaler Malaysia presents!
TEST FREAK 2.0 (180 Capsules)
Be safe and rest assure you are getting 100% authentic products at the lowest price when you purchase from ProteinLab Malaysia.
You can also like our Facebook for more promotion news at :
Or you can also follow Instagram for more nutrition tip :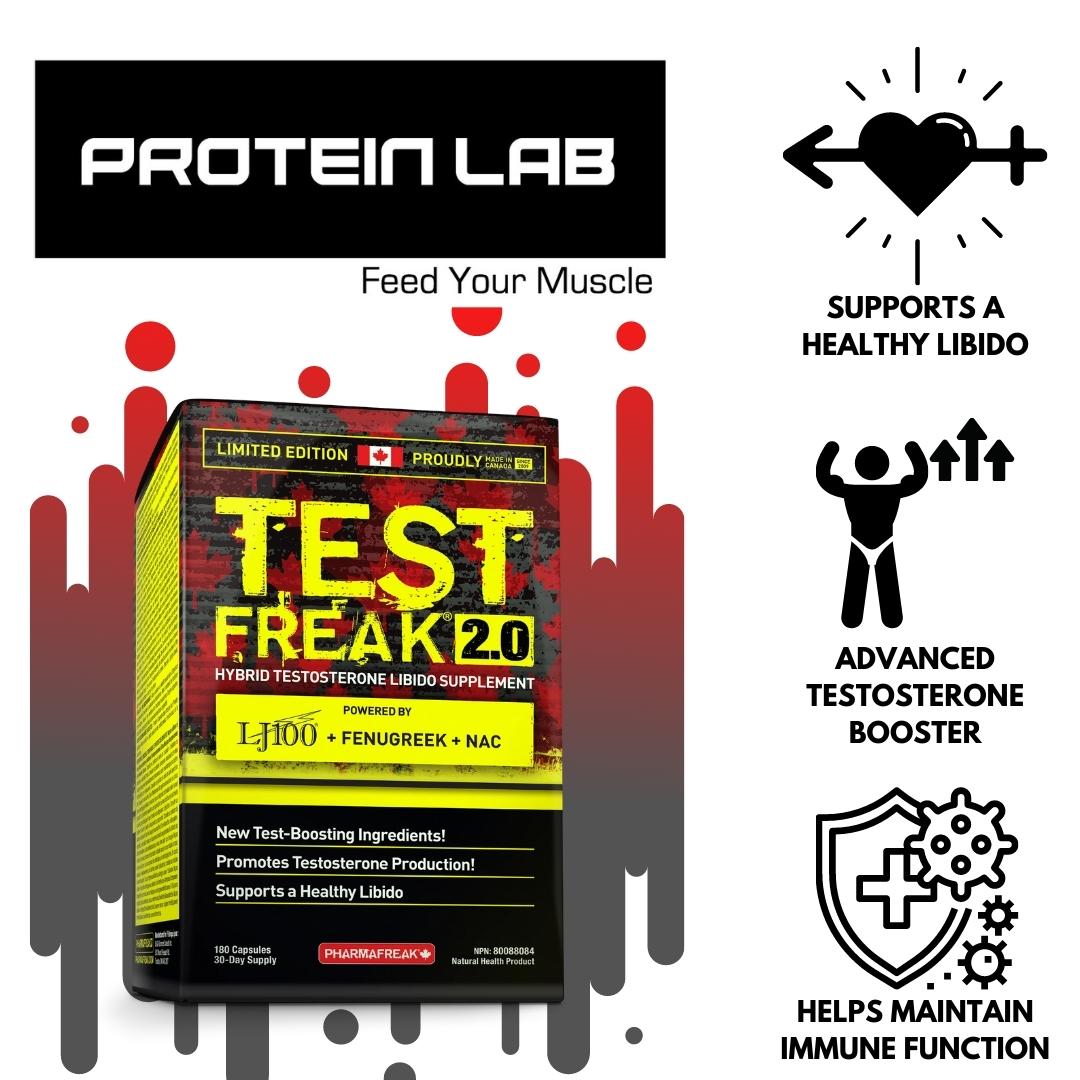 TEST FREAK 2.0 is a hybrid testosterone libido supplement. It is complete formula that is powered by the clinically proven LJ100® Tongkat Ali.
TEST FREAK 2. 0 is formulated to increase natural testosterone production while reducing oestrogen and cortisol. TEST FREAK 2.0 can support improvements in muscle growth, strength, recovery and libido, and sexual performance!
WHAT IS LJ100?
LJ100 is a safe, unique, standardized, patented, rigorously science-tested and proven, proprietary nutraceutical. The benefits of LJ100 comes from the herbal extract, Tongkat Ali (it is known as Eurycoma Longifolia), which is sustainably harvest from the rainforests of Malaysia.
These are the ingredients that available in TEST FREAK 2.0 :

FENUGREEK
Fenugreek uses are lowering blood sugar levels, boosting testosterone, and increasing milk production in breastfeeding mothers. Fenugreek may also reduce cholesterol levels, lower inflammation, and help with appetite control.
TRINULUS
Tribulus is a plant that produces fruit covered with spines. It is effective for sexual problems that prevent satisfaction during sexual activity. It can improve the sexual experience in females who have sexual dysfunction or low sexual desire. Not only applicable in female, it is also applicable in males with low sexual desire too.
SAW PALMETTO LIPOSTEROLIC EXTRACT
Saw Palmetto is a supplement made from the fruit of the Serenoa repens tree. It's often used to treat enlarged prostate, improve urinary function, and enhance hair growth. Some also use the supplement to boost libido and fertility and reduce inflammation.
STINGING NETTLE
Stinging nettle (Urtica dioica) is a plant with pointed leaves and white to yellowish flowers. The root and above ground parts are used for diabetes. The stinging nettle plant is typically 2-4 meters tall. It contains ingredients that might decrease swelling and increase urination. The leaves are sometimes eaten as a cooked vegetable. Stinging nettle is most commonly used for diabetes and osteoarthritis.
HESPERIDIN
It has multiple beneficial effects such as anticarcinogenic, antihypertensive, anti-viral, antioxidant, antidiabetic, hepatoprotective and anti-inflammatory properties. Also, Hesperidin has the ability to help to manage these conditions such as high blood pressure, hot flashes, PMS symptoms, haemorrhoids, allergies, respiratory and sinus infections, loss of cognitive function in older adults, varicose veins, poor circulation and fluid retention.
LJ100 *TONGKAT ALI*
It can enhance sexual function and increases libido. Besides these, it also maintains normal high-free testosterone levels. Inhibits sex hormone binding globulin.
N-ACETYL-L-CYSTEINE (NAC)
N-acetyl cysteine (NAC) is a supplement form of cysteine.
Consuming adequate cysteine and NAC is important for a variety of health reasons, including for replenishing the most powerful antioxidant in your body, glutathione. These amino acids also help with chronic respiratory conditions, fertility, and brain health.
💛 It is essential for making the powerful antioxidant glutathione
💛 Helps with detoxification to prevent or diminish kidney and liver damage
💛 May improve mental health conditions and substance use disorder
💛 Helps relieve symptoms of respiratory conditions
💛 Boosts brain health by regulating glutamate and replenishing glutathione
💛 May improve fertility in both men and women
💛 May stabilize blood sugar by decreasing inflammation in fat cells
💛 May reduce heart disease risk by preventing oxidative damage
💛 Ability to boost glutathione levels may improve immune function
SELENIUM
Selenium is an essential mineral, meaning it must be obtained through your diet. It's only needed in small amounts but plays a major role in important processes in your body, including your metabolism and thyroid function.
💛 Acts as a powerful antioxidant
💛 May reduce your risk of certain cancers
💛 May protect against heart disease
💛 Helps prevent mental decline such as Alzheimer's
💛 Important for thyroid health
💛 Boosts your immune system
💛 May help reduce asthma symptoms

ASTRAGALUS
It contains antioxidants, which protect cells against damage. Astragalus is used to protect and support the immune system, preventing colds and upper respiratory infections, lowering blood pressure, treating diabetes, and protecting the liver. Astragalus has antibacterial and anti-inflammatory properties.

BROMELAIN
Bromelain is a protein-digesting enzyme mixture derived from the stem, fruit, and juice of the pineapple plant. It can remove dead skin from burns. Orally, it also reduces inflammation and swelling particularly of the nasal passages. It also used as digestive aid for osteoarthritis, it reduces soreness in aching muscles.

Besides main ingredients, there are also 30mg of ZINC, 90mg of Magnesium and 10.5mg of Vitamin B6.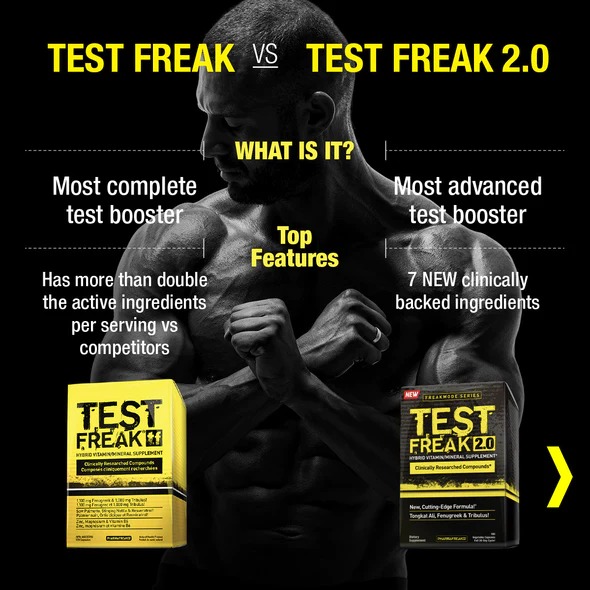 These are the comparison between TEST FREAK and TEST FREAK 2.0
HOW TO CONSUME? 👇🏻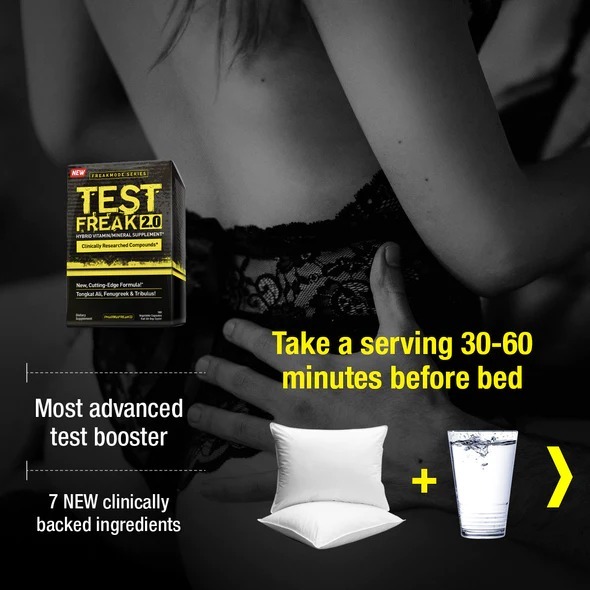 ---