SciTec Nutrition Protein Delite 1000g
ProteinLab sport supplement supplier / wholesaler malaysia presents!
SciTec Nutrition Protein Delite 1000g!
Be safe and rest assure you are getting 100% authentic products at the lowest price when you purchase from ProteinLab Malaysia.
You can also like our Facebook for more promotion news at :
Or you can also follow instagram for more nutrition tip :
We offer you these tasty shakes in many great flavors that are high in quality protein. Each flavor of Protein Delite contains dried fruit pieces or chocolate bits. Protein Delite's protein source contributes to the maintenance and growth of muscle mass and also to the maintenance of normal bones*.
Protein Delite contains milk proteins, including whey and casein, both so-called complete protein, because they provide the body with all necessary amino acids, including the 9 amino acids (i.e. Histidine, Isoleucine, Leucine, Lysine, Methionine, Phenylalanine, Threonine, Tryptophan, Valine) that are considered essential for life, because the body cannot synthesize them.
Determination of the nutritional efficiency of protein in the diet is in most cases based on estimating the extent to which dietary protein nitrogen is absorbed and retained by the body and is able to balance daily nitrogen losses. Net Protein Utilisation (NPU) is the percentage of ingested nitrogen that is retained in the body, and the Biological Value (BV) gives the percentage of absorbed nitrogen that is retained. Biological Value is the product of NPU and digestibility. Whey protein has good digestibility and amino acid composition, thus it's Biological Value is great compared to other dietary protein sources like meat, fish, eggs or soy.
Protein Delite has added extra amino acids, Taurine and L-Glutamine, the latter being the most abundant free amino acid in human blood.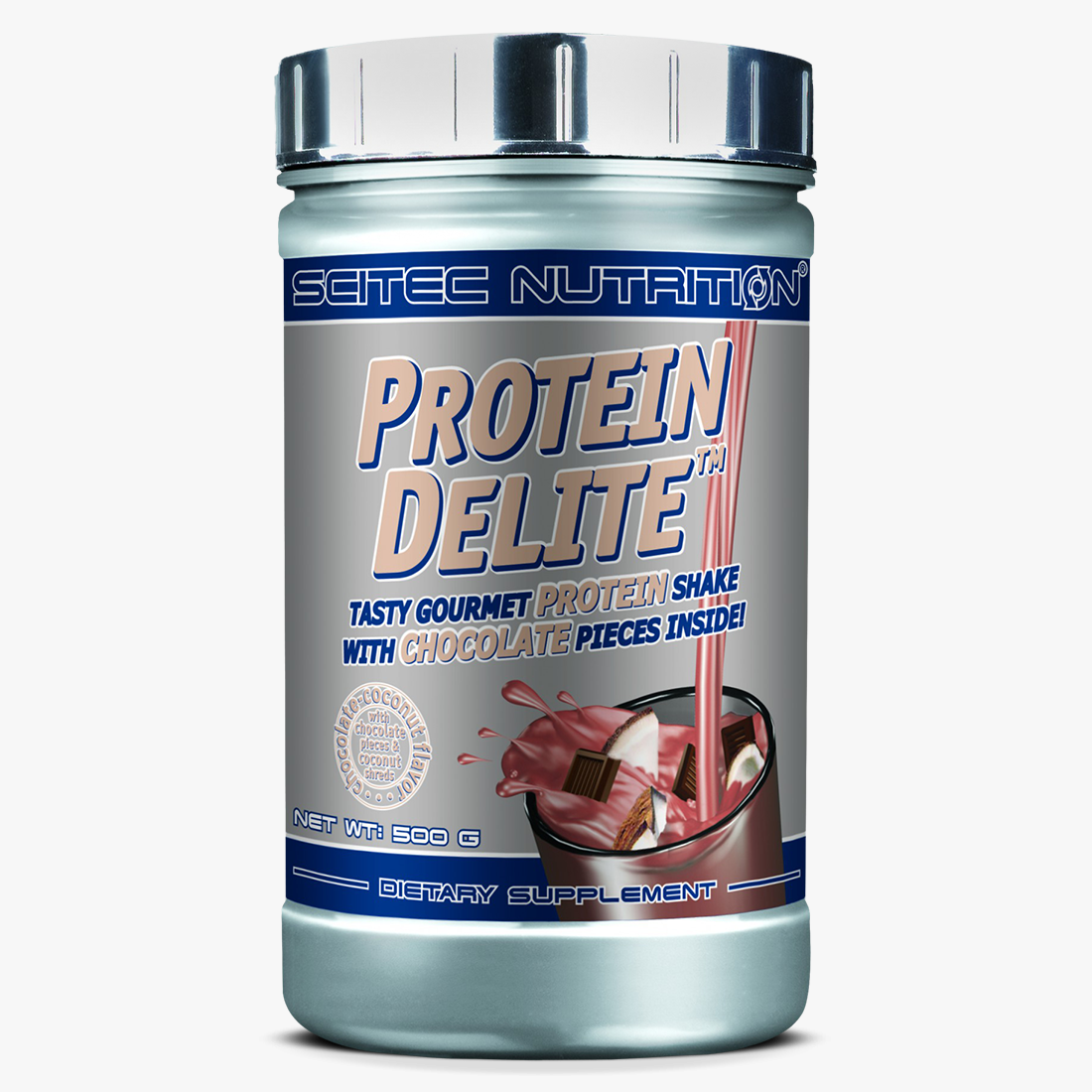 *These statements have been scientifically proven by the European Food Safety Authority (EFSA) and authorized by the European Commission (EC).
Directions
Mix 1 serving (30 g) a day with 300 ml skim milk or water. Drink it after your workout or as an evening meal.
JÁNOS CSUHAI
Bodybuilder, 2015 Olympia Amateur 1st place,
2013 Arnold Classic Europe Amateur 2nd place,
Team Scitec
Allergen info
Manufactured in a facility that processes milk, egg, gluten, soy, peanuts, nuts, celery, fish and crustacean ingredients.
Warnings
Use this product in conjunction with food as part of a healthy, balanced diet, not as a substitute for such. Keep out of reach of children. DON'T EXCEED THE RECOMMENDED DAILY DOSAGE!
Flavors
500 g: strawberry white chocolate, alpine milk chocolate, vanilla very berry, raspberry joghurt, chocolate-coconut
1000 g: strawberry white chocolate, pineapple vanilla, alpine milk chocolate, chocolate-coconut, coconut almond
Sizes
500 g – 16 servings, 1000 g – 33 servings
---