Scitec Nutrition HotBlood 3.0 (300G)
Hot Blood 3.0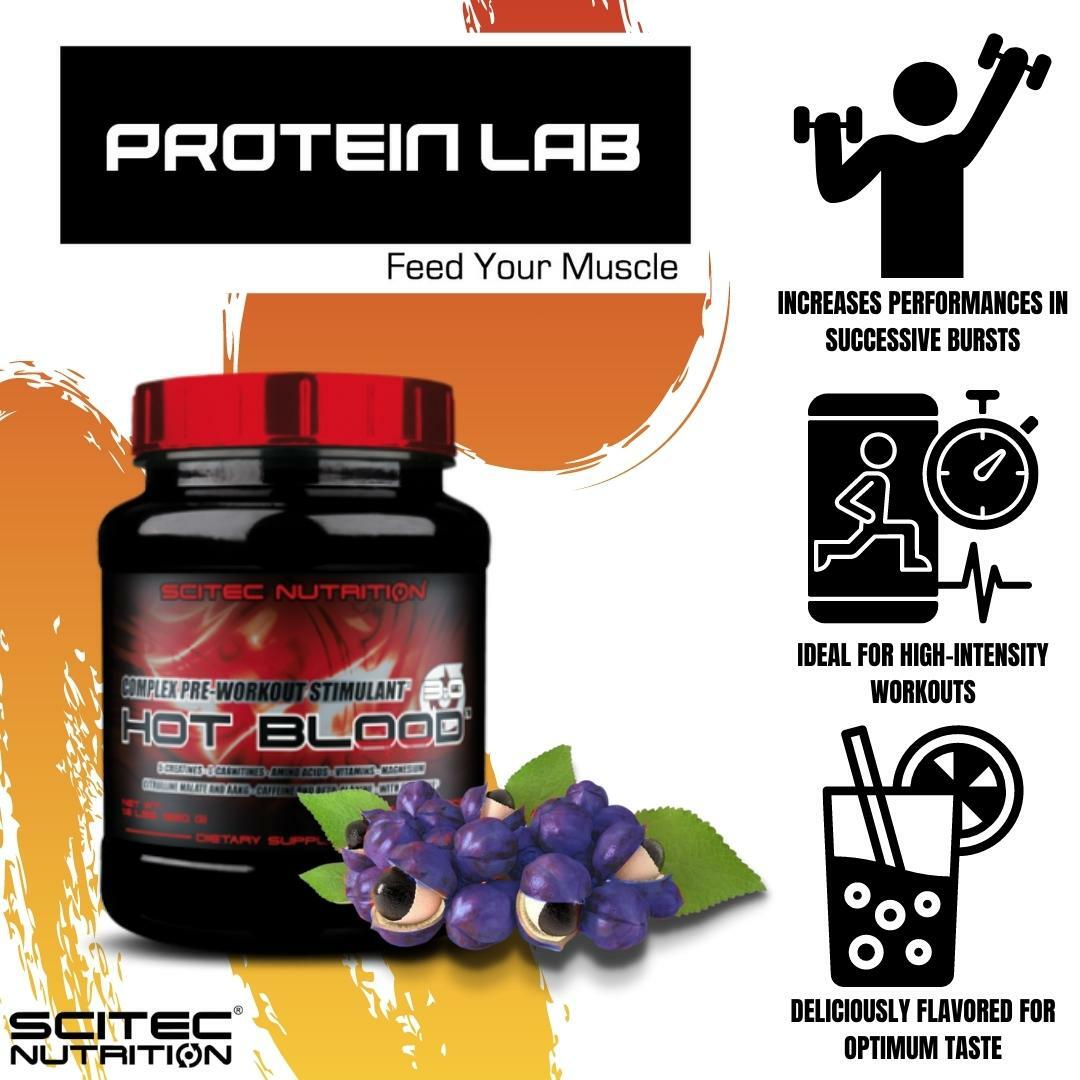 Complex Pre-Workout Stimulant
Proteinlab Malaysia bring to you Scitec Nutrition Hotblood complex preworkout stimulant. Consists of 5 types of creatine: Creatine Monohydrate, Kre-Alkalyn (buffered creatine monohydrate), Creatine Pyruvate, Creatine citrate, and MicronTec Micronized Creatine Monohydrate. So even if you are not a creatine monohydrate respondent, your body would still have 4 more types of creatine to tap into for energy production. Additionally, you would also have different times of creatine release to ensure your workout energy and post-workout recovery is tuned to perfection.
Next would be the antioxidant complex such as green tea extract which is also known as catechins, which can help shed more fat during exercise. The catechins mentioned earlier that are found in tea also help alleviate soreness and muscle damage.
This is further boosted by their Hotblood MultiComplex blend which started with glucose polymer which is a long chain of many individual glucose (sugar) units but tightly wrapped in a unique branched formation. Therefore, more glucose is present in a smaller amount of the powdered form compared to other sugars. At only 4.6g dose, this will greatly enhance your pump and preworkout energy. Combining with AAKG, Beta-Alanine, and L-Citrulline DL-Malate you can ensure this pre-workout you pump you up in various pathways. Moreover, they also combine 2 types of L-carnitine to allow signaling of your body to use more fats as an energy source throughout the workout and also act as a muscle protector. Bioperine is also included to improve the absorption of all these nutrients effectively.
Last but not least they also have Amino Acid Matrix which is added to ensure focus and pump.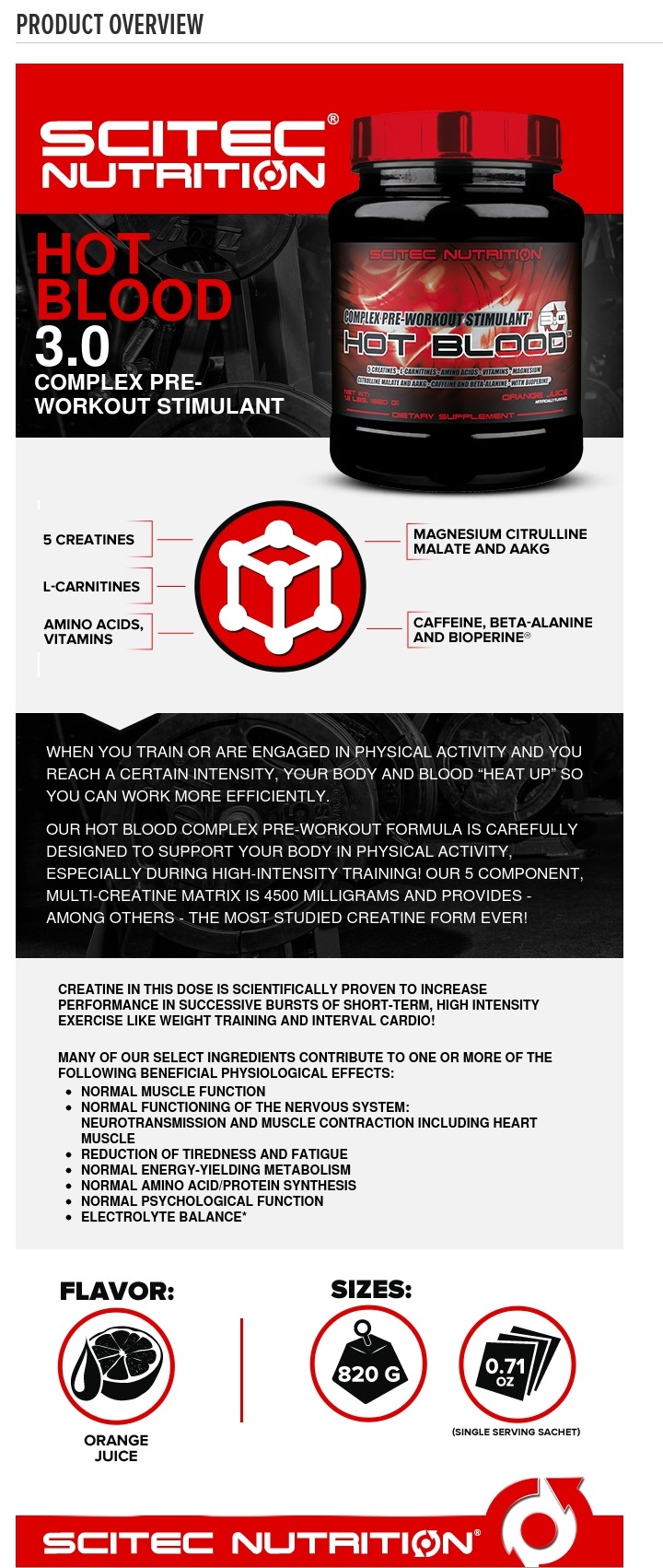 5 CREATINES • L-CARNITINES • AMINO ACIDS • VITAMINS • MAGNESIUM CITRULLINE MALATE AND AAKG • CAFFEINE AND BETA-ALANINE • WITH BIOPERINE®
*These statements have been scientifically proven by the European Food Safety Authority (EFSA) and authorized by the European Commission (EC).
Directions
Mix 1 serving (20 g) with 400 ml of cold water daily. Slightly carbonated, open bottle lid when mixing every 5 seconds to avoid accidental pressure build-up! Use 30-45 minutes before training, preferably on an empty stomach. Individuals sensitive to stimulants should first assess tolerance by taking half servings (which contain 300 mg of Caffeine per serving).
Allergen info
Manufactured in a facility that processes milk, egg, gluten, soy, peanuts, nuts, celery, fish, and crustacean ingredients.
Warnings
This product contains an absorption modifier that could affect your medications – consult your physician before use! Contains 300 mg of caffeine per serving. Not recommended for children or pregnant women. Individuals sensitive to stimulants should first assess tolerance by taking half servings! Beta-Alanine may cause a harmless, temporary tingling sensation on the skin for some individuals. Use this product in conjunction with food as part of a healthy, balanced diet, not as a substitute for such. KEEP OUT OF REACH OF CHILDREN! DON'T EXCEED THE DAILY RECOMMENDED DOSAGE!
ProteinLab Sports Supplement Supplier / Wholesaler Malaysia presents!
Scitec Nutrition Hot Blood 3.0 (300G)!!
Be safe and rest assured you are getting 100% authentic products at the lowest price when you purchase from ProteinLab Malaysia.
You can also like our Facebook for more promotion news at :
Or you can also follow Instagram for more nutrition tips:
---