Scitec Collagen Powder 300g
ProteinLab sports supplement supplier/wholesaler Malaysia presents!
Scitec Collagen Powder 300g!
Be safe and rest assured you are getting 100% authentic products at the lowest price when you purchase from ProteinLab Malaysia.
You can also like our Facebook for more promotion news at :
Or you can also follow Instagram for more nutrition tips:
What is Collagen?

A lot of people think that collagen is just a beauty product. Yes, they are not wrong. But at the same time, collagen does more than just enhance your beauty.
Collagen is one of the key ingredients that help your body to stay young and healthy inside and out. Collagen is an AMAZING protein that offers SO MANY positive benefits to our bodies! Collagen has many different types and each of those types offers benefits to our hair, skin, nails, and bone!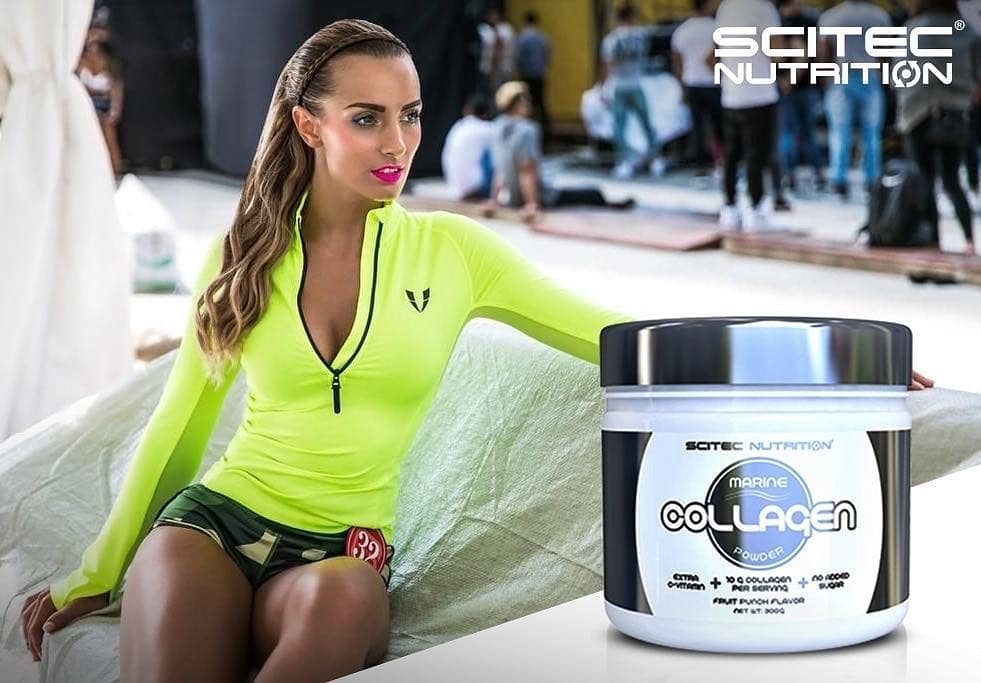 Here are some of the Key Ingredients
Hydrolyzed Marine (Fish) Collagen!
Fast-absorbing formula!
With extra Vitamin C!
Zero Sugar!
Fruity flavor combination!
10 g Collagen per serving!
Collagens are a group of proteins, which naturally occur in the human body. It has a fibrous structure. Collagen is an important component of connective tissues like cartilages, tendons, ligaments, and skin. It is the most abundant protein in our body.
The production of collagen in the human body is decreasing with age. As a result, the structure of the high collagen tissues (like skin, cartilages) will be weakened and lose their elasticity.
Our Collagen Powder product contains hydrolyzed (predigested) "marine collagen", which is a fast-absorbing form with good utilization properties. It is an ingredient from fish with high purity and is enjoyable to consume. The composition of collagen from a marine source is similar to the collagen type (Type I Collagen) occurring in skin and tendons. One serving of Scitec Collagen Powder provides the necessary daily intake of this type of collagen!
This product contains extra Vitamin C for better efficacy, which contributes to normal collagen formation for the normal function of skin, bones, cartilages, gums, teeth, blood vessels.*
*These statements have been scientifically proven by the European Food Safety Authority (EFSA) and authorized by the European Commission (EC).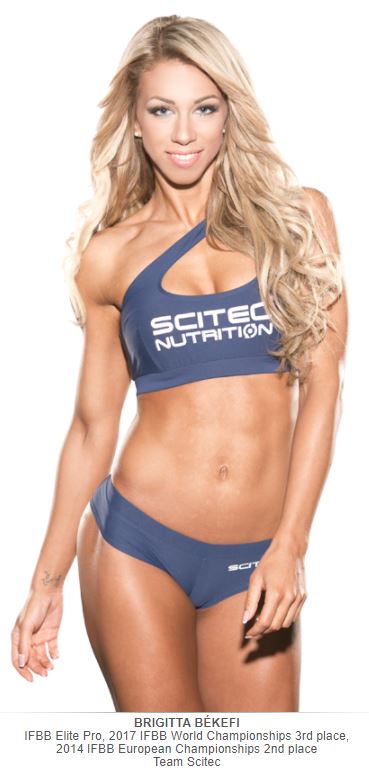 A Protein That Repairs
Collagen is the key component for structural support in our body; it comprises 90% of our connective tissue – this includes our joints, ligaments, tendons, and fascia. The combination of collagen's high bioavailability with its high amino acid content makes it optimal post-exercise nutrition that rapidly absorbs and can quickly work to help repair and replenish proteins broken down during exercise. Collagen protein supplementation is the key to maintaining an active lifestyle. Learn about collagen protein benefits for athletes, including collagen muscle repair benefits below.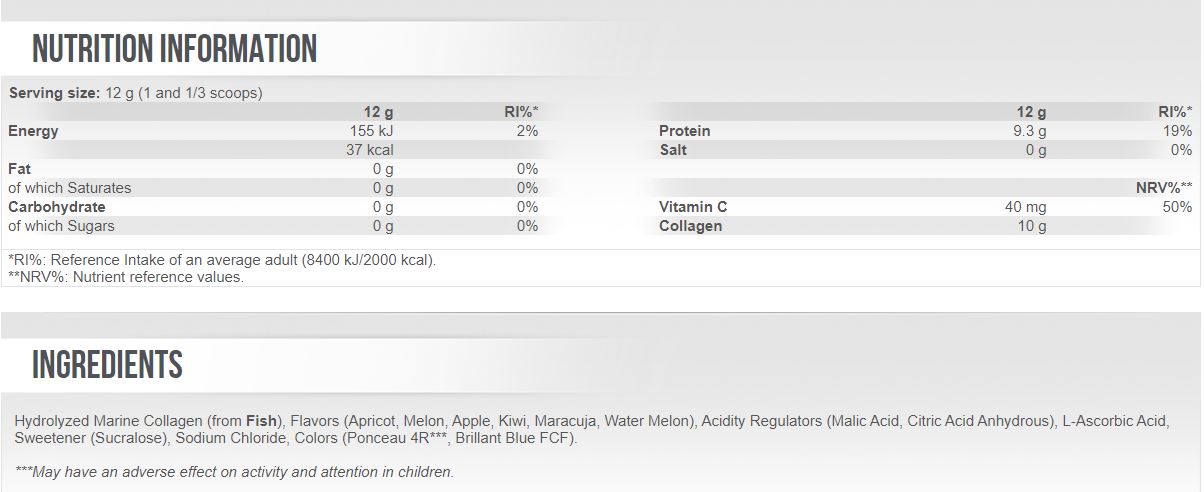 Directions
Mix one serving (12 g) in 300 ml water daily.

Allergen info
Manufactured in a facility that processes milk, egg, gluten, soy, peanuts, nuts, celery, fish and crustacean ingredients.

WARNINGS
Use this product in conjunction with food as part of a healthy, balanced diet, not as
a substitute for such. Keep out of reach of children! Don't exceed the recommended
daily dosage!

Flavors
Fruit punch
Sizes
300 g - 25 servings
---