Poppin Matcha Almond Flavor for 1 Container 5 Balls
ProteinLab sport supplement supplier / wholesaler malaysia presents!
Poppin Matcha Almond Flavor for 1 Container!!!
Be safe and rest assure you are getting 100% authentic products at the lowest price when you purchase from ProteinLab Malaysia.
You can also like our Facebook for more promotion news at :
Or you can also follow instagram for more nutrition tip :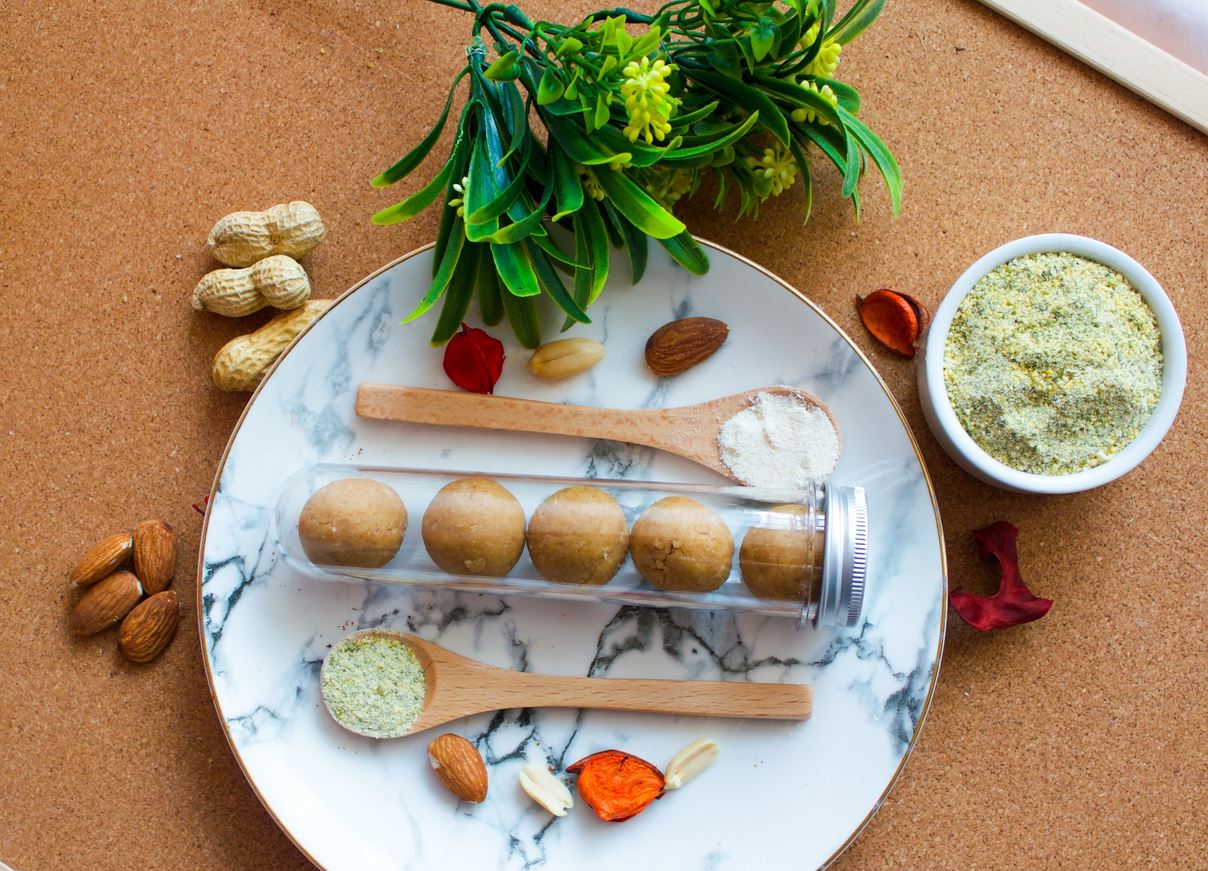 Matcha Almond
Signature homemade creamy peanut butter with a touch of our imported premium grade matcha powder
Here are some of the based products we use are:-

i) Protein: Maxler 100% Golden Whey, Heal Nutrition Protein or Soluxe Pea Protein (we use this if the customer put in a request of they are allergic to normal protein powder, but in general we put this only in Matcha Almond flavour)
ii) Maxler Collagen: bio green O'Young collagen powder as we believe beauty on the outside comes from within. It improves the appearance of skin elasticity, boosts metabolism besides reduces cellulite and stretch marks
iii) Peanut butter: We homemade our peanut butter to have the best creamy and rich taste of peanut butter where we roast it before we make it into an ultra-nutritious benefit captured in a punch
iv) Green Tea: We have specially picked the finest green tea to blend together into the Poppin Balls in order to extract out the oozing goodness of the green tea.
v) Almond: The Almonds contain lots of healthy fats, fiber, protein, magnesium and Vitamin E. The health benefits of almonds include lower blood sugar levels, reduced blood pressure and lower cholesterol levels. They can also reduce hunger and promote weight loss.
What can you expected to get from this yummy Matcha balls?
- Antioxidants, weight loss and source of omega-3
- Smooth velvety nutty sweetness delight with high protein and collagen enriched.
- Signature dry crumbly texture
- Satisfy the matcha latte cravings, 23 cal a 'pop' with 3g of protein.
- Trust me, this is a definite match(a) made in heaven that promise you ooh Lala, mama mia
- Each tube contains 5 balls.
Storage: Stored at room temperature. Can be kept up to more than a month if refrigerated.
| | |
| --- | --- |
| Calories per ball | 23 |
| Protein (g) | 3 |
| Carbs (g) | 4 |
| Fats (g) | 1 |
[23 cal ; C - 4g ; F - 1g ; P - 3g]*
This flavor (Matcha Almond) is mixed with the signature rich peanut butter with a touch of premium Matcha Powder to make it enriched with flavor. It has the signature dry yet crumbly texture which makes it a great snack. It is enriched with Collagen, Strong with Protein, and low on Carbs, many if not all of the fitness junkies love it. It is also filled with almond nuts to enhance the taste. Plus, with the natural ingredients we use, it is sugar-free. It is so delicious and healthy it felt like every bite is a cheat day.
---