OstroVit Gainlicious Rapid Mass Gain Chocolate Wafers (4.5KG)
OstroVit Gainlicious Rapid Mass Gain Chocolate Wafers (4.5KG)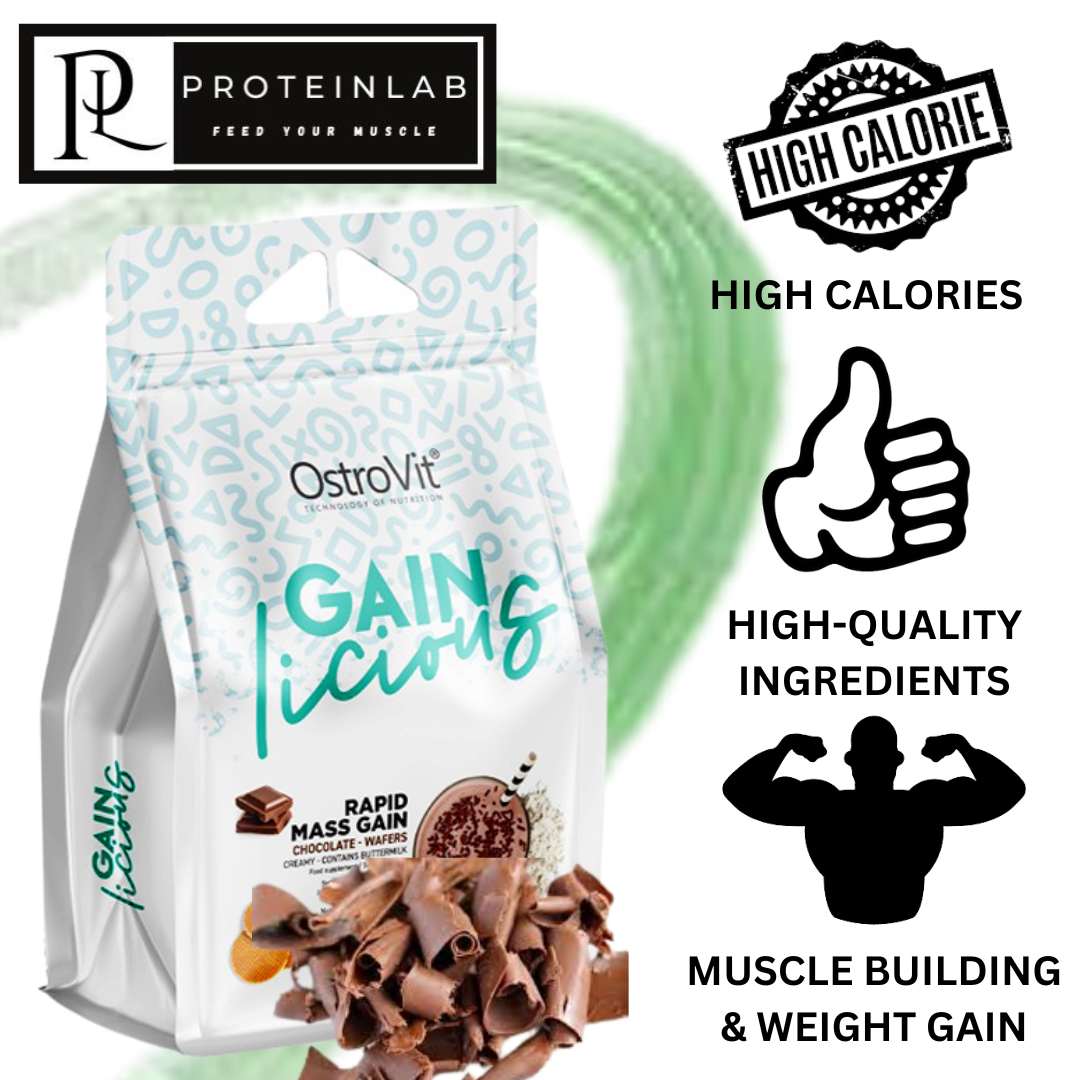 OstroVit Delicious GAINER 4.5kg:
OstroVit Delicious GAINER is a carbohydrate and protein supplement designed for those who want to gain muscle mass. Carbohydrates (76%) are abundant in the product and serve as a primary source of energy. Do you participate in sports and wish to gain weight quickly? Or perhaps you are an ectomorphic who struggles to get the appropriate figure? The OstroVit Delicious Gainer nutritional supplement is the solution to your problems.
What is OstroVit Delicious GAINER conditioner?
Food supplement OstroVit Delicious Gainer is a high-calorie powdered supplement that contains carbs, protein, and lipids (including saturated fatty acids). The product can help you gain muscle mass by offering you nutrients that promote weight gain. The gainer is simple to make and can be carried anywhere - to the gym, the job, university, or on a holiday - thanks to a convenient powder form. The product is a balanced meal alternative that can help you swiftly satisfy your organism's daily calorific needs.
OstroVit Delicious GAINER is a quick and easy snack concept that can be made in a matter of minutes. You can select the most appropriate variety from the five tastes that are offered. If you're looking for a carbohydrate and protein supplement, look no further.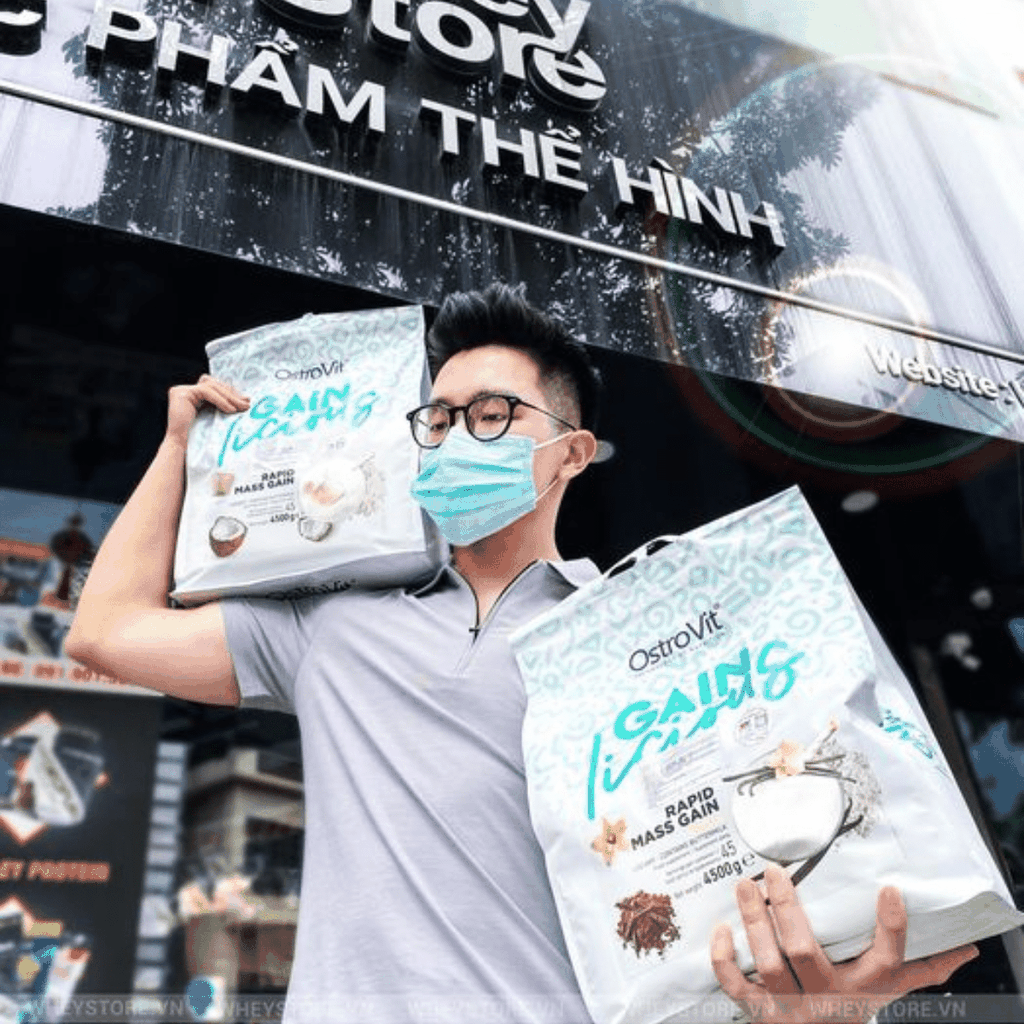 You want to bulk up your muscles
You have no notion of what to eat for a wholesome snack.
You need to quickly determine the calorie value of a meal
You are an ectomorphic person.
You desire to acquire weight
You have difficulty eating on a regular basis.
Properties:
One box of OstroVit Delicious Gainer contains as many as 45 recommended doses of the product. You can mix the supplement with water or low-fat milk and consume up to twice a day. The powder is easily soluble, thanks to which you can prepare it in just a few dozen seconds.
Major features of the supplement:
OstroVit Delicious Gainer comes in a package that includes up to 45 suggested dosages.
COMFORTABLE MEAL REPLACEMENT - Choose OstroVit Delicious GAINER when you don't have time or don't feel like making a regular meal. The product can provide you with the components you need for optimum functioning as well as fulfill your appetite.
ALTERNATIVE TO UNHEALTHY SNACKS - OstroVit Delicious GAINER is an excellent substitute for unhealthy snacks. A ready-made protein and carbohydrate drink can satisfy your appetite and help you resist the need to nibble.
CONSTANT CALORICITY - A single dose of the supplement, or 100 g of the product, contains 359 calories. You can quickly measure out the necessary amount of the supplement thanks to a measure within the box.
WIDE FLAVOR RANGE - The healthy supplement comes in five delectable flavors: strawberry wafers, salty caramel, chocolate wafers, vanilla, and white chocolate-coconut. Choose your favorite and eat it whenever you want something sweet.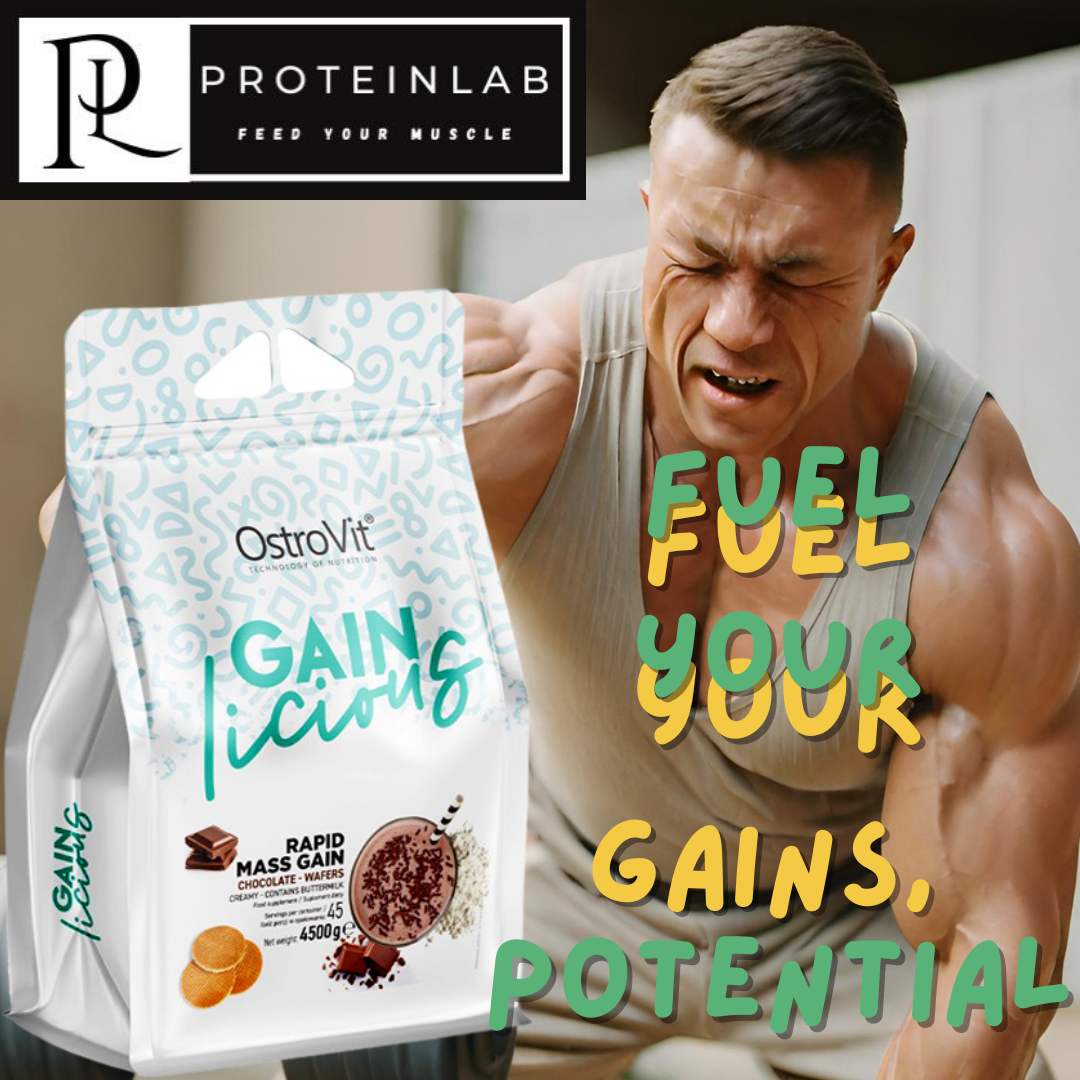 Suggested usage
In a shaker, combine one serving of the product (100 g) with 400-450 ml of water or milk. Take 1-2 servings every day, according on your needs.
Do not take more than the suggested daily amount. Do not use the product as a substitute (replacement) for a diversified diet. A good healthy lifestyle and a balanced diet are needed. In the event that any of the substances cause allergies, avoid consuming. Pregnant or breastfeeding women should not use this product. Keep out of children's reach.
Ingredients
Maltodextrin, milk buttermilk powder, milk whey protein concentrate (contains lecithins), cocoa, thickener: xanthan gum; aromas, salt, natural chocolate flavor, thickening agent: gum arabic; sweetener: sucralose.
The product may contain soybeans, peanuts, other nuts, sesame seeds, cereals containing gluten, eggs, crustaceans, fish.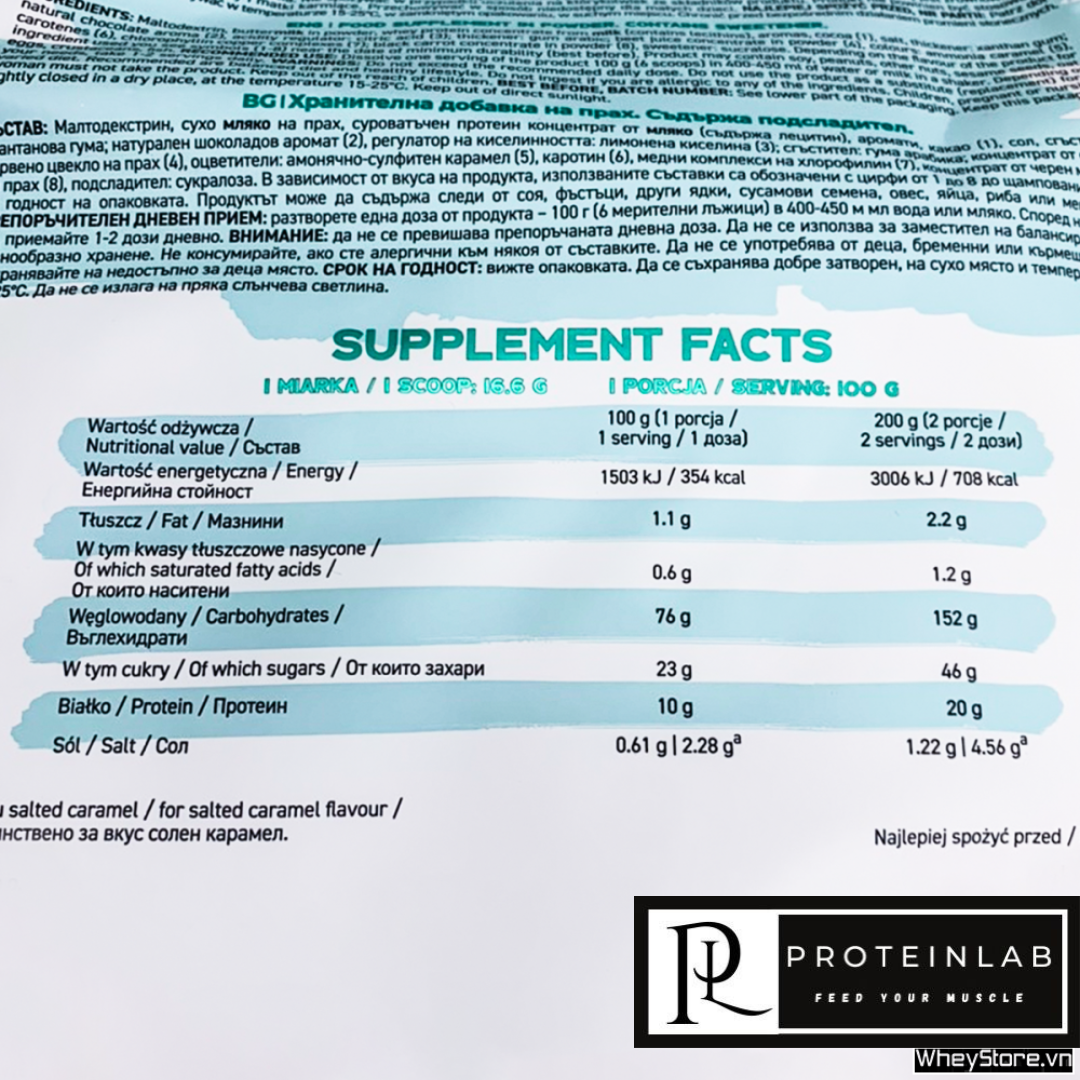 Nutrition Facts
Net weight of the product: 4500 g
Servings per container: 45
Serving size: 100 g

You can also like our Facebook for more promotion news at :
ProteinLabMalaysia
Or you can also follow Instagram for more nutrition tips:
Kevinn Khoo
---