Optimum Nutrition Gold Standard 100% Whey Stick Packs (6 pcs)
ProteinLab sport supplement supplier / wholesaler malaysia presents!
Optimum Nutrition Gold Standard 100% Whey Stick Packs (6 pcs)
Be safe and rest assure you are getting 100% authentic products at the lowest price when you purchase from ProteinLab Malaysia.
You can also like our facebook for more promotion news at :
Or you can also follow instagram for more nutrition tip :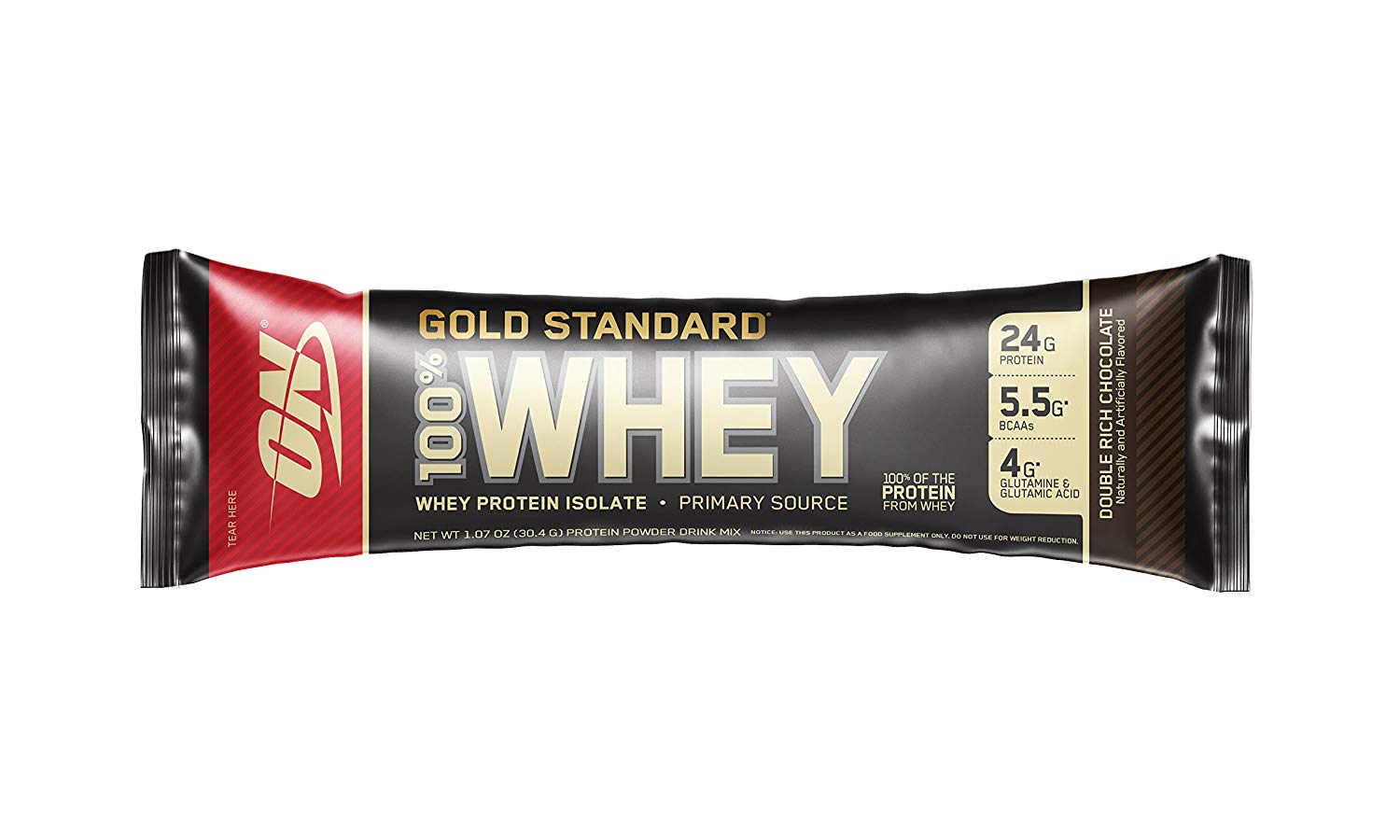 Take the world's #1 whey protein powder anythere with the Optimum Nutrition Gold Standard 100% Whey Stick Pack
Optimum Nutrition 100% Gold Standard Whey Protein is one of the world's best-selling whey protein powders. Straight up this is one of the best whey proteins on the market today, winning the protein powder of the year after year. Optimum 100% Whey Gold Standard contains the purest and most expensive form of whey protein form and is made of an exclusive blend. Each serving provides 24 grams of rapidly digesting whey protein with low levels of fat, cholesterol, lactose and other stuff you can do without. There's no doubt this is the standard all other proteins are measured against.

THE ADVANCED GOLD STANDARD WHEY PROTEIN BLEND
Gold Standard 100% Whey features :
Whey protein isolates to build lean muscle
Ion-Exchange Whey Protein Isolates
Fast-acting hydrowhey peptides - strategically hydrolysed, low molecular weight whey peptides for rapid abortion
Instantised to mix easily with milk or water
More than 15 unique flavours and counting
Each serve of Gold Standard 100% Whey contains:
24 grams of fast acting whey protein
More than 5.5 grams of naturally occurring BCAA's
Over 4 grams of glutamine and glutamic acid
Gold Standard 100% Whey is fully instantised making it easy to mix with milk or water and is easy on those that are lactose intolerant as the digestive enzymes are added to enhance absorption. Because whey protein is quickly digested, amino acids are delivered quickly to muscles to help start the muscle building process.
Protein provides the building blocks, but even the best protein sources won't build new muscle without the proper stimulus and sufficient recuperation. So make sure that you're eating a sensible diet, training regularly and intensely, staying well hydrated and getting enough sleep every night.
· 100% Original product
· Whey Protein Isolate (WPI)Main Ingredient
· Whey ProteinMicrofractions from Whey Protein Isolates & Ultra-Filtered Whey ProteinConcentrate
· Over 4 Grams of Glutamine& Glutamic Acid in Each Serving
· More Than 5 Grams of theNaturally Occurring Branched Chain Amino Acids (BCAAs) Leucine, Isoleucine, andValine in Each Serving
· The "GoldStandard" for Protein Quality
BLENDER – (EASY: a little more involved but worth the trouble) Add one pack of ON 100% Whey Gold Standard™ to a blender filled with 6-8 fl oz of your favorite beverage. Cover and blend for 20-30 seconds. Add 1-2 ice cubes then blend for an additional 30 seconds. Serve. For a delicious smoothie, try adding your favorite fruit, peanut butter, yogurt, shredded coconut, and/or other ingredients (along with ice cubes) to your blended whey protein shake.
Shaker – (EASIER: Quick & Convenient) Fill a shaker bottle with 6-8 fl oz of your favorite beverage. Add one scoop ON 100% Whey Gold Standard™. Cover and shake for 25-30 seconds.
Suggested Use: To encourage a positive nitrogen balance, consume approximately 1 gram of protein per pound of body weight per day from a combination of high protein foods and supplemets. For even better results, consume your daily protein allotment over 4-6 small meals spread evenly throughout the day.
Example: 180lb x 1g protein/lb body weight=180g day
180g ÷ 6 small meals = 30 g protein/meal
Each serving of ON 100% Whey Gold Standard™ provides 24 grams of protein.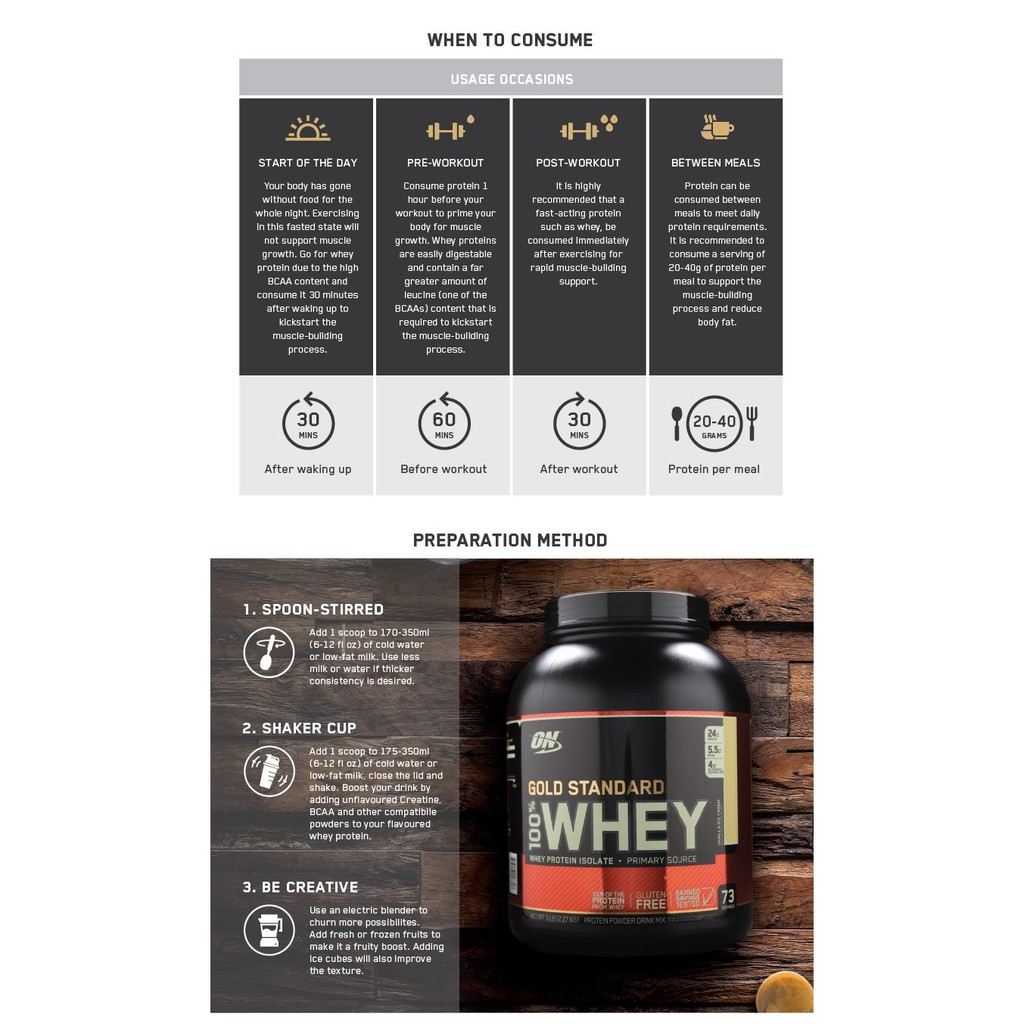 Other Ingredients: Protein Blend (Whey Protein Isolate, Whey Protein Concentrate, Whey Peptides), Lecithin, Acesulfame Potassium, Artificial Flavor Storage Instructions: Store in a cool dry place. Warning: KEEP OUT OF REACH OF CHILDREN.
NOTICE:FOR USE AS A DIETARY SUPPLEMENT ONLY. DO NOT USE FOR WEIGHT REDUCTION.
ALLERGEN INFORMATION: THIS PRODUCT CONTAINS WHEY DERIVED FROM DAIRY AND LECITHIN (TO IMPROVE MIXABILITY) DERIVED FROM SOYBEANS
---