Optimum Nutrition (ON) Platinum TRI-CELLE Casien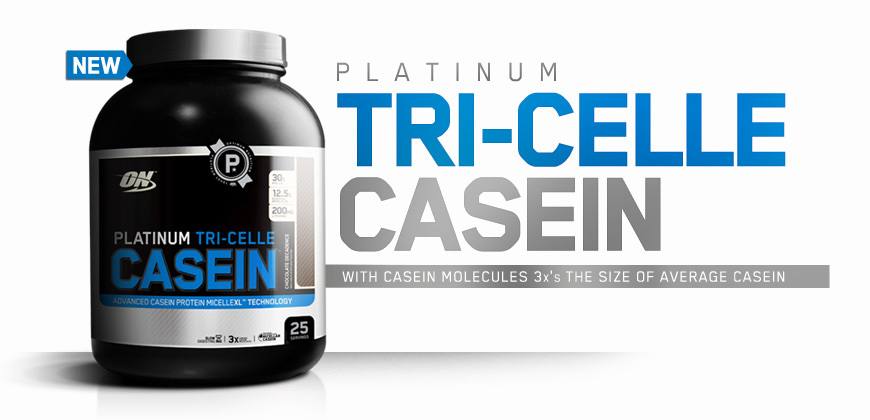 ProteinLab sport supplement supplier / wholesaler malaysia presents!
Optimum Nutrition (ON) Platinum TRI-CELLE Casien 2.7lbs!
Be safe and rest assure you are getting 100% authentic products at the lowest price when you purchase from ProteinLab Malaysia.
You can also like our facebook for more promotion news at :
https://www.facebook.com/ProteinLabMalaysia/
Or you can also follow instagram for more nutrition tip :
https://www.instagram.com/kevinn_fitnessfood/

Description
Optimum Nutrition Platinum Level
30 g Protein
12.5 g Essential Amino Acids
200 mg L-Theanine
Naturally & Artificially Flavored
Advanced Micellexl Slow Digesting Casein Protein
Slow Digesting
3X Larger Casein Molecules
100% Protein from Restructured Micellar Casein
25 Servings
Protein Powder Drink Mix
Manufactured in the USA
True Strength
True Strength of Restructured Micellar Casein
Platinum Tri-Celle Casein is the pinnacle of our slow-digesting protein lineup. By using novel, patent pending MicelleXL technology, we've combined micellar casein molecules into a structure that is approximately triple the average size. These super-sized molecules form an ultra thick gel that takes several hours to be digested and absorbed, providing sustained release amino acid delivery for lasting lean muscle support. Each serving of Platinum Tri-Celle Casein also delivers the relaxing properties of L-theanine to help you make the most of your post-workout recovery. Taken between meals or before bed, we think you'll agree that our slowest casein is the easiest to mix, most versatile and exceptional tasting anti-catabolic protein we've ever made.
| | |
| --- | --- |
| Occasion | Product |
| Post-Workout, Morning, Between Meals | Platinum Hydrowhey |
| Pre-Workout, Energy Boost | Amino Energy |
| Post-Workout, Between Meals | ON 100% Gold Standard Whey |
| Between Meals, Before Bed | Platinum Tri-Celle Casein |
Beyond the Basics
ON's Slowest & Best Tasting Casein Yet
30 Grams of Protein From an Advanced Casein Protein Blend
Exclusive MicelleXL Restructured Micellar Casein Technology + Lactium Milk Protein Hydrolysates
Lasting Amino Acid Delivery Between Meals and Before Bed
L-Theanine to Help You Make the Most of Your Post-Workout Recovery
Excellent Source of Calcium with 60% DV per Serving
Anti-Catabolic Muscle Support
Suggested Use
Intended for healthy adults. Consume enough protein to meet your daily protein requirement with a combination of high protein foods and protein supplements throughout the day as part of a balanced diet and exercise program.
Directions:
Filing a shaker cup with 10-12 ounces of water, milk or your favorite beverage is the best way to mix up a rich, creamy Platinum Tri-Celle Casein shake. After adding a scoop, close the lid tight and shake for 20 to 30 seconds or until the powder is completely dissolved.
Explore Casein's Versatility
Of course, a shaker cup isn't mandatory. Because the powder is instantized, all you really need to create the perfect casein shake is a glass and spoon. Simply add a scoop of Platinum Tri-Celle Casein to 10-12 ounces of water and stir until completely dissolved. TIP: Adding more water will reduce the shake's thickness and sweetness. Using less will increase thickness and sweetness. Experiment until you find the perfect balance. Using milk and other beverages can increase the nutrient density of your shake, while also adding calories.
Create Performance Stacks
You can further expand on casein's versatility by adding nuts, fresh or frozen fruit, peanut butter and other supplements including glutamine, creatine, BCAA and carbohydrate powders. Some of these 'stacks' may require the use of an electric blender while others can be produced in a shaker cup. Increase or decrease the recommended 10-12 ounces of liquid until you find the right consistency. TIP: If you're using an electric blender, adding in a couple of ice cubes can make drinking a casein shake seem more like and ice cream shake.
Casein Pudding Recipe
Drinking isn't the only way to enjoy new Platinum Tri-Celle Casein. Treat yourself to a tempting pudding by adding a scoop to 5 ounces of water or milk in a small glass. Mix thoroughly with a spoon and let set in the freezer for 5 to 10 minutes. Add a sugar free topping or enjoy as is. TIP: If you have nutrition conscious guests over, use a muffin tin to make multiple servings!
Other Ingredients
Restructured micellar casein, natural and artificial flavors, cocoa (processed with alkali), creamer (sunflower oil, corn syrup solids, sodium caseinate, mono & diglycerides, dipotassium phosphate, tricalcium phosphate, soy lecithin, tocopherols), gum blend (carrageenan, cellulose gum, xanthan gum), lecithin, mineral blend (salt, potassium chloride, sodium gluconate), l-theanine, acesulfame potassium, sucralose, vanillin, lactium (milk protein hydrolysate).
Allergen Information: Contains milk and soy (lecithin) ingredients.
Warnings
Notice: Use this product as a food supplement only. Do not use for weight reduction.
Store in a cool, dry place. Contents sold by weight not volume.
---