Nutrex Lipo 6 Black UC Fat Destroyer (60 Tablets)
ProteinLab sports supplement supplier/wholesaler Malaysia presents!
Nutrex Lipo 6 Black UC Fat Destroyer (60 Tablets)!!
Be safe and rest assured you are getting 100% authentic products at the lowest price when you purchase from ProteinLab Malaysia.
You can also like our Facebook for more promotion news at :
Or you can also follow Instagram for more nutrition tips: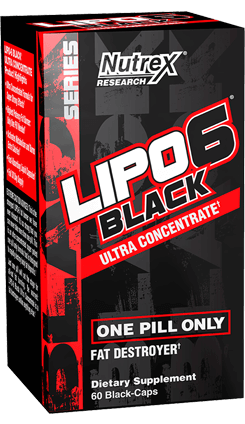 Serious About
Results?
Ultra concentrated fat burner for super effects*

Only one pill is needed*

Activates metabolism & burns extra calories*

Fat-absorbing liquid capsules*

Full 30-day Supply*
EXTREME CAUTION ADVISED: This is by far the strongest LIPO-6 fat burner we have ever released. It's so strong that you can never take more than one pill. This is an ultra concentrated super powerful pill only fat burner that is designed to assist your body in rapidly destroying fat deposits.*
To help ensure that your diet and weight loss goals become a huge success, LIPO-6 Black Ultra Concentrate exerts a powerful appetite suppressing effect. It further ignites an extreme feeling of energy and alertness that will keep you going for hours. To ensure optimum effects, the powerful ingredients of LIPO-6 Black Ultra Concentrate are embedded in fast-absorbing liquid capsules.*
Just one pill will set the stage for all-out fat burning. Be warned: LIPO-6 Black Ultra Concentrate is an intense product: A FAT DESTROYER unlike anything else.*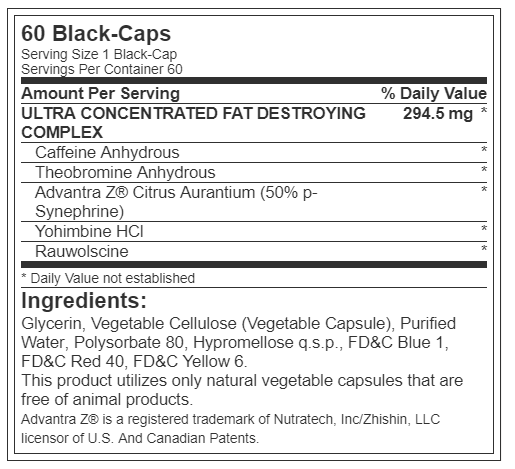 Lipo-6 Black Ultra Concentrate Main Ingredients
Caffeine Anhydrous
Caffeine stimulates the nervous system, which sends direct signals to the fat cells, telling them to break down fat. Caffeine increases your resting metabolic rate, which means it increases the number of calories you burn at rest. It does this by increasing blood levels of the hormone epinephrine.

Epinephrine, also known as adrenaline, travels through your blood to the fat tissues, signaling them to break down fats and release them into your blood.

One study showed that caffeine increased fat burning by as much as 29% in lean people, while the increase was only about 10% in obese individuals
Theobromine Anhydrous
Theobromine is a bitter alkaloid that works like caffeine due to its similar chemical structures. Made from the seed of theobroma cacao, this compound can be produced in the laboratory.
Known as cocoa, this compound is found in most chocolate products which may undermine your fat-burning program.
Theobromine is a mood-elevating compound due to its mild stimulating properties. It is used to help relax muscle and veins, and is also an artery dilator for people with high blood pressure.
Theobromine has been known to help increase metabolism, burn fat and boost energy levels. All of which are key areas of weight loss that you truly need.
Advantra Z Citrus Aurantium
Stimulates fat transport from the fat cells.
Advantra Z® Synephrine contains the stable synephrine isomer know as p-synephrine. Advantra Z® is free of m-synephrine which can cause an increase in heart rate in blood pressure in humans. Advantra Z®'s natural harvesting of p-synephrine can have up to twice the functioning ability of synthetic synephrine. The alkaloids present in Advantra Z® include synephrine, hordenine, octopamine, tyramine, and N-methyltyramine.
This ingredient is commonly associated with bitter orange or citrus Aurantium on supplement labels and is generally found in today's top fat burners.
The increase in metabolism can be noted by an increase in basal metabolic rate (BMR) as well as through increased lipolysis which is the release of fatty acids into the bloodstream when the body breaks down fats and lipids. This additionally provides an extra source of energy for workouts.
Advantra Z can also help improve blood circulation as well as aid in protecting the brain thanks to bioflavonoids, hesperidin, and naringin.
Yohimbine HCL
Yohimbine HCL is commonly used to stimulate fat burning and enhance weight loss for all body types. Yohimbine HCL Supplement has been long used for many years by bodybuilders and has been shown to help fight fat in stubborn areas, like the Glutes (Butt), Legs, and Abdomen (Belly Fat). This popular fat-burning supplement can also be used as an appetite suppressant and boost metabolism helping increase fat-burning effects.
According to a 2002 paper published in "Medical Hypothesis," yohimbine could boost exercise efficiency, thus promoting fat loss. The authors note that yohimbine when taken prior to exercise, may be able to increase lipolysis or the breakdown of stubborn fat deposits. A study published in "Research and Sports Medicine" in 2006 found that yohimbine significantly decreased body fat in soccer players. The authors concluded that yohimbine could be used as a fat-loss strategy for elite athletes.
Rauwolscine
Rauwolscine, also known as Alpha-Yohimbine is a stereoisomer of Yohimbine. It functions as an alpha receptor antagonist, similar to Yohimbine, but is considerably more potent. Simply put, it allows the body to burn far more fat during exercise than would otherwise normally be possible.
Like yohimbine, rauwolscine is primarily taken for boosting fat loss and improving physical performance. Rauwolscine also may increase fat burning by blocking alpha-2 receptors. Both probably work by activating the fight-or-flight system, which mobilizes fats from stores and uses them for energy
Directions For Lipo-6 Black Ultra Concentrate:
Take 1 Black Cap in the morning and 1 Black Cap in the afternoon. This is an ultra-concentrated formula of extreme potency.
NEVER EXCEED 1 BLACK-CAP PER SERVING.
NEVER TAKE MORE THAN 2 SERVINGS IN A 24-HOUR PERIOD.

For maximum results consume LIPO-6 Black Ultra Concentrate at least 30 minutes prior to a meal. Do not take within 6 hours of sleep.
Warnings:
IMPORTANT MUST READ:
LIPO-6 Black Ultra Concentrate is absolutely not for use by persons under the age of 21. Do not use it if pregnant or nursing. Never exceed the recommended maximum dosage. Do not consume synephrine, caffeine, or thyroid-boosting compounds from other sources, including but not limited to, coffee, tea, soda, and other dietary supplements or medications containing phenylephrine or caffeine or any stimulants whatsoever. This product contains caffeine. Do not use this product for longer than 2 months. Consult your physician prior to use if you are taking medication, including but not limited to, MAOI inhibitors, anti-depressants, aspirin, non-steroidal anti-inflammatory drugs, or products containing phenylephrine, ephedrine, pseudoephedrine, phenylethylamine, or other stimulants. Consult your physician prior to use if you have a medical condition, including but not limited to, heart, liver, kidney, or thyroid disease, psychiatric disorders, difficulty urinating, diabetes, high blood pressure, cardiac arrhythmia, recurrent headaches, enlarged prostate or glaucoma. Discontinue use 2 weeks prior to surgery. Immediately discontinue if you experience rapid heartbeat, dizziness, severe headaches, or shortness of breath. This product contains ingredients that may be banned by some sports organizations. KEEP OUT OF REACH OF CHILDREN.
---