Muscletech Platinum 100% Creatine 400g
ProteinLab sport supplement supplier / wholesaler malaysia presents!
Muscletech Platinum 100 Creatine 400g
Be safe and rest assure you are getting 100% authentic products at the lowest price when you purchase from ProteinLab Malaysia.
You can also like our facebook for more promotion news at :
Or you can also follow instagram for more nutrition tip :
PLATINUM 100% CREATINE
Great for Pre-Workout and Post- Workout
Delivers creatine directly to your muscles - precisely where it needs to be to drive performance.
Increase muscle size
Enhance strength
Improve recovery
THE MOST CLINICALLY RESEARCHED SUPPLEMENT OF ALL TIME!!!
Creatine is a major storage form of fuel that drives muscular contractions when you're lifting heavy weights. But, once you use up creatine stores, they have to be regenerated or further contractions can't take place. It's easy to understand, that if you can hyper-regenerate creatine stores in your muscles, you'll be able to rest less between sets, get more power out of each set, get more reps from each sets & thus, stimulate more muscle fibers during each set. That leads to more lean muscle growth!
HPLC- TESTED FOR QUALITY & PURITY
To ensure a high standard of quality & purity, each bottle of Platinum 100% Creatine undergoes strict quality control. Each bottle is third-party tested & verified to ensure that IT meets the highest standard of purity, quality & consistency.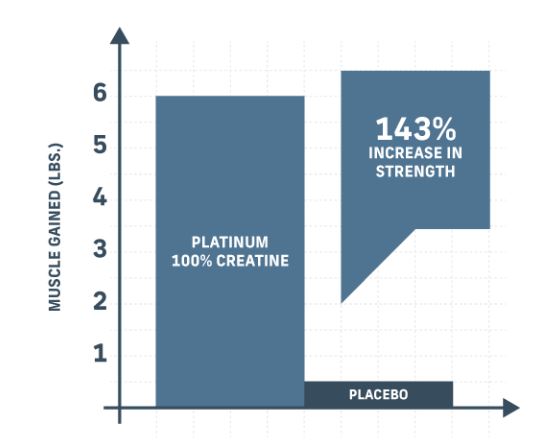 BUILD MORE MUSCLE SIZE & STRENGTH
Creatine is able to rapidly enhance your muscle cells's ability to regenerate adenosine triphosphate (ATP). ATP is your primary source of anaerobic energy. In the muscles, the creatine monohydrate you ingest, such as that in Platinum 100% Creatine, is changed into a molecule called phosphocreatine, which serves as a storage reservoir for regenerating ATP.
With higher ATP levels, you'll be able to train harder & recover faster between each set- allowing you to do more work in less time. With higher volume, you can make more gains and get bigger & stronger!
In fact, in one clinical study, subjects using the dose of creatine found in one max serving of Platinum 100% Creatine gained an astounding 6 lbs of muscle in just 6 weeks. And in a separate study,test subject increased their bench press strength by almost 20% in just 10 days!
---