MuscleTech Hydroxycut SX-7 (140 capsules)
ProteinLab sport supplement supplier / wholesaler malaysia presents!
MuscleTech Hydroxycut SX-7 (140 capsules)!
Be safe and rest assure you are getting 100% authentic products at the lowest price when you purchase from ProteinLab Malaysia.
You can also like our facebook for more promotion news at :
Or you can also follow instagram for more nutrition tip :
PRODUCT OVERVIEW
WEIGHT LOSS
HYDROXYCUT SX-7
The only weight loss formula with Myristica and Ecklonia for and unparalleled sensory experience*
Clean energy and mental focus*
Supplies premium green coffee for weight loss*
HYDROXYCUT SX-7 IS THE MOST ADVANCED SUPER THERMOGENIC
The team of R&D experts that brought you HYDROXYCUT HARDCORE ELITE, brings you new Hydroxycut SX-7! This new super extreme, patent pending weight loss formula combines 7 cutting-edge ingredients into one insane assault on your senses! Hydroxycut SX-7's unique combination of sensory-stimulating ingredients is something entirely new to the market, and it provides an unparalleled sensory experience that will have you coming back for more!*
FROM THE #1 SELLING
WEIGHT LOSS BRAND IN AMERICA
FROM THE #1 SELLING WEIGHT LOSS BRAND IN AMERICA
Hydroxycut SX-7 includes 7 cutting-edge ingredients
Myristica fragrans
A nutmeg (seed) that contains a powerful premium compound called myristicin, which contributes to the unique sensory experience.*
Salvia officinalis
Premium compound that synergistically contributes to the sensory experience.*
Ecklonia cava
A premium brown algae that contains unique polyphenols called phlorotannins.
Caffeine
Scientifically researched ingredient shown to trigger thermogenesis, increase energy, and enhance focus.*
Yohimbe
Hydroxycut SX-7 contains a clean premium yohimbe extract, supplying both rauwolscine and yohimbine alkaloids.
Green coffee
Subjects taking 200mg of premium green coffee standardized to 45% chlorogenic acids found in Hydroxycut® SX-7™ lost 10.95lbs. in 60 days with a low-calorie diet, and 3.7lbs. in 8 weeks with a calorie-reduced diet and moderate exercise.
Raspberry ketones
Raspberry ketones are the primary aroma compound of red raspberries. Hydroxycut SX-7 contains only premium raspberry ketones.*
Hydroxycut SX-7
Contains 7 cutting-edge ingredients to destroy ALL other super thermogenics!
SCIENTIFICALLY DOSED KEY WEIGHT LOSS INGREDIENTS
Study 1 - 60 days
In one study, subjects taking the primary ingredient (green coffee extract) in Hydroxycut SX-7 for 60 days lost, on average, 10.95lbs. versus the placebo group, which lost an average of 5.40lbs. Both groups followed a low-calorie diet.
Study 2 - 8 weeks
In a separate 8-week study, subjects using green coffee lost an average of 3.7lbs. versus subjects using a placebo, who lost an average of 1.25lbs.* Both groups followed a calorie-reduced diet and performed moderate exercise.
Nutrition fact (Based on 70 servings)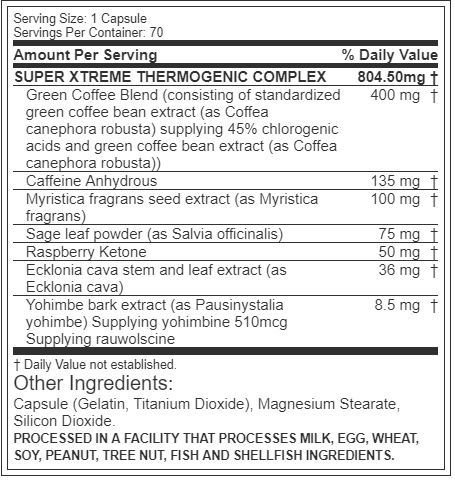 HOW TO TAKE HYDROXYCUT SX-7
To assess your tolerance, take 1 capsule 1 time a day for Days 1 and 2. On Days 3 and 4, take 1 capsule 2 times a day. Once your tolerance has been assessed, take 1 capsule with 8 oz. of water 2 times daily 30 to 60 minutes before your two largest meals of the day (e.g. breakfast and lunch). Once tolerance has been assessed and you are looking for an additional boost of energy, take an additional capsule with the first serving of the day. Do not exceed 3 capsules in a 24-hour period. For best results, use for 60 days in combination with diet and training.
---