MuscleRulz OMEGA-3 Fish Oil
ProteinLab sports supplement supplier/wholesaler Malaysia presents!
MuscleRulz OMEGA-3 Fish Oil!!!
Be safe and rest assure you are getting 100% authentic products at the lowest price when you purchase from ProteinLab Malaysia.
You can also like our Facebook for more promotion news at :
ProteinLabMalaysia
Or you can also follow Instagram for more nutrition tips:
Kevinn Khoo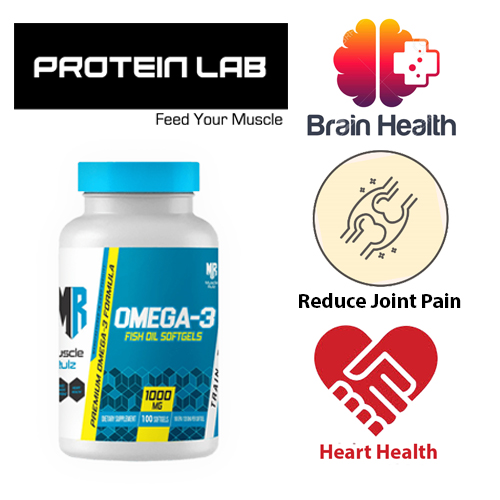 Muscle Rulz OMEGA-3 Fish Oil Supplement is an ALL-NEW Fish Oil Supplement you can get right here from ProteinLab Malaysia. Muscle Rulz OMEGA-3 Supplement that contains both Docosahexaenoic Acid (Aka DHA) & Eicosapentaenoic Acid (Aka EPA) which are cholesterol that aids you to your healthy lifestyle. Omega-3 fatty acids are essential nutrients that are important in preventing, and yet, help managing heart disease & blood pressure.
Muscle Rulz OMEGA-3 Fish Oil Supplement is ideally taken 1 soft gel daily with food. It is supportive that research has shown that consumption of EPA & DHA omega-3 fatty acids does reduce the risk of coronary heart disease. This natural fish oil concentrate is manufactured under strict quality control standards. It is tested to be free of potentially any harmful levels of contaminants such as PCBs, dioxins, mercury & other heavy metals.
Here are some of the facts on why you should use Muscle Rulz OMEGA-3 Fish Oil Supplement:
-It can increase the levels of "Good" HDL Cholesterol.
-It helps reduce blood pressure in people with elevated levels.
-It does improve the body composition & risk factors for heart disease.
-It can significantly reduce joint pain.
INGREDIENTS:
Fish Oil, Omega-3 fatty acids, EPA (Eicosapentaenoic Acid), DHA (Docosahexaenoic Acid).
OTHER INGREDIENTS:
Fish Body Oil (From Anchovy), Gelatin, Glycerin Water, Coating (Methacrylic Acid-Methyl, Methacrylate Copolymer, Polyethylene Glycol).
*Contains No Fillers, Allergens, Artificial Flavors, or Colours.
DIRECTIONS OF USE:
Take 1 serving (as in 1 soft gel) daily with a glass of water or as directed by the healthcare professional. Keep this bottle tightly closed in a cool, dry place away from direct heat, sunlight & moisture.
CAUTION:
This product is not for use by those who are under the age of 18. Keep out of reach of children. Do not use this product if you are pregnant or nursing. Consult a medical doctor before starting any diet or exercise program or if you have any known or suspected medical condition(s), and/or if you are taking any prescription or medication(s).
Powered by Froala Editor
---