MMX Muscle Metabolix Spr Hmn 60 serving
ProteinLab sports supplement supplier/wholesaler Malaysia presents!
Muscle Metabolix Spr Hmn 60 serving!
Be safe and rest assured you are getting 100% authentic products at the lowest price when you purchase from ProteinLab Malaysia.
You can also like our Facebook for more promotion news at :
Or you can also follow Instagram for more nutrition tips:
SPR - INTENSE PRE-WORKOUT CATALYST
A pre-workout supplement like you've never seen before. [WE EVEN GIVE YOU 100% FULL MONEY GURANTEE] if this item doesn't come to your expectation. We are strongly confident that this item will give you a "superhuman" kind of result for your workout!
- INCREASE YOUR STRENGTH TO MAXIMUM LEVEL!
- INCREASE ENDURANCE TO TRAIN LONGER!
- IMPROVE PERFORMANCE TO MAKE YOU BETTER!
- IMPROVE LIBIDO FUNCTION (contains testosterone booster)
- INCREASE STRENGTH FOR YOU TO LIFT UP CRAZILY!
- INCREASE FOCUS & STAMINA TO TRAIN MORE INTENSELY!
How Do I take Muscle Metabolix SPR HMN?
As a dietary supplement, mix 1 heaping scoop of 12-14 ounces of water and drink 30-45 minutes before workouts. Begin with 1/2 scoop to assess your tolerance. DO NOT EXCEED 1 SERVING PER DAY AND NO MORE THAN 5 SERVINGS PER WEEK. KEEP OUT OF REACH OF CHILDREN.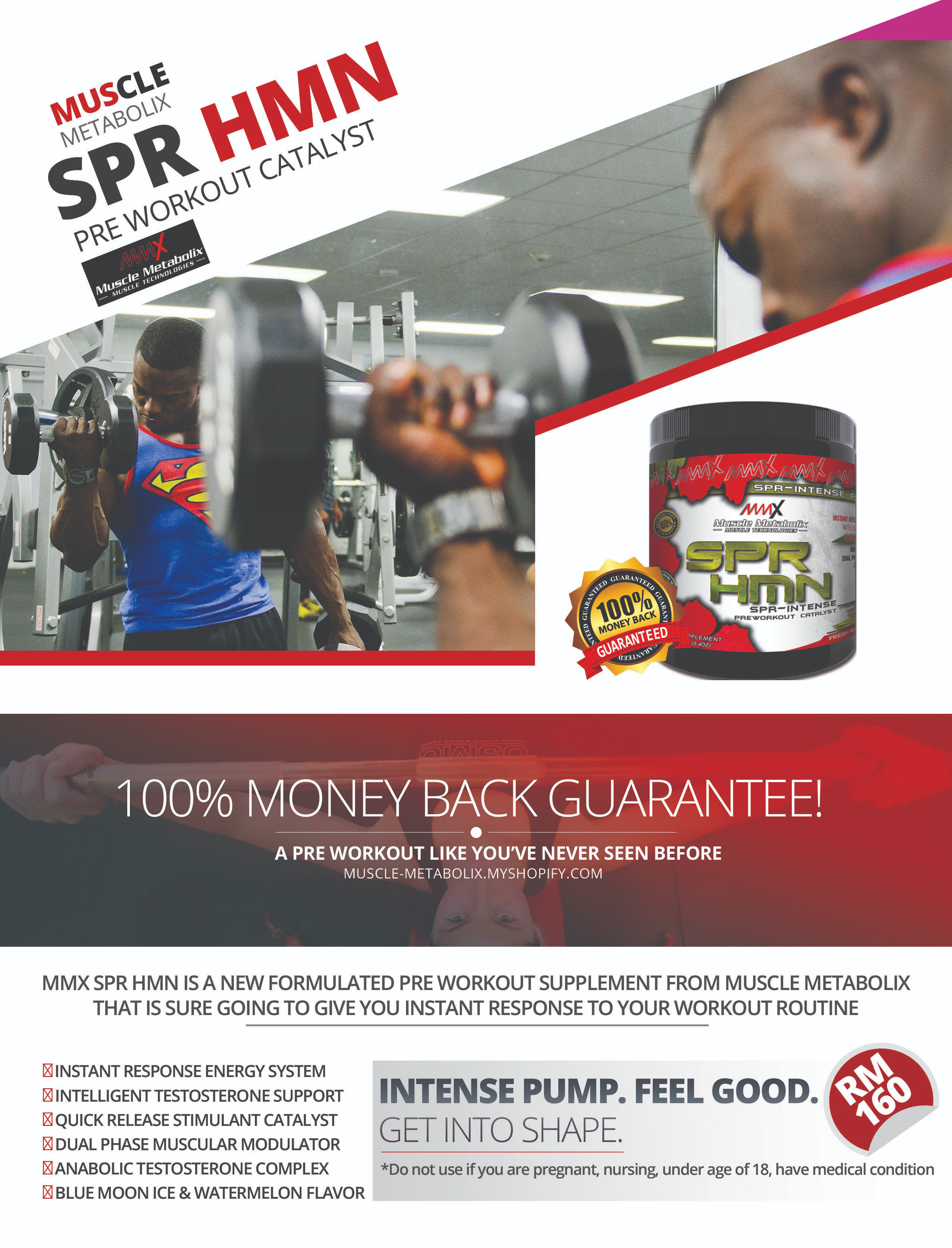 1. Should I take a pre-workout on non-training days?
Although you could if you wanted to for a little energy boost, there wouldn't really be much point in doing this. They are designed to be taken immediately prior to your exercise, so you could just be wasting the money you spent on it.
2. Should I eat something along with my pre-workout supplements?
Most of these supplements recommend taking them on an empty stomach, to experience the full effects. So, you can, but it may diminish the effects you'll feel compared to on an empty stomach.
3. How long before a workout should I take it?
You should take between the 30-45 minute range before.
4. If I`m trying to lose weight, should I take this pre-workout?
Yes. These supplements do not harm your goals in any way. And can actually help you to achieve them with increased focus and motivation. Caffeine also has a thermogenic effect, to help boost your metabolism (burn more fat) as well.
5. If I`m taking a post-workout protein shake, can I still use a pre-workout?
Yes. Post-workout supplements, especially protein, should always follow your workouts. Pre-workout supplements will not affect your post-workout routine at all.
6. If I`m training in the evening, should I still use pre-workout?
You certainly can still use a pre-workout, but be aware of the amount of caffeine you're specific supplement contains per serving.
7. What are the ingredients of this MMX SPR HMN?
MMX SPR HMN contains Citric Acid, Natural & Artificial Flavors, Sucralose, Potassium Citrate, Sodium Chloride, Acesulfame Potassium, Silicon Dioxide.
Warnings
Check with a qualified healthcare professional before taking this product. Do not use if you are pregnant, nursing, under the age of 18, have any known medical conditions, and/or if you are taking any prescription or over-the-counter medication. Do not exceed the recommended dose. To avoid sleepiness, do not consume within 6 hours before bedtime. Discontinue use and contact a healthcare professional immediately if you experience rapid heartbeat, dizziness, severe headache, or shortness of breath. KEEP OUT OF REACH OF CHILDREN.
SPR - INTENSE PRE-WORKOUT CATALYST
INSTANT RESPONSE COGNITIVE ENERGY SYSTEM
INTELLIGENT-TST TESTOSTERONE SUPPORT
QUICK-RELEASE STIMULANT CATALYST
DUAL-PHASE VASO-MUSCULAR MODULATOR
ANABOLIC TESTOSTERONE COMPLEX
30 SERVINGS PRE-WORKOUT
---