MMX Creatine 80 servings!!!
ProteinLab sports supplement supplier/wholesaler Malaysia presents!
MMX Creatine 80 servings!!!
Be safe and rest assure you are getting 100% authentic products at the lowest price when you purchase from ProteinLab Malaysia.
You can also like our Facebook for more promotion news at :
Or you can also follow Instagram for more nutrition tip :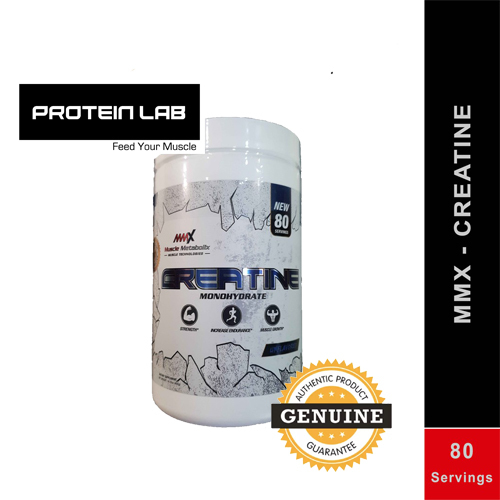 MMX Creatine is a health supplement that can help you boost your strength, increase your endurance, muscle growth, and water absorption. Ideally, mots, if not ALL, Gym Junkies will use it all the time. Taking MMX Creatine is best before, during & even after any workout. As for non-training days, you can drink it with an empty stomach so that you can absorb it much more efficiently. MMX Creatine is a micronized creatine that can be much more effective to the body. To know much more about creatine, click HERE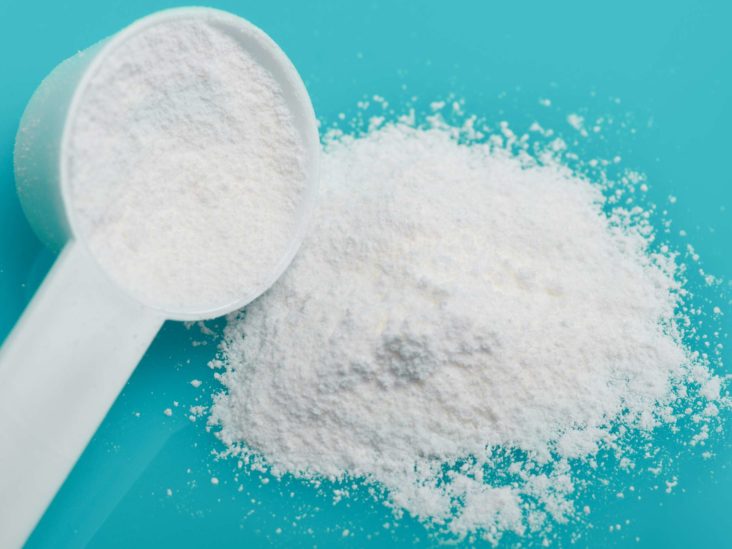 Advantage of micronized creatine
Micronized creatine is milled into a very fine powder. This helps it mix faster and stay dissolved. Other forms of creatine powder on the other hand can take several minutes of stirring to dissolve and doesn't tend to stay that way once you stop. This leads to a lot of it stuck to your glass after it's empty. Using the micronized form allows you to easily mix and drink your creatine in seconds without any hassle or waste.
1. Helps Muscle Cells Produce More Energy
Creatine supplements increase your muscles in phosphocreatine stores. Phosphocreatine helps with the formation of new ATP, the key molecule your cells use for energy and all basic functions of life. Creatine supplements increase your phosphocreatine stores, allowing you to produce more ATP energy to fuel your muscles during high-intensity exercise. During exercise, ATP is broken down to produce energy.

2. Supports Many Other Functions in Muscles
Creatine is a popular and effective supplement for adding muscle mass. It can alter numerous cellular pathways that lead to new muscle growth. For example, it boosts the formation of proteins that create new muscle fibres. It can also raise levels of IGF-1, a growth factor, which promotes an increase in muscle mass

3. Improves High-Intensity Exercise Performance
Creatine's direct role in ATP production means it can drastically improve high-intensity exercise performance
Creatine improves numerous factors, including :

Strength
Ballistic power
Sprint ability
Muscle endurance
Resistance to fatigue
Muscle mass
Recovery
Brain performance

4. Speeds Up Muscle Growth
Creatine is the world's most effective supplement for adding muscle mass. Taking it for as few as 5–7 days has been shown to significantly increase lean body weight and muscle size.
This initial rise is caused by increased water content in your muscles. Over the long term, it also aids in muscle fibre growth by signalling key biological pathways and boosting gym performance.

5. May Lower Blood Sugar Levels And Fight Diabetes
Research suggests that creatine supplements may lower blood sugar levels by increasing the function of GLUT4, a transporter molecule that brings blood sugar into your muscles.
A 12-week study examined how creatine affects blood sugar levels after a high-carb meal. People who combined creatine and exercise were better at controlling blood sugar levels than those who only exercised/

6. Can Improve Brain Function
Creatine plays an important role in brain health and function. Research demonstrates that your brain requires a significant amount of ATP when performing difficult tasks
Supplements can increase phosphocreatine stores in your brain to help it produce more ATP. Creatine may also aid brain function by increasing dopamine levels and mitochondria function

7. May Reduce Fatigue and Tiredness
Creatine supplements may also reduce fatigue and tiredness
Creatine can reduce symptoms of fatigue and tiredness by providing your brain with additional energy and increasing dopamine levels.

8. Safe and Easy to Use
Along with creatine's diverse benefits, it is also one of the cheapest and safest supplements available.
It's been researched for more than 200 years, and numerous studies support its safety for long-term use. Clinical trials lasting up to five years report no adverse effects in healthy individuals

At the end of the day, creatine is an effective supplement with powerful benefits for both athletic performance and health.
It may boost brain function, fight certain neurological diseases, improve exercise performance and accelerate muscle growth.
Try adding this ProteinLab brand creatine to your supplement regimen to see if it works for you.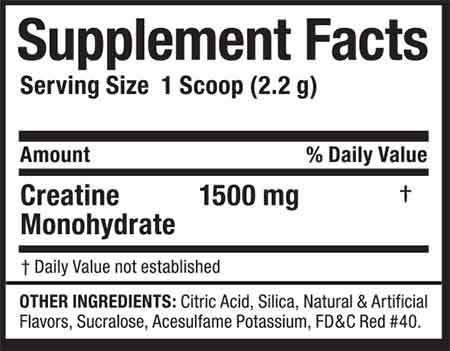 As a dietary supplement: Mix 1 scoop in 6-8 ounces of water, either before, during or after a workout.
---