MK 677 HGH (NUTROBAL)
ProteinLab sports supplement supplier/wholesaler Malaysia presents!
MK 677 HGH (NUTROBAL)!
Be safe and rest assured you are getting 100% authentic products at the lowest price when you purchase from ProteinLab Malaysia.
You can also like our Facebook for more promotion news at :
Or you can also follow Instagram for more nutrition tips:
MK 677 (Nutrobal) is an orally administered growth hormone secretagogue that is designed to stimulate the pituitary gland to release growth hormones. In case you're wondering, "secretagogue" is basically a natural substance that causes another substance to be secreted, such as gastrin.
MK 677 (Nutrobal) was originally formulated to keep health problems like osteoporosis, obesity, and muscle wasting, but has been seen to promote an increase in lean body mass as well as a boost in IGF-1 serum concentration during clinical runs.

For this reason, it didn't take people in the bodybuilding industry very long to start using it as a way to enhance their performance.
Moreover, here are the positive effects of MK 677 (Nutrobal) in terms of improving growth hormone pulse intensity:
Reduce body fat

Increase the rate of muscle growth

Tighten the skin

Heal old injuries

Helps in the recovery for bones, tendons, and ligaments

Increase bone density.

Improve sleep rate of user

Increase the rate of recovery

Anti-aging element

Inhibits the signaling of somatostatin receptors
Slows down the activity of somatostatin in the system
Improves somatotroph signaling in growth hormone-releasing hormones (GHRH)
Amplifies and increases the overall production and release of GHRH
MK 677 (Nutrobal) Composition
MK 677 (Nutrobal) supplements are rather similar to peptides like Ipamorelin and GHRP-6 but are administered orally and unlikely to set off the side effects that the latter can possibly cause during use. Apart from ease of use since you don't have to do painful and inconvenient injections with MK 677 (Nutrobal), you can also expect to have significant changes in your IGF-1 and growth hormone levels while on the product.

How does it work?
Nutrobal works by increasing the release of several hormones in the body, including growth hormone and IGF-1, and it does this without affecting cortisol levels. Subsequently, the increase in IGF-1 and growth hormone comes with a host of benefits. Furthermore, it also fights obesity by altering the metabolism of our body fat.
Growth hormone pulse intensity can be increased through 4 possible mechanisms:

Increasing GHRH (growth hormone-releasing hormone) release.
Amplifying GHRH signaling in somatotrophs of the anterior pituitary gland.
Reducing somatostatin release (somatostatin turns off GH release).
Inhibiting somatostatin receptor signaling.
Nutrobal (Mk-677) was found to work through all four of these mechanisms. After ingestion, Growth Hormone (GH) was shown to increase dose-dependently, at doses starting at 5 milligrams a day.
Recommended Dosage
The ideal dose of taking MK 677 (Nutrobal) is between 5 to 25 milligrams daily in a 10-week cycle.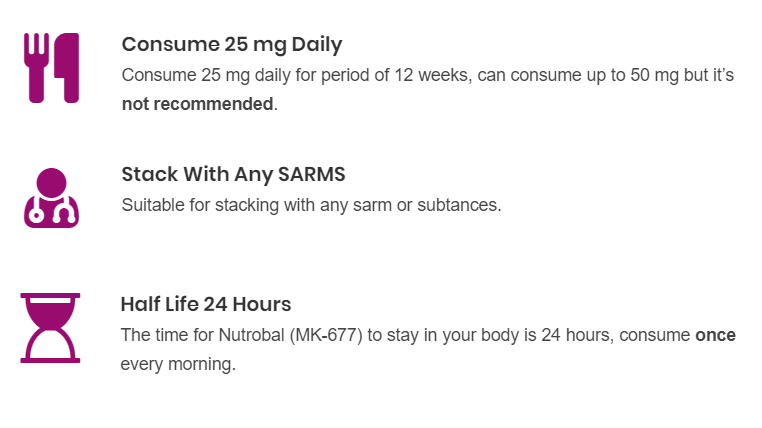 Benefits of MK 677 (Nutrobal)

In a study on its effects on catabolic states, a once-daily oral dose of 25mgs was given to healthy young men subjected to short-term diet-induced nitrogen wasting. After 7 days of this dose, the subjects showed a sustained increase in serum concentration of IGF-1 and Growth Hormone; in addition, the nitrogen wasting was reversed, showing great potential for the treatment of conditions involving muscle wasting.

Trials testing the effects of this GHS on fighting obesity showed an increase in lean body mass, but neither total nor visceral adipose tissue was affected. This study gave subjects 25mgs of Nutrobal per day for 8 weeks. The subjects showed an increase in basal metabolic rate after 2 weeks, and an increase in serum levels of GH, IGF-1, and IGF-1 binding protein-3. An increase in lean body mass was hypothesized to be caused by an increase in calorie deposition into the muscle and appetite decrease as opposed to reducing fat storage directly.

A study done for the treatment of osteoporosis and bone mineral density showed some increase in bone density, so there is a true impact on bone mineral density. This can help with injury recovery during your cycle.

Other possible benefits of Nutrobal are associated with improved sleep, improved complexion, increase in energy levels, increase nitrogen retention, increase strength, and an improved sense of well-being. In addition, some studies also suggest that an increased immune system response was caused by Nutrobal (Mk-677), meaning it boosts the immune system to a degree.
Promotes the healing of ligaments, tendons, bones as well as old injuries
Stimulates loose skin to tighten
Promotes lean muscle mass
Increases the oxidation of fat
Much cheaper price compare to GH with proven result
Possible Side Effects
Akin to other products that stimulate the elevated amounts of growth hormones in the body, MK 677 (Nutrobal) can cause a slight increase in appetite and temporary bouts of lethargy. However, this side effect is natural as your hunger hormones gremlin is stimulated in order to release growth hormones. In addition to that, usually, growth hormones are secreted the most during your sleep, thus MK677 is putting your body into a state which suitable for growth hormone release.
Most of the most trusted distributors in the USA including Malaysia have halted their businesses after the ban on SARMs. They are, however, still available through a few distributors and original sources in Malaysia is hard to come by. Thus you can rest assured when you can obtain authentic MK677 to work toward your recovery, fitness, and anti-aging goal.
---