MAXLER Golden Casein 2lbs
ProteinLab sport supplement supplier / wholesaler malaysia presents!
MAXLER Golden Casein 2lbs!
Be safe and rest assure you are getting 100% authentic products at the lowest price when you purchase from ProteinLab Malaysia.
You can also like our facebook for more promotion news at :
Or you can also follow instagram for more nutrition tip :
Сasein is one of the highest-quality proteins known to man. Casein products are acid sensitive and thicken in the stomach. Golden Casein has superior health-inducing properties by optimizing muscular and whole-body recovery and repair after intense training while avoiding a catabolic state. It is the perfect adjunct to weight-loss diets, since it provides a much-needed infusion of high-quality protein with the benefit of helping a person control their caloric intake. Golden Casein mixes instantly with a spoon and has smooth mouth feel, superior, clean, creamy taste and ability to disperse instantly without becoming chalky or thick!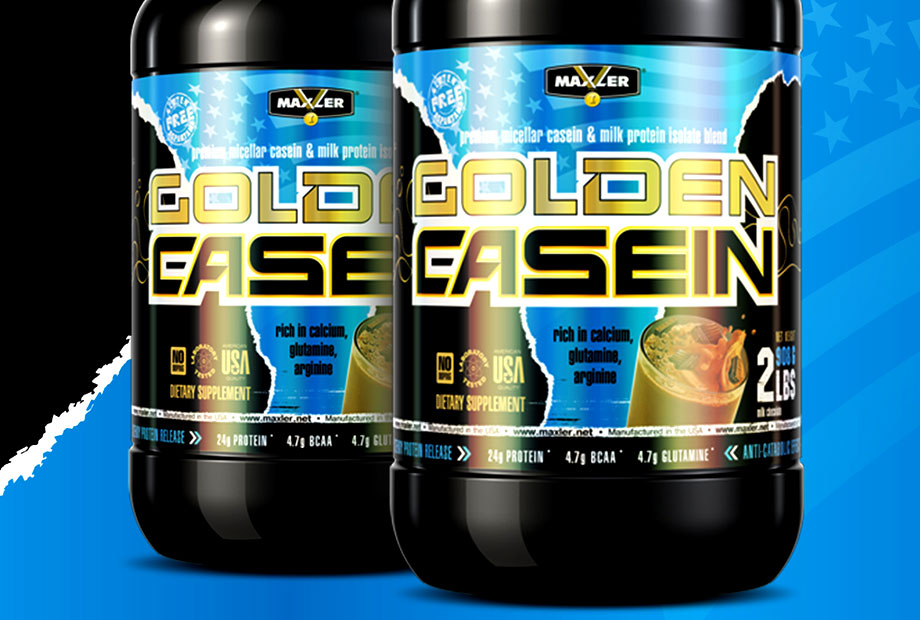 Most people prefer the faster-digesting protein which is desirable immediately before and after exercise to help refuel recovering muscles, but what some people don't know is that the slow digestion and absorption may be more beneficial at other times including bedtime when your body typically goes for hours without food. Casein products are acid sensitive and thicken in the stomach. Compared to some other proteins, it can take longer for our Maxler Golden Casein™ to be broken down into its amino acid subcomponents. By using only premium micellar casein as a protein source, we've created a formula that sets the standard for slow digesting protein support.
1. Build More Muscle
Several diet plans, including RP, recommend consuming casein protein directly before bed because it is slow digesting and provides a steady flow of amino acids while you are sleeping. When you go to bed, your body releases human growth hormone, which is important for building lean muscle mass, but this process requires available protein for synthesis.
Taking casein at night before bed is thought to support this mechanism throughout the night and result in more muscle growth overall (score!).
2. Increase Fat Loss
Smaller studies suggest that both whey and casein protein, when included in a calorie controlled diet along with resistance training, may help protect lean mass and promote more fat loss. But more research is definitely needed.
Regardless, studies do imply that consuming more protein in general may have some merit when it comes to weight maintenance and increasing protein intake might be beneficial for dropping pounds when calories are controlled.
3. Improve Your Recovery
You would think that going to the gym would make your muscles bigger and stronger instantly, but your body may not be able to do that without proper nutrition. The two go hand-in-hand.
It has been shown that supplementation can aid in muscle repair, maintenance and growth. And casein is an important tool to support this process. After a workout, muscle fiber is damaged. Our bodies utilize protein and amino acids to repair and build the muscle bigger & stronger than before.
What's unique about casein is its ability to supply protein over multiple hours after a workout, keeping your body protein positive, and in turn, protecting existing muscle mass and potentially supporting muscle growth.
4. Promote Dental Health
Like other dairy sources, casein may improve your dental health. Studies have suggested that casein's calcium, phosphate and hydroxide content has the potential to strengthen tooth enamel against acid erosion and damage. And that casein may prevent tooth decaying bacteria from attaching to teeth, helping to keep cavities at bay.
Supplement Facts

Serving Size: 1 Scoop (31 g)

Servings Per Container: 29

Amount Per Serving

% Daily Value

Calories

130




Calories from Fat

15

Total Fat

1.5 g

2%*

Saturated Fat

1.5 g

8%*

Cholesterol

15 mg

5%

Total Carbohydrate

3 g

1%*

Dietary Fiber

1 g

4%*

Sugar

2 g

**

Protein

24 g

48%

Calcium

535 mg

54%

Iron

0.4 mg

2%

Sodium

30 mg

1%

Potassium

230 mg

7%

Amino Acid Profile

Alanine

0.74 g

**

Arginine

0.76 g

**

Aspartic Acid

1.68 g

**

Cysteine

0.15 g

**

Glutamic Acid

4.70 g

**

Glycine

0.41 g

**

Histidine

0.56 g

**

Isoleucine

1.16 g

**

Leucine

2.12 g

**

Lysine

1.66 g

**

Methionine

0.61 g

**

Phenylalanine

1.05 g

**

Proline

2.24 g

**

Serine

1.18 g

**

Threonine

0.92 g

**

Tryptophane

0.31 g

**

Tyrosine

1.15 g

**

Valine

1.37 g

**
* Percent Daily Values are based on a 2,000 calorie diet.
** Daily Value is not established.
Ingredients: Dairy Protein Blend (Micellar Casein, Milk Protein Isolate), Creamer (Hydrogenated Coconut Oil, Corn Syrup solids, Sodium Caseinate (a milk derivative), Mono- and Diglycerides, Dipotassium Phosphate, Sodium Silicoaluminate, Soy Lecithin), Cocoa Powder, Natural and Artificial Flavors, Sucralose, Acesulfame Potassium.
Directions: Mix one serving (31 gram) with 6-8 oz of water, milk or your favorite beverage. To achieve your desired consistency vary the amount of liquid. Ideal if taken between meals and before bed to feed muscles and fuel recovery.
---