*CLEARANCE* (EXPIRED ON 03/22) Kevin Levrone LevroShield (300GM)
ProteinLab sport supplement supplier / wholesaler malaysia presents!
*CLEARANCE* (EXPIRED ON 03/22) Kevin Levrone LevroShield (300GM)!!
Be safe and rest assure you are getting 100% authentic products at the lowest price when you purchase from ProteinLab Malaysia.
You can also like our facebook for more promotion news at :
Or you can also follow instagram for more nutrition tip :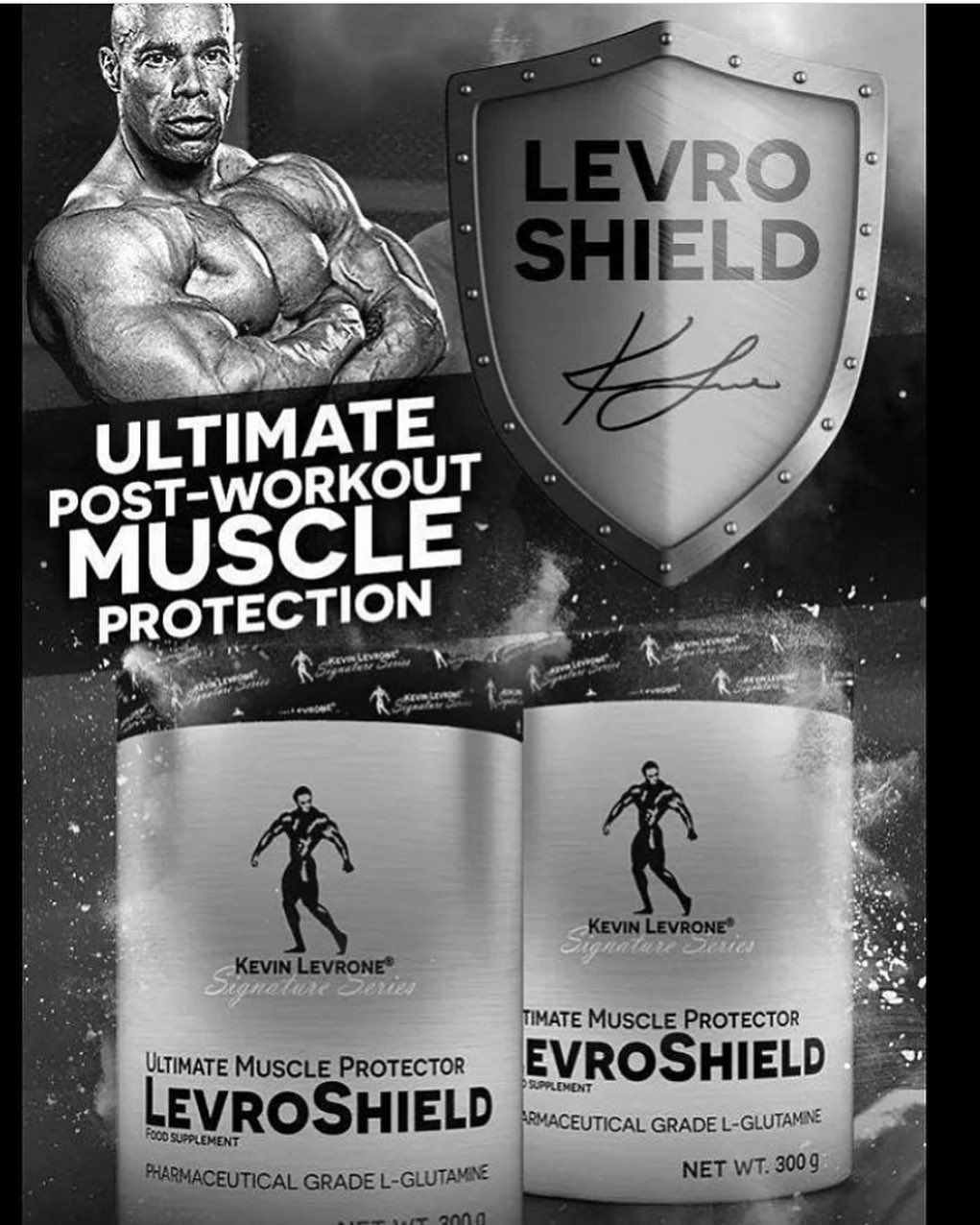 LevroShield is designed for the hardest-training athletes. In its composition, LevroShield contains a high dose of L-Glutamine and beta-glucan. One portion of LevroShield supplies the body with 4.5 g of L-glutamine complemented by beta-glucan. Studies conducted by the chair of biochemistry at Oxford University show that L-glutamine significantly supported the body's immune system, minimizing the number of infections in the athletes studied. In addition, glutamine is credited with a significant role in the synthesis of muscle protein, which can have a direct impact on sports performance. With the components contained in LevroShield, you can protect your muscles and minimize the feeling of overtraining – the maximum protective effect of LevroShield is thanks to the beta-glucan.
The product is recommended for hard-working athletes in the period of recovery and lowered immunity. LevroShield is the best support for hard-training athletes. Protect your body, protect your muscles and protect yourself from colds and injuries.
Get LevroShield today!
To sum it out, LevroShield practically uses 2 synergizing ingredients (L-Glutamine and Beta-Glucan/β-GLUCANS) in which will help you to:
- Boost immune system (protecting you against virus and bacteria.)
- Preserve muscle
- Stress adapter
- Helps in muscle gain
- Reduce gut inflammation
- Regulate cholesterol
-Increase insulin sensitivity
L-Glutamine
Glutamine is one of the most overlook amino acids in bodybuilding supplements. Mainly due to the fact that your body itself can produce itself. However, this is one of the main mistakes you should avoid in bodybuilding or having an active lifestyle as rigorous training, stress, injury and heavy workouts can result in your body requiring more glutamine than what it can ever produce. For peak health, performance and to satisfy the needs of the body, glutamine supplements are a must. As the most abundant amino acid in the body, glutamine can be found in muscle tissue, plasma, and in nearly every animal product you ingest. That may not sound like much but make no doubt: Glutamine is critically important to a wide range of bodily processes. Glutamine is an amino acid responsible for protein synthesis in the human body. Proteins are crucial in your body as they protect and support vital organs in your body. They will also transport substances in your blood to assist in repairing muscles and even curb harmful viruses. Glutamine significantly affects BCAA metabolism, gut barrier maintenance, normal immune function, glucose formation, water transport, neurotransmission, muscle preservation, and more.

How do you know when your body need more L-Glutamine?
You may start to show noticeable signs of deficiency, including muscle wasting, depleted energy, and increased susceptibility to infections.
One study found that when athletes suffered from mild dehydration, supplemental glutamine increased exercise performance and enhanced fluid and electrolyte uptake when combined with a glucose and electrolyte beverage. Supplementation has also been shown to raise levels of growth hormone in response to cycling to exhaustion.
Most bodybuilders and athletes will take glutamine for muscle growth and promoting protein synthesis. Studies have also indicated that glutamine can reduce fatigue and boost one's immune system.
Glutamine is known to speed up muscle recovery after intense moments of exercise or marathon running. The supplement draws water and salt into your cells hence keeping them hydrated and denser. Glutamine for muscle growth is very effective since it is a protein-building block. Studies have also proven glutamine is also effective for relieving muscle soreness. If one feels fatigued and ache in their muscles after running or rigorous training, a glutamine supplement can help eliminate the discomfort.

In addition to muscle building, Glutamine is extremely important for individuals who which to cut fat while preserving their muscles. Many clinical studies show that glutamine actually helps preserve muscle by preventing muscle wasting. The more muscle mass your can maintain will ultimately contribute more fats you can burn while you are resting. This effect will continue stacking and indirectly enhance more fat burning while keeping your muscles lean and hard.
Beta-Glucan/β-GLUCANS
β-Glucans/Beta-Glucan, generally called biological response modifiers, are now recognized as anti-tumor and anti-infective supplements. Beta-Glucan has been shown to protect against infection by bacteria, viruses, and pathogenic microorganisms which can be read here. Beta-Glucan also prevents cancer promotion and progression and has synergistic anti-tumor effects with monoclonal antibodies and cancer chemotherapeutics.
Beta-Glucan enhances the immune system by reducing gut inflammation and make our gut barrier so much stronger that makes it hard for bacteria, viruses, and pathogenic microorganisms to attack.
As we already know weight training and endurance athletes are more susceptible to upper respiratory tract infection.
The immune system is suppressed after hard training. By adding Beta-Glucan into your diet or supplement regime, it has been shown to significantly reduce upper respiratory tract infection.
Think of it this way, because if you get one, you will gonna miss training days, hard workouts, endurance workouts, racing, competition, and any other thing in which your sickbay will keep you out off.
Meaning you will not get as fit, strong, and fast as you want to.
We all know that time is the only thing you can no longer get back and sickness will set you back way more than any other setbacks such as nutrition and workout error.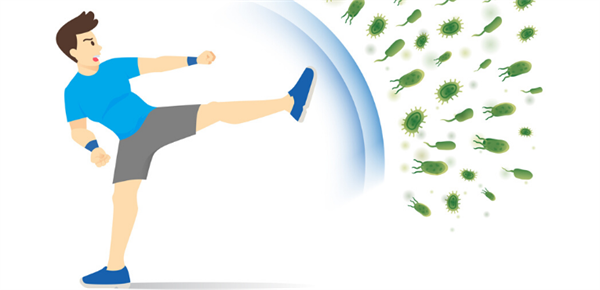 LevroShield is recommended to be combined with the following products:

LevroShield + AnabolicIsoWhey + ShaboomPump + LevroMono
Combining all these products provides a complex solution for muscular strength and muscle building for any athlete, especially for strength and endurance sports disciplines.
Nutrition facts
Direction use: Mix 1 scoop of powder (~4,5 g) with 250 ml of water. Drink 1 portion immediately after a workout.

Warnings: Do not use if you are allergic to any of the product compounds. Do not exceed the recommended daily dose. Food supplements should not be used as a substitute for a varied diet. A varied and balanced diet and a healthy lifestyle are recommended. Do not use it if pregnant or nursing. Keep out of reach of young children. Store in a dry and cool place. Protect from direct sunlight.
---