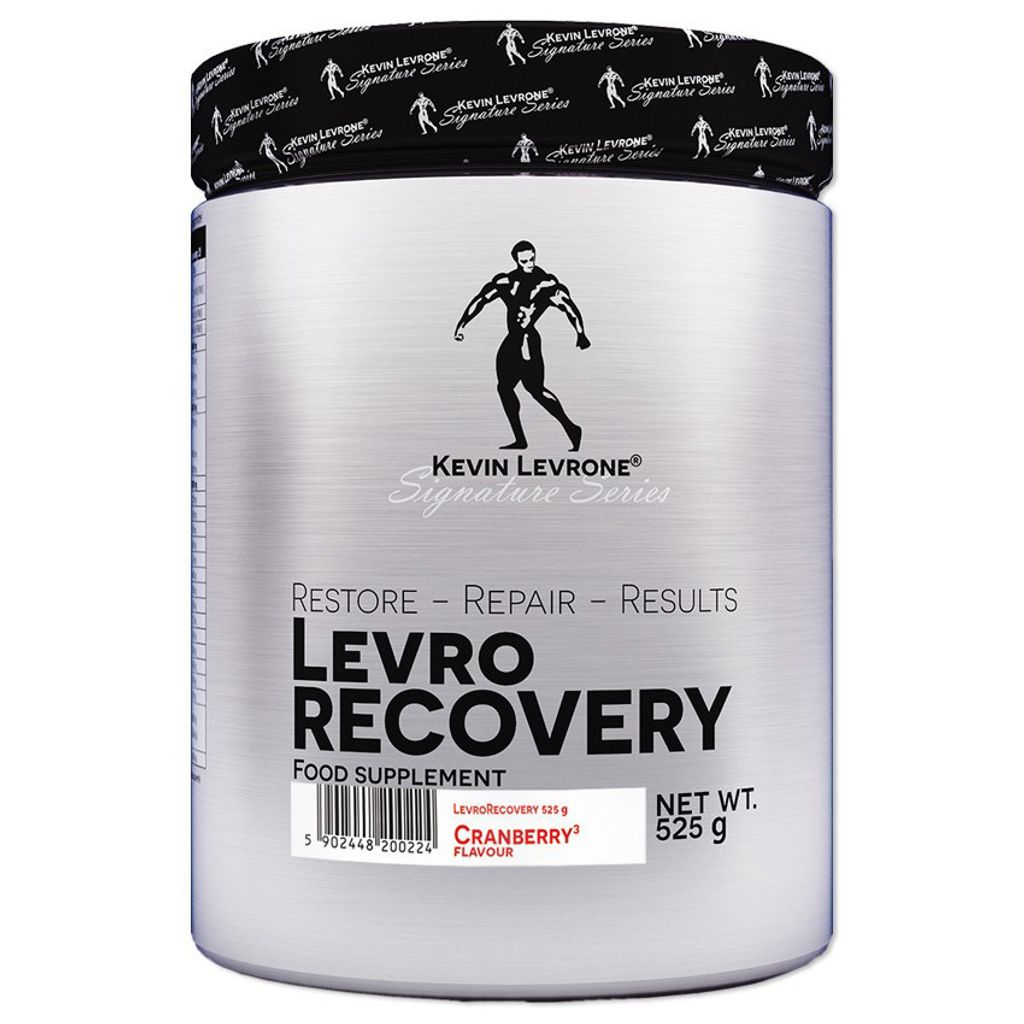 KEVIN LEVRONE SIGNATURE SERIES LEVRO RECOVERY 525G
ProteinLab sport supplement supplier / wholesaler malaysia presents!
KEVIN LEVRONE SIGNATURE SERIES LEVRO RECOVERY 525G!
Be safe and rest assure you are getting 100% authentic products at the lowest price when you purchase from ProteinLab Malaysia.
You can also like our facebook for more promotion news at :
Or you can also follow instagram for more nutrition tip :
LevroRecovery is a unique formula supplementing the diet with a wide range of amino acids, including L-glutamine and branched chain amino acids (BCAA). The product also includes HMB, L-carnitine, niacin and B6 and B12 vitamins. The perfect combination for post-workout supplementation in the period of increased physical activity. All-out intensity and limit-busting workouts don't mean much without adequate replenishment.
BCAAs are branched chain amino acids, which include: leucine, isoleucine and valine. They belong to essential amino acid group, meaning that body cannot produce them and they must be delivered with food. Other essential amino acids are phenylalanine, methionine, tryptophan, threonine and lysine, but leucine, isoleucine and valine satisfy about 40% of body needs for essential amino acids. Researchers at the Medical University in Indiana (USA) showed that before and after training branched-chain amino acids supplementation (BCAA) has a positive effect on muscle recovery after exercise, while assisting the development of lean muscle mass[1].
L-glutamine is the most common amino acid in the human body responsible for maintaining positive nitrogen balance, muscle protein synthesis and increasing the body's natural immunity[2, 3].
Additionally, thanks to vitamin B6, B12 and niacin, which contribute to the reduction of tiredness and fatigue after hardcore pumping you won't be feeling completely drained.
Professional lifters and body builders take their post-workout nutrition as seriously, if not a little more so, than their pre and intra-workout supplementation. This is because of how extreme your natural muscle and exercise recovery mechanisms are!

[1] Yoshiharu Shimomura et al., Exercise promotes BCAA catabolism: effects of BCAA Supplementation on skeletal muscle during exercise, the Journal of nutrition
[2] Michael Gleeson, Dosing and Efficacy of Glutamine Supplementation in Human Exercise and Sport Training, The Journal of Nutrition 2008
[3] Yoshiharu Shimomura et al., Supplementation on Skeletal Muscle during Exercise, the Journal of nutrition 2004
LevroRecovery is recommended to be combined with the following products:

LevroRecovery + LevroArmour + LevroIsoWhey + LevroPump + Levro Shield + LevroSupreme Bar

Combining all these products provides a complex solution for muscular strength and muscle building for any athletes, especially for strength and endurance sports disciplines.
Serving size: 3 ½ scoops (~21 g)

Servings per container: 25

Amount of active ingredients per

21 g

Niacin

10 mg (62,5% NRV)

Vitamin B6

2 mg (143% NRV)

Vitamin B12

2 μg (80% NRV)

BCAA Complex 2:1:1, of which:

4000 mg

L-leucine

2000 mg

L-isoleucine

1000 mg

L-valine

1000 mg

Glutamine-Complex, of which:

4000 mg

L-glutamine

2000 mg

L-glutamine alphaketoglutarate

1000 mg

L-glutamine malate

1000 mg

Amino Acid blend, of which:

7800 mg

L-alanine

2200 mg

Glycine

2300 mg

L-serine

700 mg

L-lysine

420 mg

L-aspargine

550 mg

L-threonine

400 mg

L-proline

300 mg

L-tyrosine

200 mg

L-phenylalanine

170 mg

Cystine

100 mg

L-arginine

200 mg

L-histidine

100 mg

L-methionine

100 mg

L-tryptophan

60 mg

Calcium β-hydroxy-β-methylbutyrate (of which HMB)

3000 mg (2500 mg)

L-carnitine

1000 mg
NRV – Nutrient Reference Values

Ingredients: Amino Acid Blend [glycine, L-alanine, L-serine, L-asparagine, L-lysine, L-threonine, L-proline, L-tyrosine, L-arginine, L-phenylalanine, cystine, L-histidine, L-methionine, L-tryptophan), calcium β-hydroxy-β-methylbutyrate (HMB), L-glutamine, L-leucine, L-glutamine alphaketoglutarate, L-glutamine malate, L-isoleucine, L-valine, L-carnitine, acidity regulator (citric acid), flavouring1,2,3,4,5,6, flavourings7, vitamins and mineral premix [niacin (nicotinamide), vitamin B6 (pyridoxine hydrochloride), vitamin B12 (cyanocobalamin)], anti-caking agent (silicon dioxide), sweeteners (sucralose, acesulfame K), colour (E160a1,4,7, E1632,3), red beet concentrate5,6.

It applies only to the following flavours: Cactus1, Blackcurrant2, Cranberry3, Mango4, Pink grapefruit5, Raspberry6, Orange-pineapple7.

Warnings: With sweeteners.
Direction use: Mix 3½ scoops of powder (21 g) with 250-500 ml of water. Drink 1 serving after a workout.

Warnings: Do not use if you are allergic to any of the supplement compounds. Do not exceed the recommended daily dose. Do not use if pregnant or nursing. Food supplements should not be used instead of a varied diet. A varied and balanced diet and a healthy lifestyle are recommended. Keep out of reach of young children. Store in dry and cool place.
---