Keep Fit (Kuro Daitto, & Kuro Mizu)
𝐏𝐫𝐨𝐭𝐞𝐢𝐧𝐋𝐚𝐛 𝐬𝐩𝐨𝐫𝐭𝐬 𝐬𝐮𝐩𝐩𝐥𝐞𝐦𝐞𝐧𝐭 𝐒𝐮𝐩𝐩𝐥𝐢𝐞𝐫/𝐖𝐡𝐨𝐥𝐞𝐬𝐚𝐥𝐞𝐫 𝐌𝐚𝐥𝐚𝐲𝐬𝐢𝐚 𝐩𝐫𝐞𝐬𝐞𝐧𝐭𝐬!
𝐊𝐄𝐄𝐏 𝐅𝐈𝐓 (𝐊𝐮𝐫𝐨 𝐃𝐚𝐢𝐭𝐭𝐨 & 𝐊𝐮𝐫𝐨 𝐌𝐢𝐳𝐮)
Be safe and rest assured you are getting 100% authentic products at the lowest price when you purchase from ProteinLab Malaysia.
You can also like our Facebook for more promotion news at :
Or you can also follow Instagram for more nutrition tips:
Be safe and rest assured you are getting 100% authentic products at the lowest price when you purchase from ProteinLab Malaysia.
𝐊𝐄𝐄𝐏 𝐅𝐈𝐓 (𝐊𝐮𝐫𝐨 𝐃𝐚𝐢𝐭𝐭𝐨 & 𝐊𝐮𝐫𝐨 𝐌𝐢𝐳𝐮)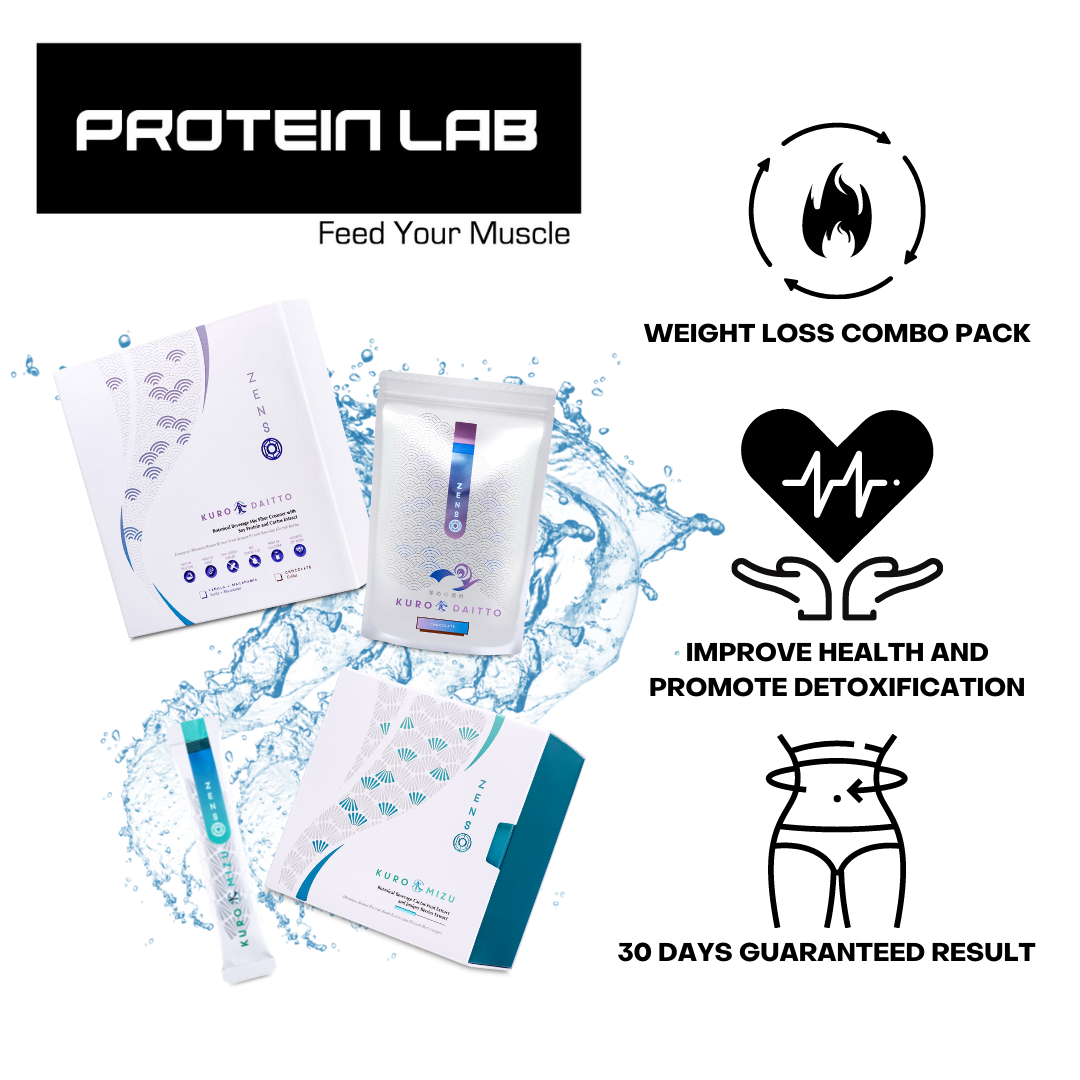 Zenso healthy weight management is a program that assists you in losing weight in a healthy manner by improving your body composition rather than simply lowering the numbers on your scale. Our program takes a comprehensive approach to weight loss, including dietary guidelines, meal plans, exercise plans, and Zenso products inspired by the Japanese black vinegar, Kurozu.

Zenso consists of four products: Kuro Mizu, Kuro Shuga, Kuro Oiru, and Kuro Daitto, all of which are formulated with Kurozu and numerous other patented and branded ingredients that have been proven to keep your body weight healthy using four scientific methods:
1. REDUCE INGESTION
Despite having only around 130 kcal calories per serving, Kuro Daitto contains 18 types of micronutrients that are beneficial to our overall health including Vitamin A, C, D3, calcium, iron, and fiber, as well as around 10 grams of protein.
The ingredients in Kuro Daitto can help to:
Promote Satiety
Delay Hunger
Reduce Craving for Sugary Food
Provide Sufficient Nutrients by Minimal Calorie Intake
Control Appetite
2. REDUCE ABSORPTION
Reducing the absorption of carbohydrates and fats is an important step in weight management.
Carbohydrates will be broken down into sugars and enter the bloodstream after being ingested causing blood sugar to increase drastically. Ingredients from the Zenso series can help to prevent carbohydrates from breaking down into sugars, thereby reducing the body's absorption of carbohydrates and sugar.
The ingredients in Kuro Shuga and Kuro Oiru can help to reduce carbs and fat absorption.
3. ENHANCE METABOLISM
The ingredients in Kuro Shuga and Kuro Oiru can help to convert white adipocytes to brown adipocytes in order to enhance the body's ability to burn fat.
Other than that, the ingredients can also help to:
Inhibit the conversion of sugar to fat
Enhance Metabolism
Stimulate insulin production for glucose metabolism
Improve insulin sensitivity for glucose metabolism
4. REDUCE ACCUMULATION
The ingredients in Kuro Oiru can help to reduce fat accumulation:
Convert fat to energy through the lipolysis process to reduce the volume of fat tissue.
The ingredients in Kuro Mizu can help to reduce water retention:
When excessive sodium (salt) is consumed and not being excreted, it will then be accumulated in the extracellular fluid together with water, causing water retention. Kuro Mizu is a diuretic formula that can help to remove excess sodium and water through urination, hence improving swelling of limbs and face.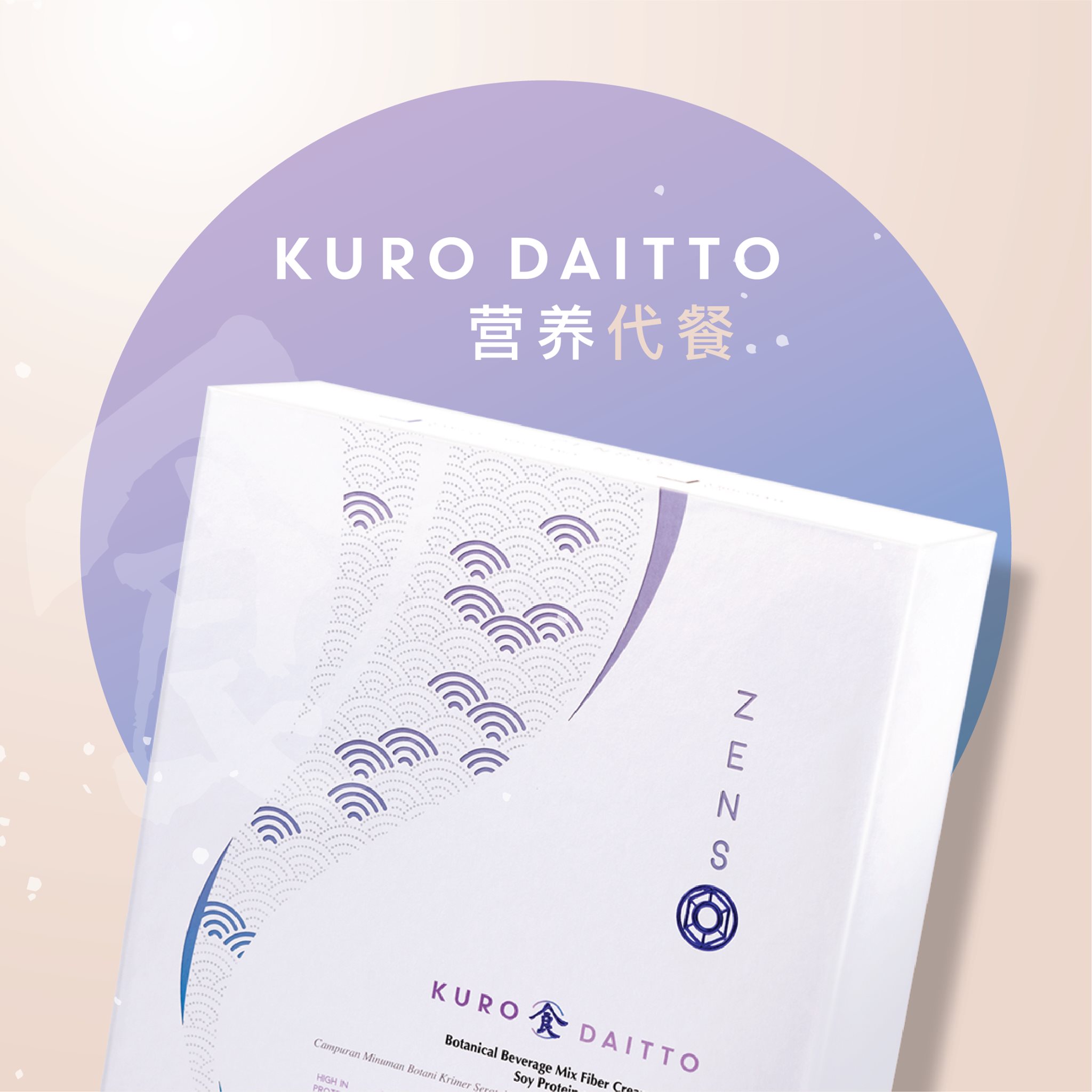 KURO DAITTO
MEAL REPLACEMENT
Chocolate & Vanilla Macadamia Flavor Botanical Beverage
Kuro Daitto contains Kurozu black vinegar, patented ingredient Slimaluma®️ Cactus extract & 7 natural ingredients Baobab fruit powder, fiber creamer, isolate soy protein, whey protein isolate, MCT oil powder, konjac powder & vitamins & mineral premix.
BENEFITS
Suppress appetite, reduce calories intake
Replenish daily nutrients demand, provide a feeling of satiety
Promote bowel movement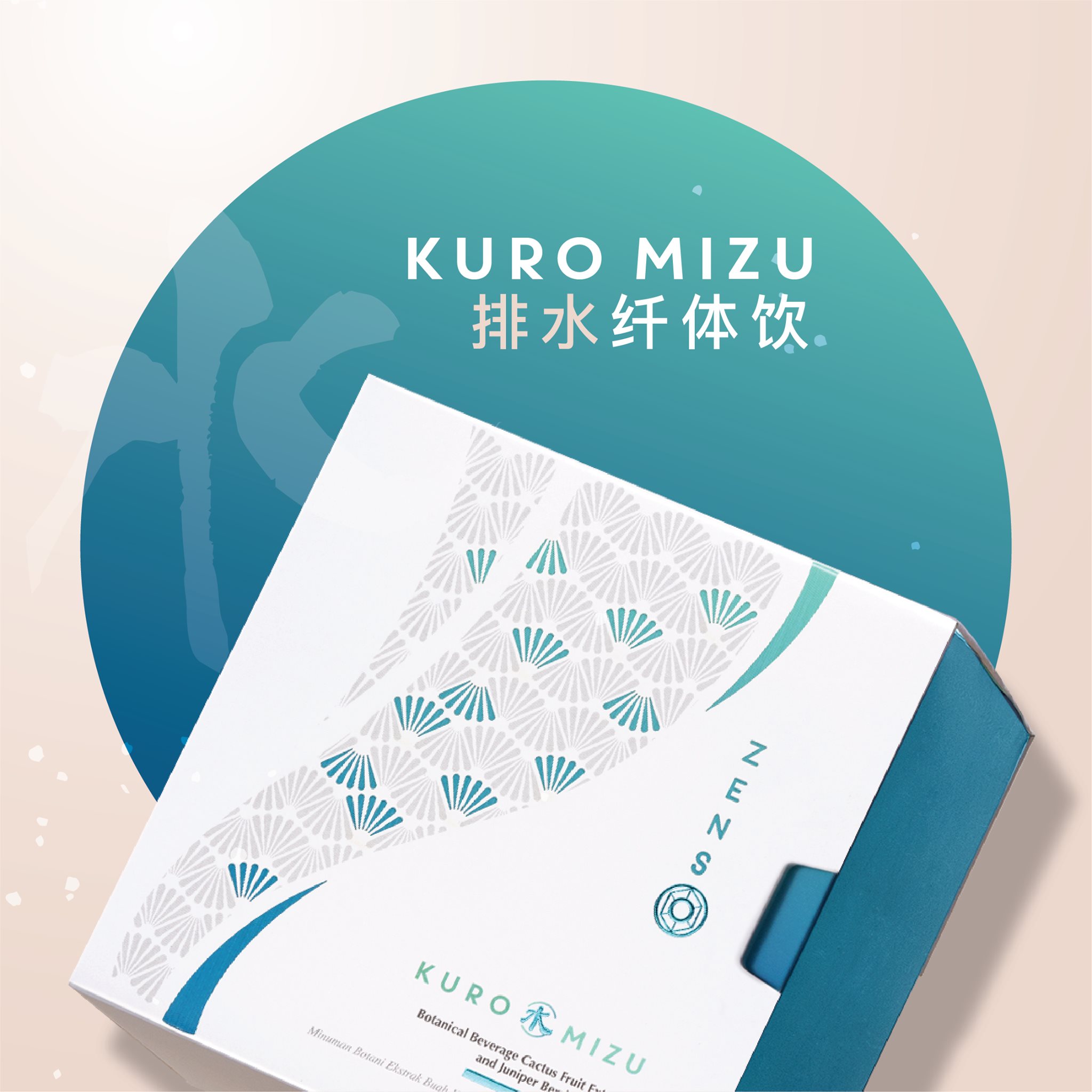 KURO MIZU
DIURETIC FORMULA
Berries & Plum Botanical Beverage
Kuro Mizu contains Kurozu black vinegar, branded ingredient CactiNea™ Cactus fruits extract & 4 natural ingredients juniper berries extract, meadowsweet extract, ginger root extract, and Japanese red plum.
BENEFITS
Remove excessive sodium & water
Improve swelling of limbs and face
Improve liver function & detoxification

Regulate glucose & lipid metabolism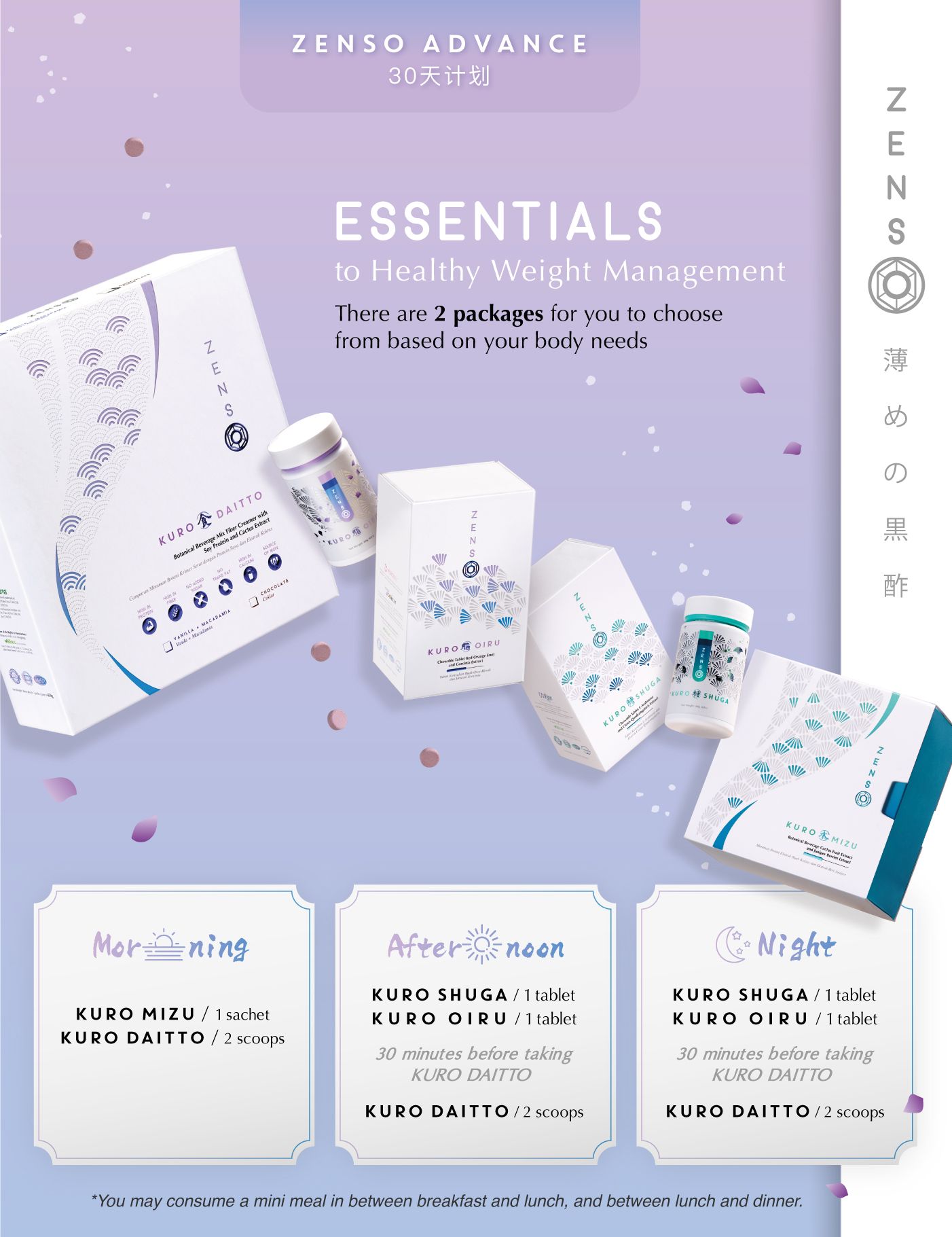 ---