Joint-X Glucosamine–chondroitin complex 100 caps
ProteinLab sport supplement supplier / wholesaler malaysia presents!
Joint-X Glucosamine–chondroitin complex 100 caps!
Be safe and rest assure you are getting 100% authentic products at the lowest price when you purchase from ProteinLab Malaysia.
You can also like our facebook for more promotion news at :
Or you can also follow instagram for more nutrition tip :
The cartilage cells produce mucopolysaccharides-protein complexes like chondroitin sulfate. These molecules are built into the cartilage matrix, pick up water and improve joint flexibility. As a result of hydration, joints can resist hard strain and shocks. Chondroitin protects even the healthy joints by inhibiting the production of joint degenerating enzymes.
Chondroitin is able to suppress the pain of chronic osteoarthritis and reduce the need for nonsteroidal anti-inflammatory drugs (NSAID's). The most important aspect of this product is that the components do not have any side effects unlike NSAID's! Glucosamine is similar to chondroitin and the two have synergistic benefits.
Methylsulfonylmethane (MSM) is a natural source of sulfur and is commonly used for helping to treat or prevent osteoarthritis. Gelatin is a component of collagen that is the basis of connective tissue structure.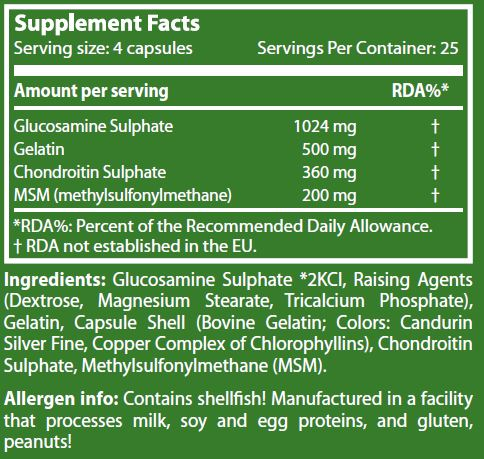 Warnings
Use this product in conjunction with food as part of a healthy, balanced diet, not as a substitute for such. KEEP OUT OF REACH OF CHILDREN! DON'T EXCEED THE RECOMMENDED DAILY DOSAGE
---