TIGROX HOMEGA FISH OIL (Vitamin K2 & D3)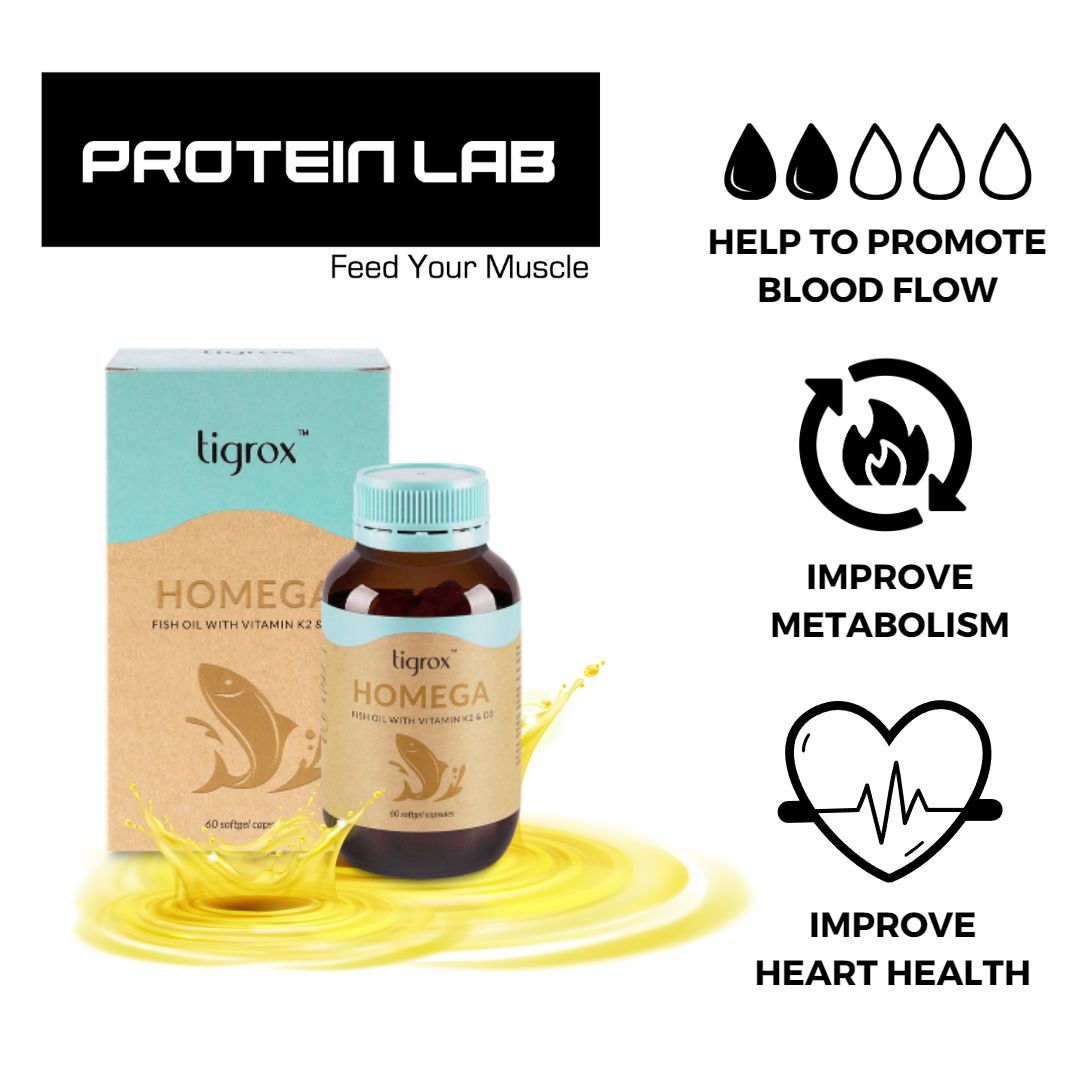 TIGROX HOMEGA FISH OIL (Vitamin K2 & D3)
The unbeatable formula & golden combination of HOMEGA FISH OIL softgel capsule
HOMEGA FISH OIL help to prevent the formation of blood cot,help to promote blood flow,maintain the elasticity of blood vessels,prevent arterial stiffness,improve metabolism.
WHAT IS HOMEGA FISH OIL?
It is the first fish oil supplement product ever added with Vitamin K2 and D3 in Malaysia. Extracted from small fishes in unpolluted ocean as raw ingredient,its synergistic effect with Vitamin K2 and D3 can help to maintain healhy blood circulation.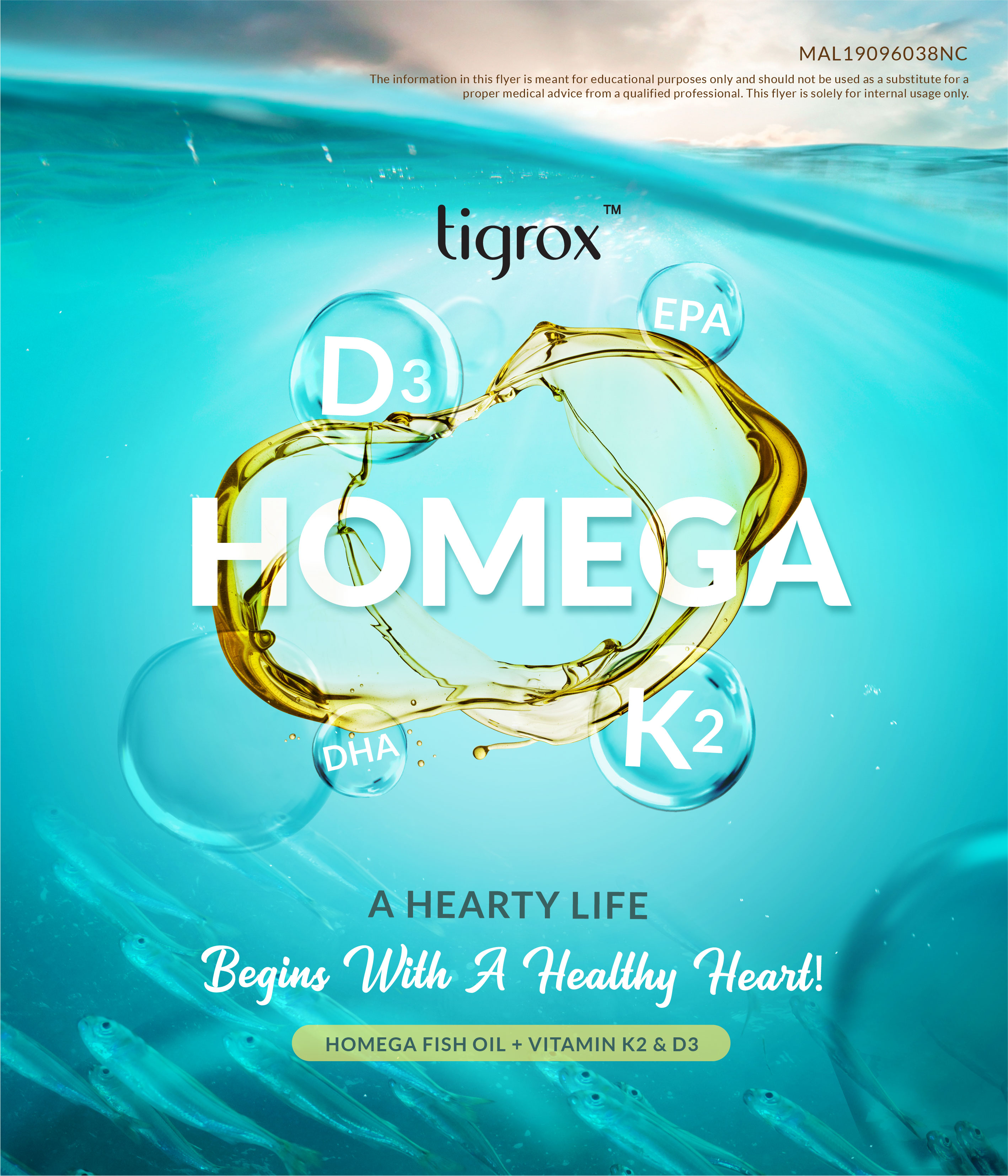 BAD HABITS THAT COULD BE HARMFUL TO YOUR HEART
Rarely consume vegetables and enjoy snacking

Always eating outside and meat-lover

Lack of exercise

Smoke and drink without controlling the intake

Always overeat which results in obesity
5 DIFFERENT WAYS WITH FISH OIL,VITAMIN K2 AND D3 :
Prevent the formation of blood cot

Help to promote blood flow

Maintain the elasticity

Prevent arterial stiffness

Improve metabolism
Regular consumption of HOMEGA FISH OIL will result in :
Stay energetic
Healthier heart
Improved metabolism
Lessened stiffness problem
Three high diseases problem
INGREDIENTS :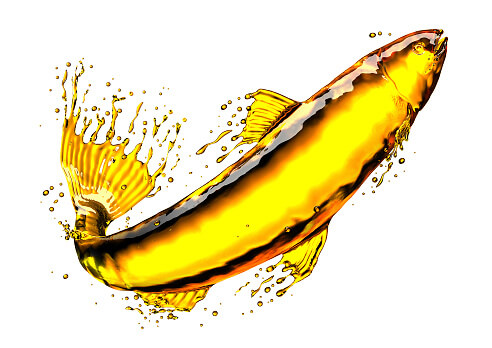 FISH OIL
Regulate triglycerides to reduce plaque formation in the arterial wall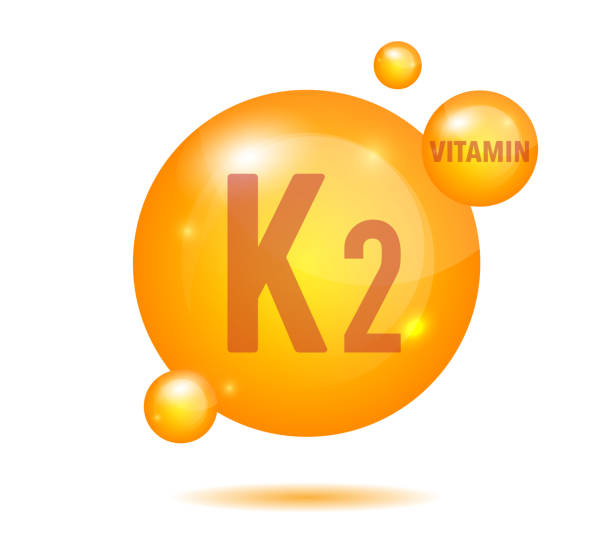 VITAMIN K2
Vitamin K2 can preserve elastin,hence maintain the elasticity and flexibility of blood vessels.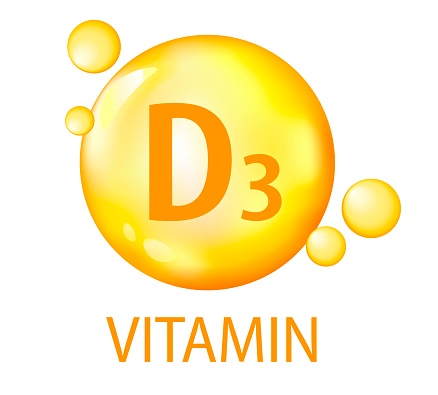 VITAMIN D3
Vitamin D3 can promote of the absorption of calcium by stimulating intestinal calcium absorption throughout the whole intestine
HOMEGA FISH OIL is suitable for :
Frequently dine out
Frequently socialize till late
Have hectic lifestyle
Three high diseases problem
Suggested Use: For age 18 years old and above
1 bottle contain 30 capsules,take two capsule daily. Consume directly after opening the bottle, preferably after breakfast.
𝐏𝐫𝐨𝐭𝐞𝐢𝐧𝐋𝐚𝐛 𝐬𝐩𝐨𝐫𝐭𝐬 𝐬𝐮𝐩𝐩𝐥𝐞𝐦𝐞𝐧𝐭 𝐒𝐮𝐩𝐩𝐥𝐢𝐞𝐫/𝐖𝐡𝐨𝐥𝐞𝐬𝐚𝐥𝐞𝐫 𝐌𝐚𝐥𝐚𝐲𝐬𝐢𝐚 𝐩𝐫𝐞𝐬𝐞𝐧𝐭𝐬!
TIGROX HOMEGA FISH OIL with Vitamin K2 and Vitamin D3
Be safe and rest assured you are getting 100% authentic products at the lowest price when you purchase from ProteinLab Malaysia.
You can also like our Facebook for more promotion news at:
Or you can also follow Instagram for more nutrition tips:
---