(LAST UNIT) Galvanize Max Whey 73 Servings 2280g
ProteinLab sports supplement supplier/wholesaler Malaysia presents!
Galvanize Max Whey 73 Servings 2280g!
Be safe and rest assure you are getting 100% authentic products at the lowest price when you purchase from ProteinLab Malaysia.
You can also like our Facebook for more promotion news at :
Or you can also follow Instagram for more nutrition tip :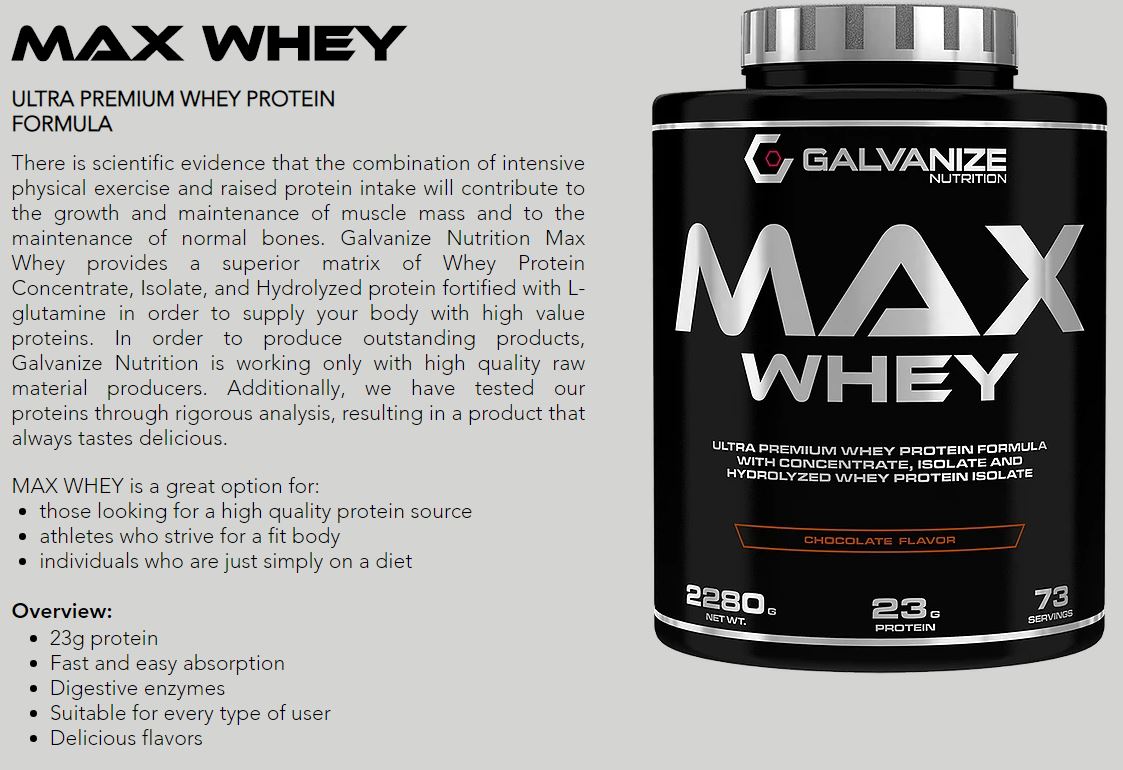 GALVANIZE MAX WHEY
Ultra Premium Whey Protein Formula
There is scientific evidence that the combination of intensive physical exercise & raised protein intake will contribute to the growth & maintenance of muscle mass & to the maintenance of normal bones. Galvanize Nutrition Max Whey provides a superior matrix of Whey Protein Concentrate, Isolate & Hydrolyzed protein fortified with L-Glutamine in order to supply your body with high-value proteins. In order to produce outstanding products, Galvanize Nutrition is working only with high-quality raw material producers. Additionally, we have tested our proteins through rigorous analysis, resulting in a product that always tastes delicious.
GALVANIZE MAX WHEY is a great option for:
-Those looking for a high-quality protein source
-Athletes who strive for a fit body
-Individuals who are just simply on a diet
Overview:
-23g protein
-Fast & easy absorption
-Digestive enzymes
-Suitable for every type of user
-Delicious flavors
Flavors:
-Bourbon Vanilla
-Double Chocolate
-Strawberry Ice Cream
Sizes:
2280g
Consumption:
Add one serving (31g one heaping scoop) to 250ml water or low-fat milk. Take two servings on workout days. Take one serving after training & one additional between meals.
Ingredients:
-Bourbon Vanilla Flavor:
Max Whey Protein Blend (CFM Whey Protein Concentrate [from Milk, instantized with Sunflower Lecithin], CFM Whey Protein Isolate [from Milk, instantized with Soy Lecithin], Whey Protein Isolate Hydrolysate [from Milk, instantized with Sunflower Lecithin]), Flavor (Vanilla), Sodium Chloride, L-Glutamine, Sweeteners (Acesulfame K, Sucralose), Thickener (Xanthan Gum), DigeZyme® Enzyme Complex (Alpha-Amylase, Neutral Protease, Cellulase, Lactase, Lipase).


-Double Chocolate Flavor:
Max Whey Protein Blend (CFM Whey Protein Concentrate [from Milk, instantized with Sunflower Lecithin], CFM Whey Protein Isolate [from Milk, instantized with Soy Lecithin], Whey Protein Isolate Hydrolysate [from Milk, instantized with Sunflower Lecithin]), Fat-reduced Cocoa Powder (10-12%), Flavor (Chocolate), Sodium Chloride, L-Glutamine, Sweeteners (Acesulfame K, Sucralose), Thickener (Xanthan Gum), DigeZyme® Enzyme Complex (Alpha-Amylase, Neutral Protease, Cellulase, Lactase, Lipase).

-Strawberry Ice Cream Flavor:
Max Whey Protein Blend (CFM Whey Protein Concentrate [from Milk, instantized with Sunflower Lecithin], CFM Whey Protein Isolate [from Milk, instantized with Soy Lecithin], Whey Protein Isolate Hydrolysate [from Milk, instantized with Sunflower Lecithin]), Flavor (Strawberry), Sodium Chloride, Color (Beetroot Red), L-Glutamine, Sweeteners (Acesulfame K, Sucralose), Thickener (Xanthan Gum), DigeZyme® Enzyme Complex (Alpha-Amylase, Neutral Protease, Cellulase, Lactase, Lipase)
---