Dynamik Muscle Savage Roar 315g
ProteinLab sport supplement supplier / wholesaler malaysia presents!
Dynamik Muscle Savage Roar 315g!
Be safe and rest assure you are getting 100% authentic products at the lowest price when you purchase from ProteinLab Malaysia.
You can also like our facebook for more promotion news at :
Or you can also follow instagram for more nutrition tip :
Untamed Energy
We all want better workouts – increased intensity, focus, strength and endurance. That is, after all, the name of the game. When using Savage Roar you will get just that. Savage Roar is the kind of energy drink every serious athlete should be taking before their workout. Why go into the gym unless all cylinders are firing? Get more reps, have a desire to stay longer in the gym, decrease rest between sets, and overall, enjoy your time working out.
Stay Focused and Motivated
There's nothing worse than dragging after a long day at work or school or if you're an early riser that needs something stronger than a cup of coffee for a workout pick-me-up. You're a high performance athlete who requires the raw materials far beyond the average consumer. Savage Roar not only makes coffee look and taste like bottled water, but all other pre-workout supplements available; and it's easy on the stomach which as we all know is vitally important.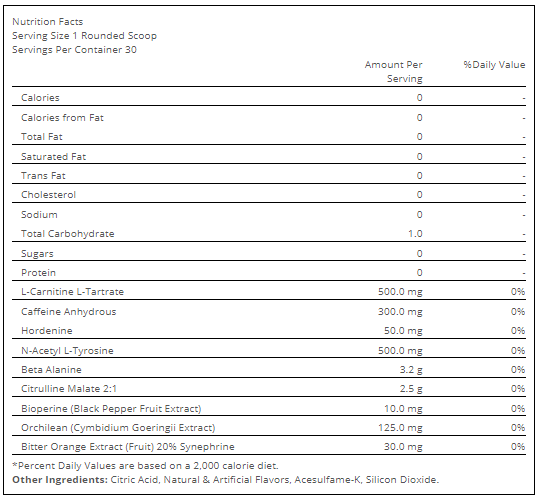 Description
Intimidating Pre-Workout Formula. Zero Artificial Colors, Artificial Dyes, or Proprietary Blends. Untamed Energy. Primal Focus. Shin Ripping Pumps. Unrivaled Flavor.
Directions
Due to extreme potency, as a dietary supplement, take half a scoop 30 minutes before workout. If well tolerated, a full scoop can be taken. Do not exceed one (1) scoop daily.
Warnings
For use by healthy adults only, not recommended for persons under the age of 18. Do not use if you are pregnant or nursing. Do not consume other caffeinated products in conjunction with this product. In case of accidental overdose, seek professional assistance or contact a poison control center immediately. Avoid alcohol and prescription stimulants when taking this product. Exceeding recommended servings will not improve results and may cause serious adverse health effects. Discontinue use and contact a licensed healthcare professional immediately if you experience an unusually rapid heartbeat, dizziness, severe headache, or shortness of breath.
---