Dexter Jackson Micronized Creatine (100 Servings)
Introducing Dexter Jackson's all-new, tested, and proven Micronized Creatine now available at ProteinLab Malaysia!
Throughout, Micronized Creatine Monohydrate has been extensively studied and shown to help support muscle size, strength, and recovery when used consistently over time in conjunction with a healthy, balanced diet and regular weight training. Creatine is one of the supplements with so much upside yet no downside which causes creatine supplementation to be researched time and time again and yet creatine is always been proven to be one of the best supplements in the market. Creatine monohydrate is a popular and effective supplement for adding muscle mass.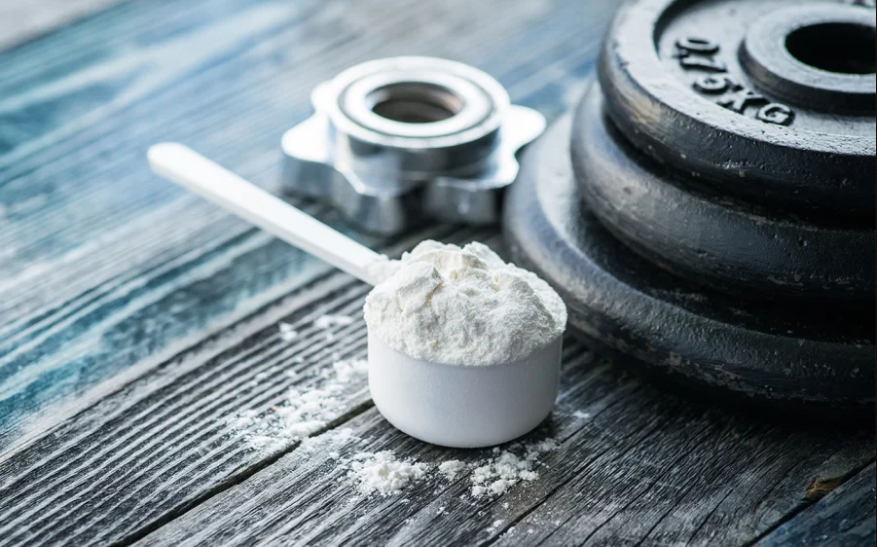 Dexter Jackson 100% Pure Creatine Micronized Supplements can increase both short- and long-term muscle growth. It is the most effective muscle-building supplement available. Supplementing with Dexter Jackson Creatine Micronized will replenish ATP energy, which improves high-intensity exercise performance. Micronized Creatine Monohydrate is not only safe but also one of the world's most popular (Including Malaysia) and effective supplements for building muscle and strength. Dexter Jackson Creatine Monohydrate supplements also increased the quality of the athletes' efforts during the interval workouts, strength, intensity, and brain power.
Dexter Jackson's 100% Pure Micronized Creatine Monohydrate is well known especially for increasing muscular strength and power and improve performances in relatively short-duration, high-intensity activities.
A lot of people Creatine Monohydrate, but our founder @Kevinn.Khoo rank creatine as his number 1 important supplement compared with other supplements.
Why?
Firstly, unlike Proteins, which are overrated, creatine is hard to find in natural food. Thus, this makes creatine supplementation a must, in addition to the extremely cheap price tag which they carry. Furthermore, creatine monohydrate supplementation also helps with cognitive function. As Proteinlab Malaysia Founder, @Kevinn.Khoo mentioned that he always loves any supplement including creatine, omega-3, caffeine, and L-carnitine, which can enhance his brain function as there is multiple obstacles or stumbling block that need to be resolved daily.
Summarization of what Dexter Jackson Pure 100% Micronized Creatine Monohydrate can achieve for you:
1. Helps Muscle Cells Produce More Energy
2. Boosts The Formation Of Proteins That Create New Muscle Fiber.
3. Raise The Level Of IGF-1
4. Improves High-Intensity Exercise Performance
5. Enhance Brain Power And Cognitive Performance
6. Speeds Up Muscle Growth
7. Lower Blood Sugar Levels And Fight Diabetes
8. Reduce Fatigue and Tiredness
Label Direction: Mix about 1 scoop (5grams) of Dexter Jackson of Creatine powder with 8-12 oz. of water, fruit juices, or your favorite beverages. And then shake or stir for 10-30 seconds until the powder is mixed. Consume before, during, or after training.
Proteinlab Malaysia Founder @Kevinn.Khoo on Dexter Jackson Creatine usage direction: Mix 1 scoop (5g) of Dexter Jackson Micronized Creatine Monohydrate powder with water, fruit juice, or whey proteins in the morning when you wake up. On workout day, you can mix another scoop (5g) of creatine with your post-workout protein shake and consume it within 15 minutes after you have done your training.
To sum it up:
Workout day = 10g divided into 5g each for morning and after workout.
Non-Workout day = 5g in the morning upon waking up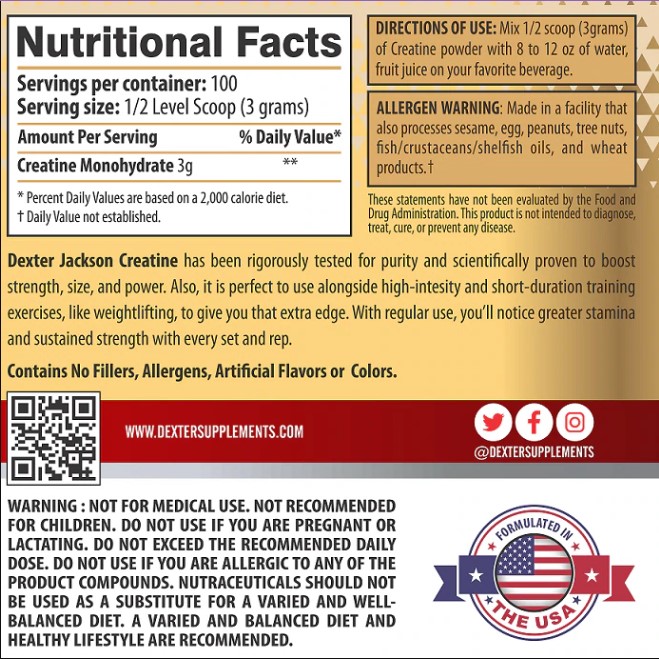 ProteinLab sports nutrition supplements supplier/wholesaler Malaysia presents!
Dexter Jackson Micronized Creatine!
Be safe and rest assured you are getting 100% authentic products at the lowest price when you purchase from ProteinLab Malaysia.
You can also like our Facebook for more promotion news at :
Or you can also follow Instagram for more nutrition tips:
---