(Cheaper Version) Optimum Nutrition Serious Mass 12lbs
ProteinLab sport supplement supplier / wholesaler malaysia presents!
Optimum Nutrition ( ON ) Serious Mass 12LBS!
Be safe and rest assure you are getting 100% authentic products atthe lowest price when you purchase from ProteinLab Malaysia.
You can also like our facebook for more promotion news at :
https://www.facebook.com/ProteinLabMalaysia/
Or you can also follow instagram for more nutrition tip :
https://www.instagram.com/kevinn_fitnessfood/
NOTICE :
THIS PROMOTION IS TO CATER FOR CUSTOMER WHO PREFER TO GET CHEAPER PRODUCT OVER QUALITY!
HIGH-CALORIE WEIGHT GAINER
Serious Mass is the ultimate weight gain formula. With 50 grams of muscle building protein, when used in conjunction with a healthy, balanced diet and regular weight training, this powdered mix provides you with serious weight gaining support for developing your physique to the fullest. To obtain mass, strength and size at a rapid pace. his mass is the ultimate weight gain formula.* With 1,250 calories per serving and 50 grams of protein for muscle recovery, this instantized powder makes a sizable post-workout and between meals shake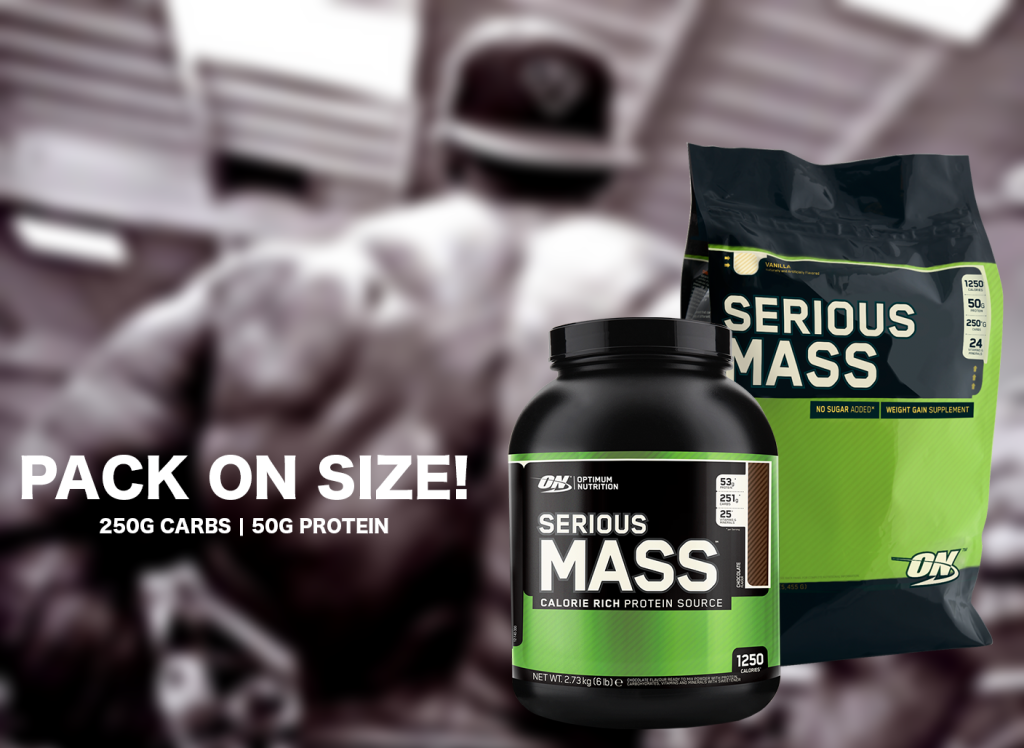 The Main Components of Serious Mass – Optimum Nutrition:
The power of your supplement lies in its formula. Serious Mass is made up with super ingredients. This is the powerful mixture of:
Creatine Monohydrate: This helps in improving your performance in exercise.
L-Glutamine: Thisis the most common amino acid in the body and helps in minimizing breakdown of muscle and improving protein metabolism.
Glutamine Peptides: This component plays a major part in the upkeep of the human musculature and also in body healing. Researches have been done that demonstrate the positive effects of glutamine peptides.
Choline (As Choline Bitartrate): Choline Bitartrate is not produced naturally by the body but is an essential nutrient for the body. It promotes the development of healthy tissues and increases cardiovascularefficiency.
Inositol: Inositol is the most powerful vitamin which has most positive impact on your health. It aids in the effective transportation of fat throughout your body. It also lowers cholesterol levels.
PABA (Para-Aminobenzoic Acid): Para-Aminobenzoic Acid is an antioxidant that is taken as B complex vitamin by some experts. This vitamin is helpful in preventing the buildup of abnormal fibrous tissue. It also assists in theformation of red blood cells in the body.
Maltodextrin: Maltodextrinin known to help maintain anaerobic power during exercise. This is the reason why most of the athletes like it and is the part of most of the sports drinks.
BENEFITS OF SERIOUS MASS:
The super powerful formula of this supplement can offer a vast list of benefits, some of them are:
It builds muscles quickly and effectively.
You can put on quick pounds of mass on your bones
It is enriched with Calories (1250 calories per serving) with 50 grams of protein like WOW!
It is made with such consistency that it is very easy to mix and consume. You just need to blend it for 45-60 seconds
It can also be used as meal replacement in case of emergencies
It tastes good as it is available in various flavors. You can order one of your choice now!
It gives you increased energy for exercise
Serious Mass is the best value for your money


ARE THERE ANY SIDE EFFECTS?
Not every product comes without side effects. But these are not side effects actually, you just have to be careful about these things when using Serious Mass:
Serious Mass can be a blow in the stomach if you try to drink it too fast.
It can be hard to digest whole of it initially since your system is not used to it which can lead to some gas problems.
The scoop which comes with Serious Mass is quite large. So you may use a small one.

When Is The Best Time To Enjoy My Shake?
Simply mix up 2 scoops with milk or water in your ON shaker and enjoy between meals, post-workout and/or before bed.
No surprise that customers voted Serious Mass 'Weight Gainer of the Year' at the recent Bodybuilding.com Awards!
Taste:
Unlike other supplements, Serious Mass has a very pleasant taste. It is available in various flavors. You can choose the flavor according to your choice. The Chocolate flavor is the most liked flavor among all according to serious mass reviews.
Effectiveness:
When it comes to effectiveness, serious mass is very effective since it comes with loads of proteins in it. It also contains the moderate amount of fat which mostly comes from medium chain triglycerides. Furthermore, it also contains carbohydrates. With its exhilarating 1250 calories, you can expect a lot from it. So overall it is a mixed and balanced supplement with great effectiveness.
Suitable for vegetarians.
---