Scitec Nutrition Carnitine 3000 12x60ml
ProteinLab sport supplement supplier / wholesaler malaysia presents!
Scitec Nutrition Carnitine 3000 12x60ml!

Be safe and rest assure you are getting 100% authentic products at the lowest price when you purchase from ProteinLab Malaysia.
You can also like our Facebook for more promotion news at :
Or you can also follow instagram for more nutrition tip :
Increases body fat utilization for energy
Improve metabolism and promotes weight loss
Enhances energy and improves athletic performance
The product combines L-carnitine and a vitamin-like compound choline. This convenient and tasty shot will support your energy levels and help improve metabolism supporting weight loss.

L-Carnitine 3000 mg provides 3 g of L-carnitine per serving in the convenient liquid form. The added choline is a water-soluble vitamin-like essential nutrient. It plays a similar role like B vitamins in terms of supporting energy and brain function, as well as keeping the metabolism active. The refreshing taste liquid is fast acting and highly bioavailable, delivering nutrients exactly after consumption. In addition, the single serving per bottle packaging makes it a very convenient and precise dosing of these beneficial nutrients.
Directions
Take 1 bottle (60 ml) a day, 30 minutes before training and/or between meals on an empty stomach. Shake well before use!
ADVISORY INFORMATION:
Store in a cool dry place. Do not exceed the recommended daily dosage. Do not use as a substitute for a varied and balanced diet. Keep out of reach of young children.
Although we make every effort to ensure product information is up to date, please always read labels, warnings, and directions provided with the product. If in doubt, please contact us or check manufacturer web page for more information on product.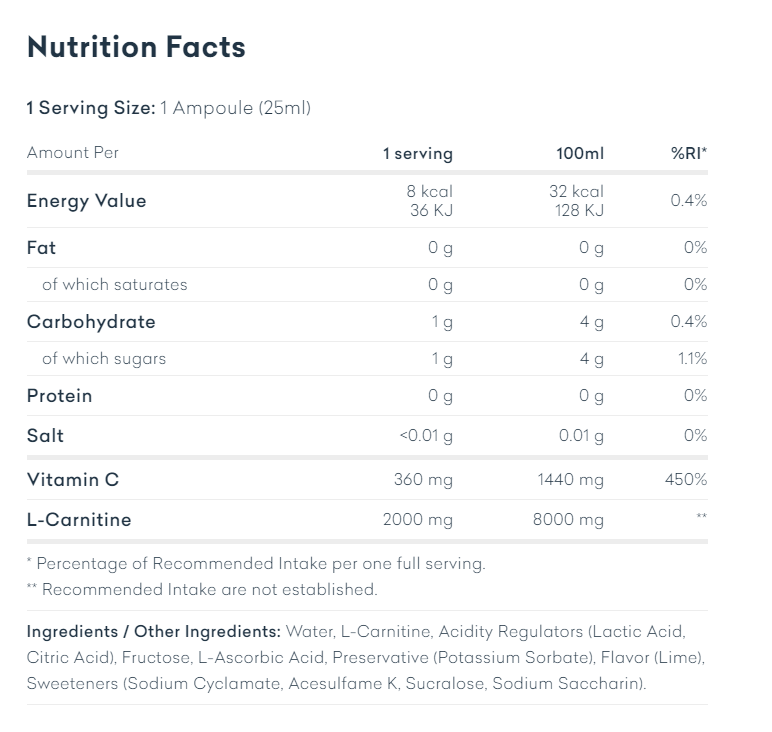 ---