BSN No Xplode 60 Servings + F2 Full Force Nutrition L-Glutamine 450g
ProteinLab sport supplement supplier / wholesaler malaysia presents!
F2 Full Force Nutrition L-Glutamine 450g!
Be safe and rest assure you are getting 100% authentic products at the lowest price when you purchase from ProteinLab Malaysia.
You can also like our Facebook for more promotion news at :
Or you can also follow instagram for more nutrition tip :
The Original Pre-Workout Igniter Just Got Better.
275mg of caffeine, 1.8g of Beta-Alanine, and extreme focus.* Get ready to slam plates longer and workout harder. BSN® has re-ignited N.O.-XPLODE®, the first complete pre-workout that launched in 2004 and has been helping athletes break through barriers ever since. Now with more energy, more feel, more focus, and amazing taste.* The weights won't know what hit them.
If you're ready to PUSH harder and longer than before, N.O.-XPLODE® will help take your workouts to new levels.
How Will N.O.-XPLODE® enhance my workout?
To achieve the most effective training session, both mental and physical energy are a must. Focus is then needed to harness this energy and drive a strong mind-muscle connection. This mind-muscle connection will help you achieve a greater workout and help push your body past previous limits. At BSN®, we know that a pre-workout supplement should support all of these benefits. We designed N.O.-XPLODE®, our complete pre-workout igniter, to help deliver increased energy and endurance, support mental focus and muscular strength, and provide second-to-none intensity to help athletes of all levels maximize workout performance.*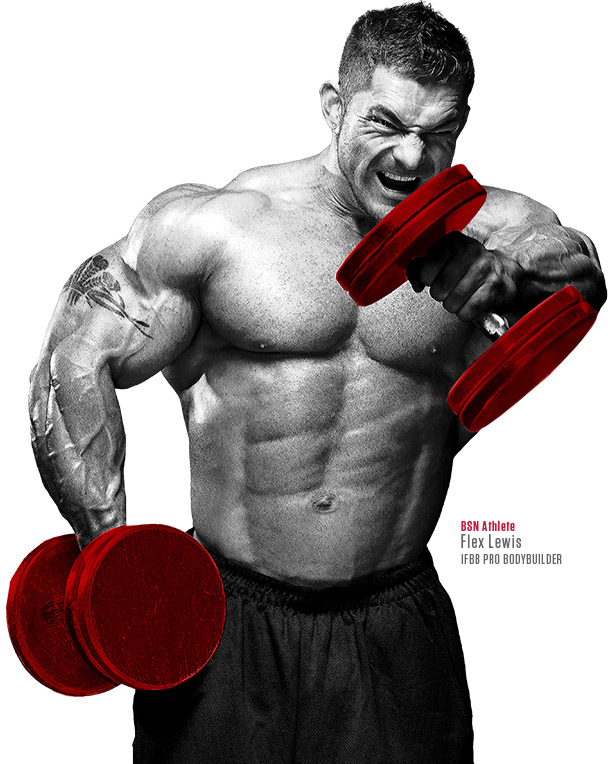 Advanced Ingredient Technology
BSN® has enhanced N.O.-XPLODE® to provide the formula you need to take your workout to new levels.*
Explosive Energy*
Now with 275mg of caffeine, N.O.-XPLODE® will give you the energy and focus needed to help maximize every minute of your workout. BSN® has enhanced the Thermic Energy blend so you can push your workout intensity to new levels.*
Enhanced Endurance*
Whether you're in slammin' weights in the gym or killin' it on the field, the Endura Shot blend, now with 1.8g of Beta-Alanine, will help you go longer and harder than ever before.*
Maximum Performance*
Muscular strength, power and endurance are supported by creatine in the body.
The innovative ingredient technology of our Myogenic Matrix, featuring an advanced creatine blend, helps every athlete reach their goal of maximizing performance.*
Our Best Tasting N.O.-XPLODE® Ever
Effective product AND amazing taste? That's BSN®. You can try N.O.-XPLODE® in 5 delicious flavors: Fruit Punch, Blue Raz, Watermelon, Grape and Green Apple.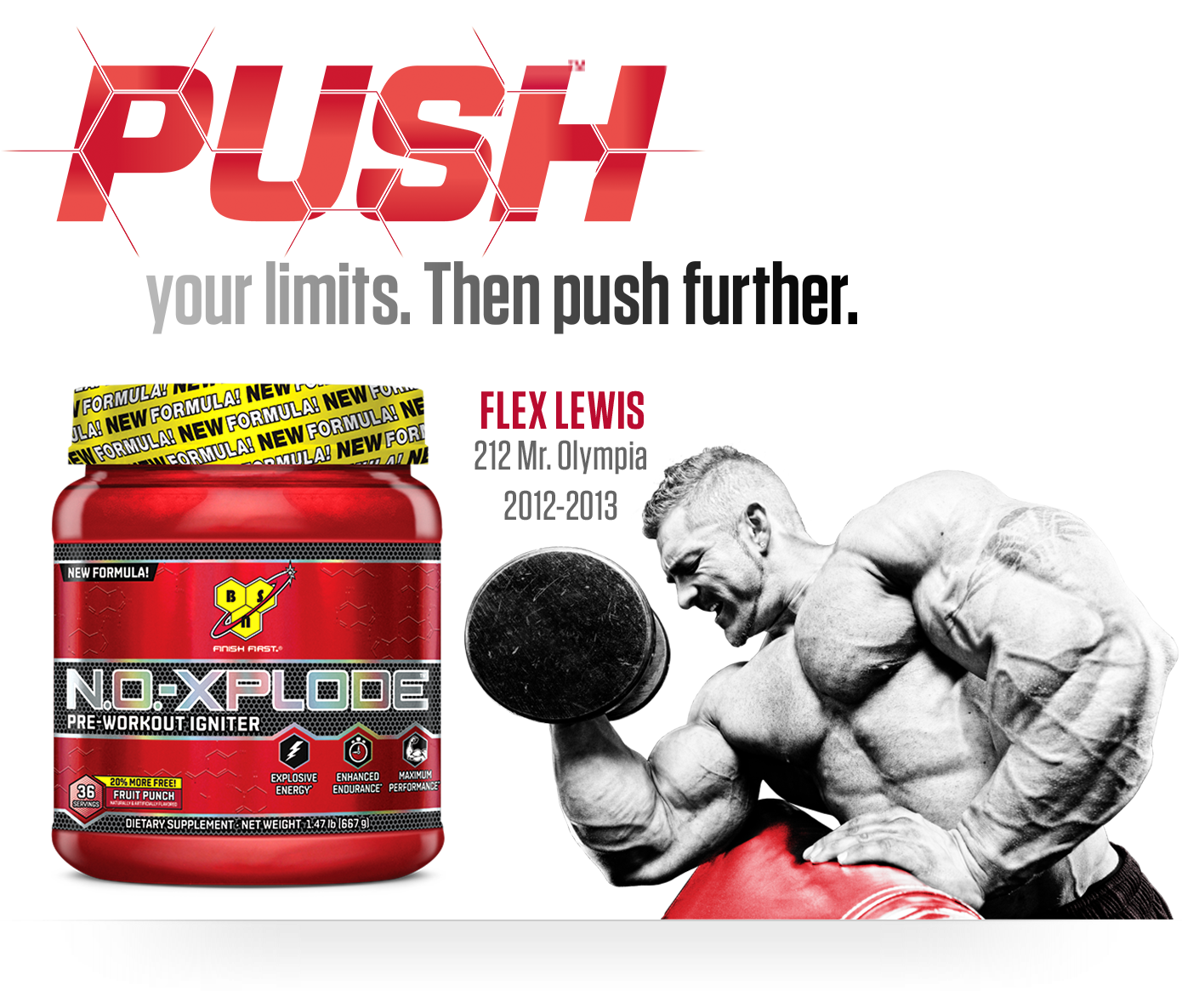 Caffeine : Enough dose to give you extra performance and focus during workout

Beta alanine : Key ingredient that linked to endurance.

Taurine : This will help reduce the jitteriness and lack of focus that can accompany a big hit of caffeine, plus it may draw water into cells to help reduce muscle cramps and improve anabolism.

Tyrosine : This may also help with focus and have anti-stress effects.

Creatine : This is linked to improved power output.

Magnesium : Combining magnesium with caffeine may help with mental clarity.

Electrolytes : There's a solid dose of sodium and potassium, which might help with hydration and muscle cramps
Quality & Safety
Quality and safety is the cornerstone on which all BSN® products are formulated and manufactured. Our stringent ingredient and manufacturing requirements are best in class. From the raw materials we select, to our state-of-the-art manufacturing facilities, this unrelenting commitment to superior quality ensures the safety and potency of every product we produce.
Directions For N.O.-Xplode: Mix 1 scoop with 4-6 fl oz of cold water and consume 20-30 minutes before training. DO NOT SHAKE. STIR POWDER.
Warnings: CONSULT YOUR PHYSICIAN BEFORE USING THIS PRODUCT IF YOU ARE TAKING ANY MEDICATIONS OR ARE UNDER A PHYSICIAN'S CARE FOR A MEDICAL CONDITION. NOT FOR USE BY THOSE UNDER THE AGE OF 18, WOMEN THAT ARE PREGNANT, TRYING TO GET PREGNANT, OR NURSING, OR THOSE THAT ARE SENSITIVE TO BETA-ALANINE, CAFFEINE OR NIACIN. DO NOT CONSUME CAFFEINE FROM OTHER SOURCES WHILE TAKING THIS PRODUCT AS TOO MUCH CAFFEINE MAY CAUSE NERVOUSNESS, IRRITABILITY, SLEEPLESSNESS, AND OCCASIONALLY RAPID HEARTBEAT. BETA-ALANINE AND NIACIN MAY CAUSE A HARMLESS, TEMPORARY TINGLING OR FLUSHING SENSATION. Do not combine with alcohol. Do not exceed 2 scoops within any 24 hour period, consumed at least 4 hours apart. Consume as part of a healthy diet and exercise program, and drink at least 100 fl oz of water per day. Exercise may increase your need for additional fluid intake. Keep out of reach of children. Store in a cool, dry place away from direct sunlight. PHENYLKETONURICS: CONTAINS PHENYLALANINE.

L-GLUTAMINE
PURE L-GLUTAMINE AMINO ACID
Glutamine is the most abundant amino acid in the human blood. Glutamine may become conditionally essential in certain situations, including intensive physical training, when the body cannot meet its needs by synthesizing glutamine. This conditionally essential amino acid can be provided by dietary protein intake, including by food supplements.


Directions: Take 1 serving (5 grams) a day. Use mainly before/ during and after training, and also before going to bed. Glutamine may be combined with carbohydrate containing drinks.

Allergen info: Manufactured in a facility that processes milk, egg, gluten, soy, peanuts, nuts, celery, fish and crustacean ingredients.

Warnings: KEEP OUT OF REACH OF CHILDREN! Don't exceed the recommended daily dosage. Use this product in conjunction with food as part of a healthy, balanced diet, not as a substitute for such.

---