Galvanize T-Max 100 Capsules
ProteinLab sports supplement supplier/wholesaler Malaysia presents!
Galvanize T-Max 100 Capsules!
Be safe and rest assured you are getting 100% authentic products at the lowest price when you purchase from ProteinLab Malaysia.
You can also like our Facebook for more promotion news at :
Or you can also follow Instagram for more nutrition tip :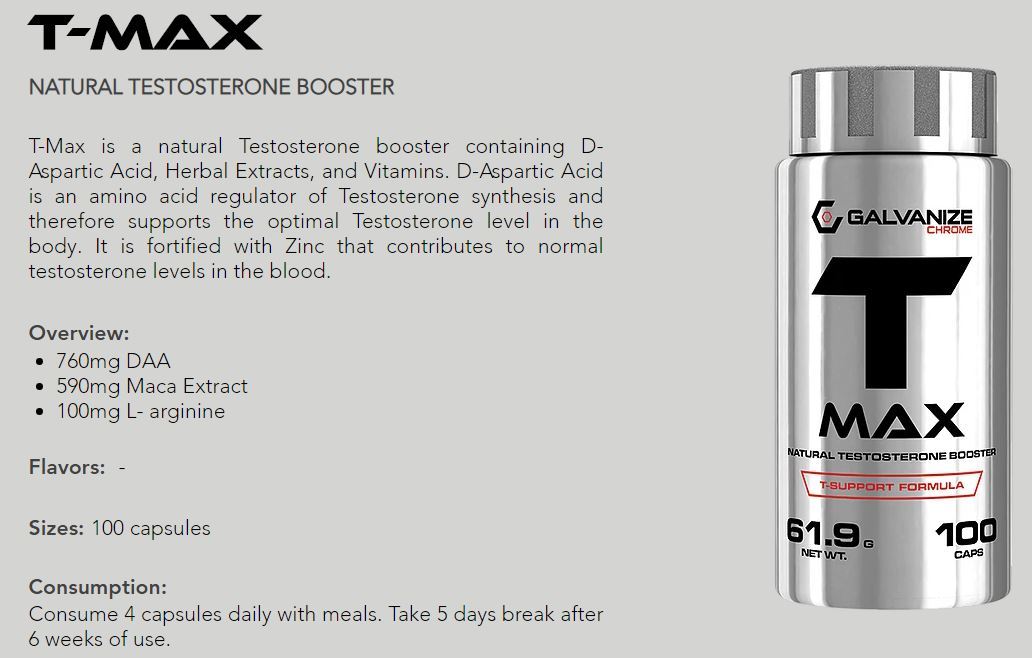 T-Max
Natural Testosterone Booster
T-Max is a natural Testosterone booster containing D-Aspartic Acid, Herbal Extracts & Vitamins. D-Aspartic Acid is an amino acid regulator of Testosterone synthesis & therefore the optimal Testosterone level in the body. It is fortified with Zinc that contributes to normal testosterone levels in the blood.
Overview:
-760mg DAA
-590mg Maca Extract
-100mg L-Arginine
No Flavours
Sizes:
100 Capsules
Consumption:
Consume 4 capsules daily with meals. Take 5 days to break after 6 weeks of use.
Ingredients:
D-Aspartic Acid, Lepidium Meyenii (Root) 10:1 extract, Bovine Gelatin (as Capsule Shell), Magnesium Oxide, Serenoa Repens (Fruit) 4:1 extract, L-Arginine, L-Ascorbic Acid, Ginkgo Biloba (Leaf) 50:1 extract, Vitis Vinifera (Seed) 120:1 extract, Anit-Caking Agent (Silicon Dioxide), Panax Ginseng (Root) 4:1 extract, Trigonella Foenum-Graecum (Seed) 4:1 extract, Color (Titanium Dioxide), DL-Alpha-Tocopheryl Acetate, Zinc Oxide.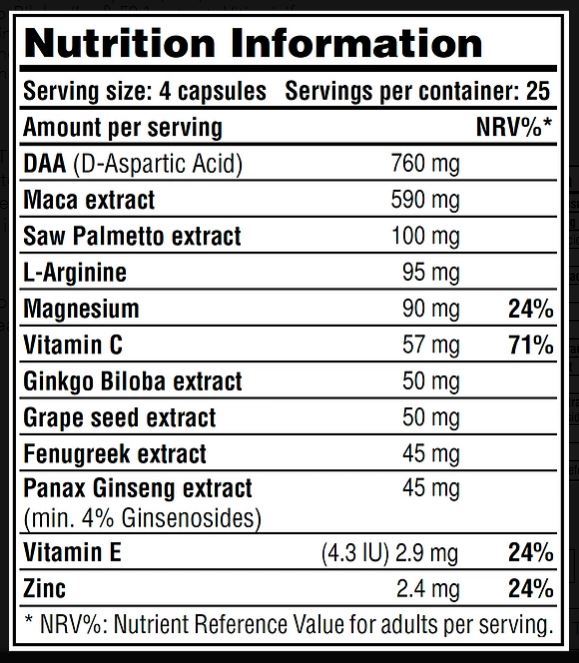 Here are some of the Key Ingredients that make T-Max special: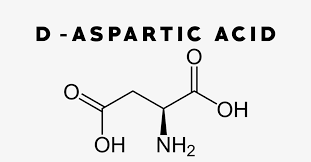 DAA (D-Aspartic Acid)
D-aspartic acid (DAA) is an amino acid that exists in central nervous and reproductive tissues. Animal & human research suggest that DAA functions in the development of the nervous system as well as hormonal regulation
Maca Extract
Maca Extract has a reputation as an aid for sex and reproductive issues. Some people believe it can rev up sex drive in men and women, boost sperm count, improve erections, and ease menopausal symptoms. The fact is that those claims are backed by some scientific evidence.
Here are some other uses of Maca: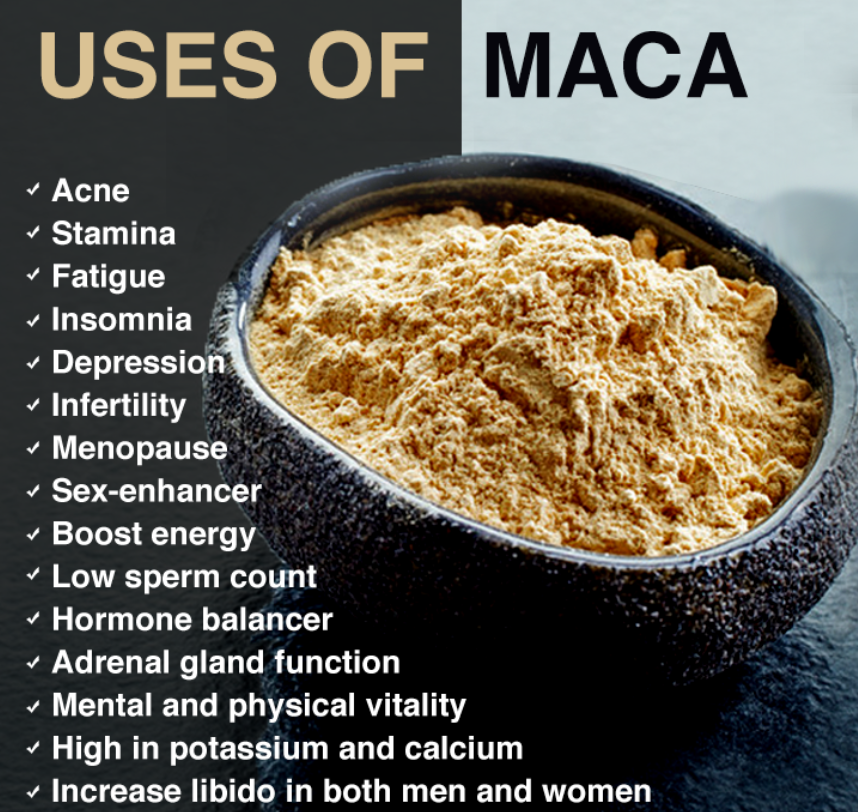 Saw Palmetto Extract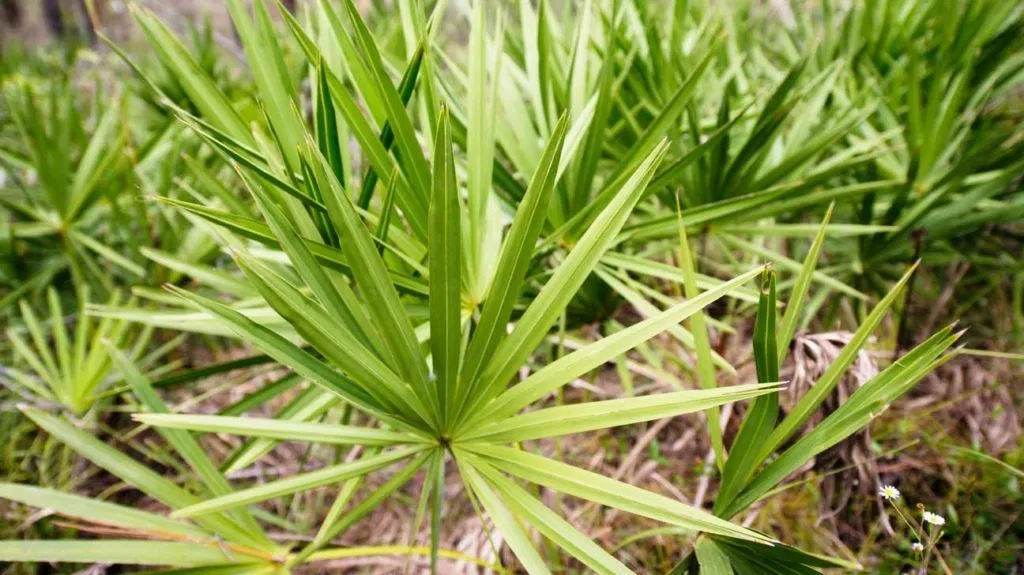 Saw palmetto is a species of palm used to produce a supplement that's packed with health benefits. Promising research shows that saw palmetto may help increase testosterone levels, improve prostate health, reduce inflammation, prevent hair loss, and enhance urinary tract function.
L-Arginine


L-arginine is a chemical building block called "an amino acid." It is obtained from the diet and is necessary for the body to make proteins. L-arginine is found in red meat, poultry, fish, and dairy products. It can also be made in a laboratory and used as medicine.

L-arginine is used for chest pain (angina), narrowing of blood vessels that causes poor blood flow to the limbs (peripheral arterial disease), high blood pressure, erectile dysfunction (ED), a pregnancy complication marked by high blood pressure and protein in the urine (pre-eclampsia), high blood pressure during pregnancy, and a serious intestinal disease in premature infants (necrotizing enterocolitis or NEC). It is also used for many other conditions, but there is no good scientific evidence to support these other uses.
Ginkgo Biloba Extract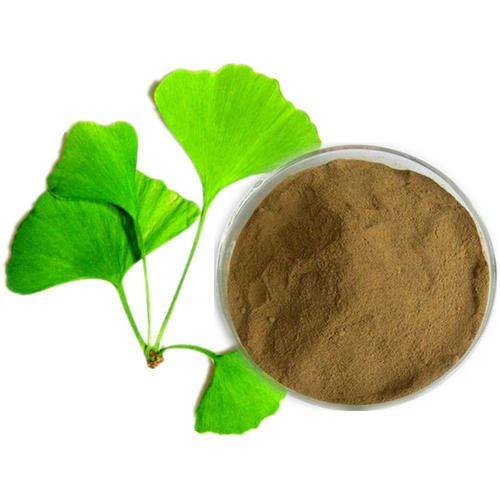 Gingko Biloba is a top-selling supplement containing an extract that comes from a tree. It may help with cognitive function. Traditional uses include soothing bladder infection and increasing sexual energy. People who use some types of antidepressants should not use this supplement.

Ginkgo biloba is a herb used to treat altitude sickness (prevention), cerebral vascular insufficiency, cognitive disorders, dementia, dizziness/vertigo, intermittent claudication, macular degeneration/glaucoma, memory loss, premenstrual syndrome, SSRI-induced sexual dysfunction, and as a vasodilator.
Some of Gingko Biloba's benefits are:
Contains Powerful Antioxidants
Can Help Fight Inflammation
Improves Circulation and Heart Health
Improves Brain Function and Well-Being
Can Reduce Anxiety
Can Support Vision and Eye Health
Can Treat Headaches and Migraines
Treats Sexual Dysfunction
Grape Seed Extract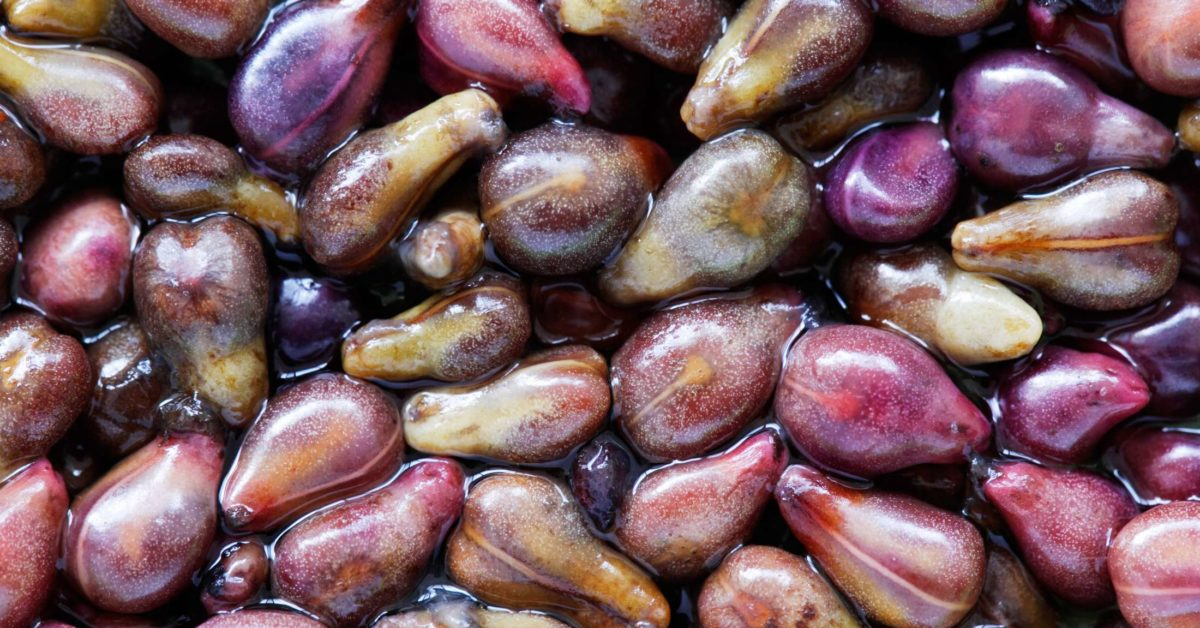 Grapes, along with their leaves and sap, have been traditional treatments in Europe for thousands of years. The grape seed extract is derived from the ground-up seeds of red wine grapes. Although fairly new to the U.S., grape seed extract is now used to treat a number of diseases.

Why do people take grape seed extract?
There is evidence that grape seed extract is beneficial for a number of cardiovascular conditions. Grape seed extract may help with a type of poor circulation (chronic venous insufficiency) and high cholesterol. Grape seed extract also reduces swelling caused by injury and helps with eye disease related to diabetes.

Many people are interested in grape seed extract because it contains antioxidants. These are substances that protect cells from damage and may help prevent many diseases. However, it's still too early to say whether the antioxidant properties of grape seed extract really benefit people. Researchers are studying grape seed extract to see if it might lower the risks of some cancers.
Fenugreek Extract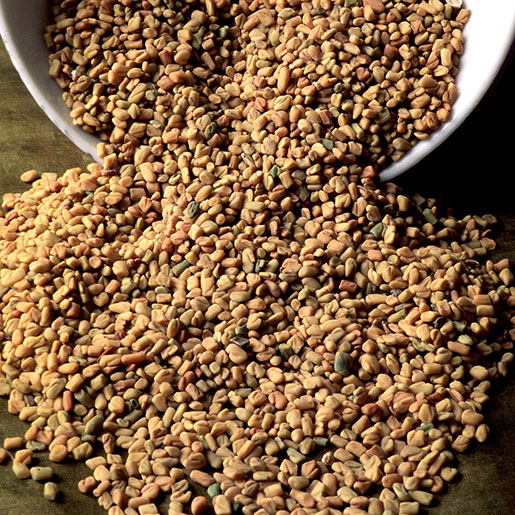 Fenugreek is an annual plant in the family Fabaceae, with leaves consisting of three small obovate to oblong leaflets. It is cultivated worldwide as a semiarid crop. Its seeds and leaves are common ingredients in dishes from the Indian subcontinent.

Fenugreek is taken by mouth for digestive problems such as loss of appetite, upset stomach, constipation, inflammation of the stomach (gastritis). Fenugreek is also used for diabetes, painful menstruation, polycystic ovary syndrome, and obesity
Panax Ginseng Extract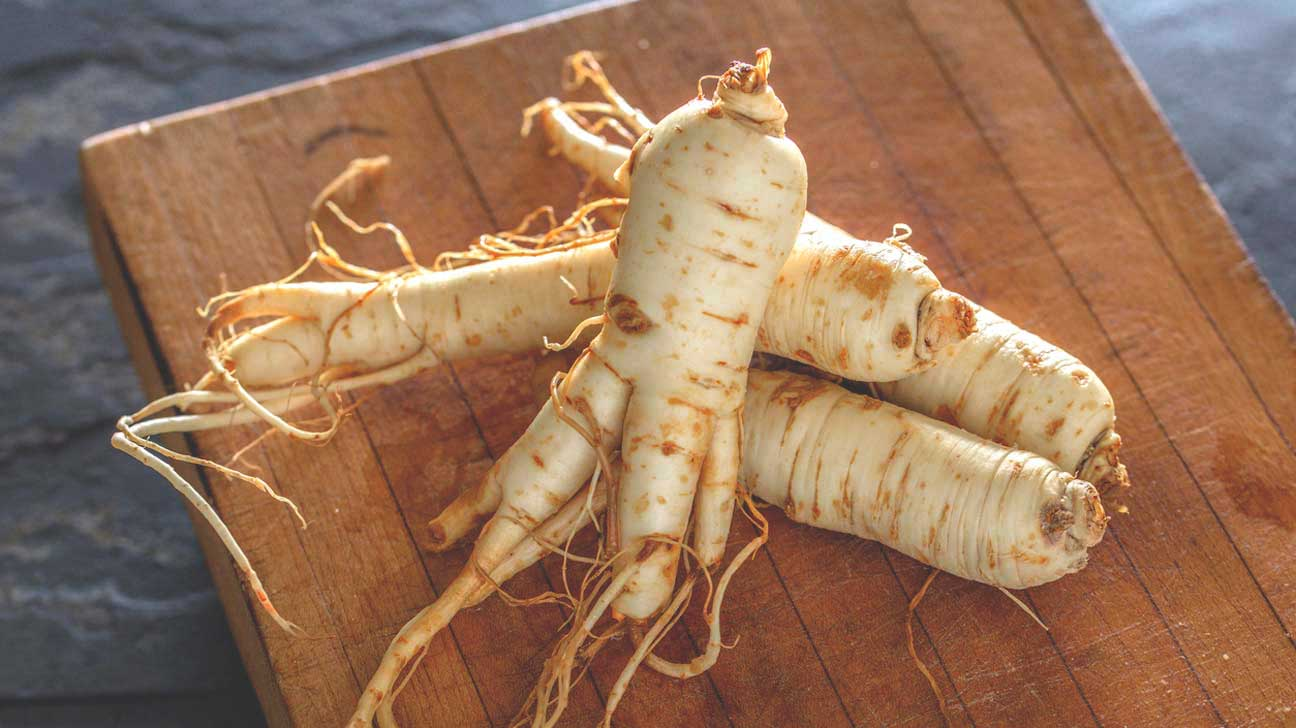 Panax ginseng is a plant that grows in Korea, northeastern China, and far eastern Siberia. People use the root to make medicine. Do not confuse Panax ginseng with American ginseng, Siberian ginseng, or Panax pseudoginseng. These are different plants with different activity.

Panax ginseng is taken by mouth to improve memory and thinking skills, Alzheimer disease, and many other conditions.
Some early research suggests that Panax ginseng might improve quality of life and fatigue, insomnia, and depression. Panax ginseng also seems to reduce cholesterol levels.


---