KEVIN LEVRONE LEVRO WHEY SUPREME PROTEIN 2270g
ProteinLab sport supplement supplier / wholesaler malaysia presents!
KEVIN LEVRONE LEVRO WHEY SUPREME PROTEIN 2270g!
Be safe and rest assure you are getting 100% authentic products at the lowest price when you purchase from ProteinLab Malaysia.
You can also like our facebook for more promotion news at :
Or you can also follow instagram for more nutrition tip :


Protein Supplement
New product
Levro Whey Supreme is a powdered supplement to prepare a delicious drink protein derived from high quality whey protein concentrate, recommended as a supplement to your daily diet with complete protein every human being, especially for physically active people to support the training of professionals and amateurs.
Every 30 g portion delivers 23 g* of proteins, which contribute to the growth and maintenance of muscle mass while strengthening bones – this makes it one of the most important nutrients, in particular for everyone doing long-term strength and/or endurance training. Additionally every portion delivers 5 g of BCAA and 4 g of L-glutamine, which are highly valued and desired amino acids in the diet of hard training athletes. Developed by one of the sport's most iconic and legendary athlete's, Kevin Levrone,
LevroWheySupreme is the optimal choice for those who partake in high-intensity exercise regimens. Ideal for Serious Athletes and Everyday Health Conscious people alike!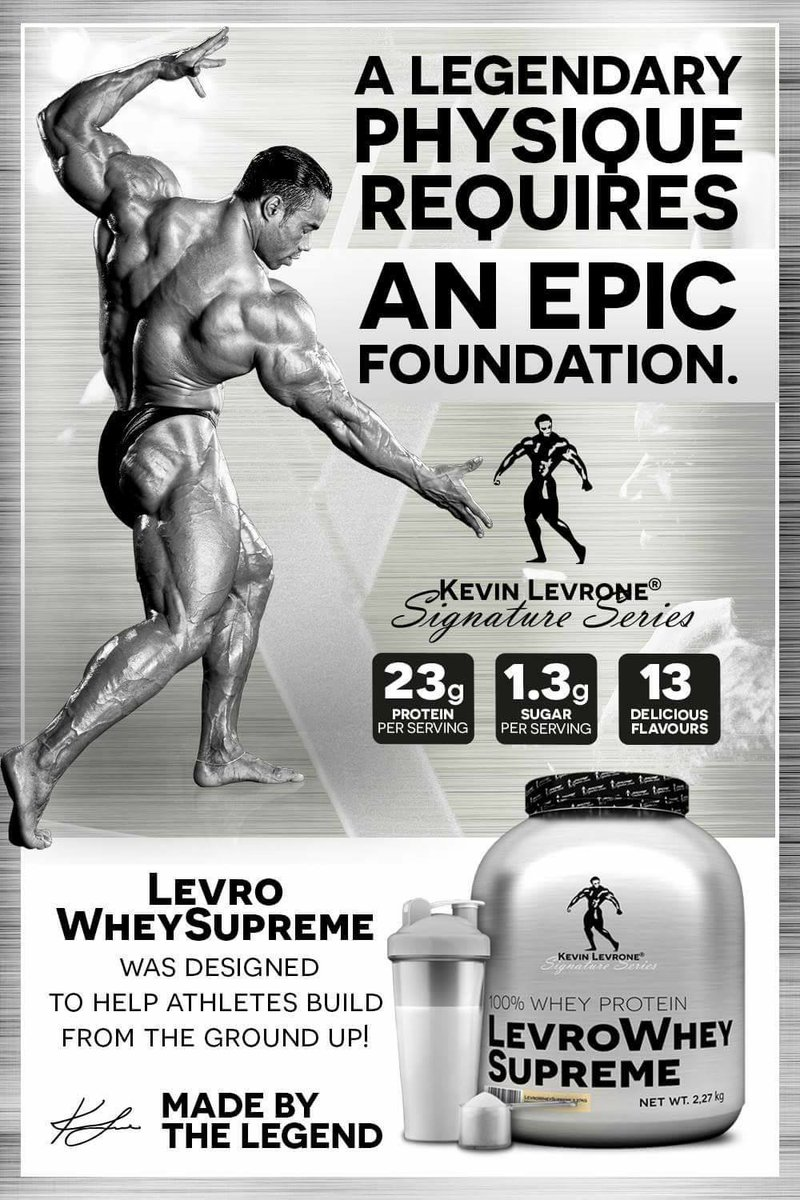 An increase in lean body mass
Tasty, easily mixed
Promotes regeneration
Levro Whey Supreme is a great supplement for building muscle mass for each athlete. Powerful structures begins with putting a solid foundation, so is the case with the body.
Take care of good quality foundation diet. Reach for the whey protein concentrate Levro Whey Supreme!
Levro Whey Supreme - Supplement facts
Serving Size 30g
Servings Per Container 76
Packaging 2270g
The contents of one portion incl:
Energy value: 119 kcal
Fat 2.2 g - Of which saturated 1.6 g
Carbohydrates 1.3 g - Which sugars 1.1 g
Dietary fiber 0.1 g
Protein 23.5 g
Salt 0.12 g
Ingredients:
Whey protein concentrate (from milk), flavors, thickener (carboxymethyl cellulose), anti-caking agent (silicon dioxide), sweeteners (sucralose).
Nutritional and weight may differ from each other because of the flavors.
Supplement use:
Mix 1 scoop of powder (30 g) in 300 ml of water or milk. Drink before your workout or immediately after training.
Notes: Contains sweetener. Do not consume if you are allergic to any component of the product. It contains components of milk. Do not exceed the recommended daily servings for consumption of the product. Food supplements should not be used as a replacement for a varied diet. A balanced diet and a healthy lifestyle. The product should not be consumed by pregnant women and nursing mothers.
Keep out of reach of children, at room temperature in a closed container in a dry place.
Keep out of direct sunlight.
---