Optimum Nutrition (ON) Micronized Creatine Powder 300G
𝐏𝐫𝐨𝐭𝐞𝐢𝐧𝐋𝐚𝐛 𝐬𝐩𝐨𝐫𝐭𝐬 𝐬𝐮𝐩𝐩𝐥𝐞𝐦𝐞𝐧𝐭 𝐬𝐮𝐩𝐩𝐥𝐢𝐞𝐫/𝐰𝐡𝐨𝐥𝐞𝐬𝐚𝐥𝐞𝐫 𝐌𝐚𝐥𝐚𝐲𝐬𝐢𝐚 𝐩𝐫𝐞𝐬𝐞𝐧𝐭𝐬!
Optimum Nutrition (ON) Micronized Creatine Powder 300G!
Be safe and rest assured you are getting 100% authentic products at the lowest price when you purchase from ProteinLab Malaysia.
You can also like our Facebook for more promotion news at :
Or you can also follow Instagram for more nutrition tips:
Optimum Nutrition Creatine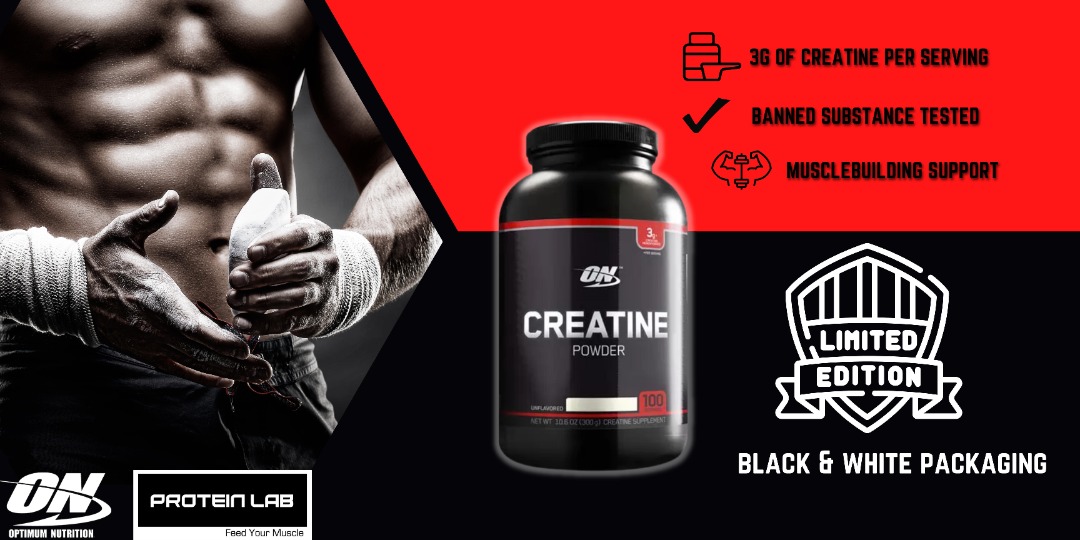 THE BIGGER PICTURE OF CREATINE
Highly researched and well absorbed, creatine monohydrate has been shown to significantly boost muscle strength, power, and size during high-intensity activities. Optimum Nutrition Micronized Creatine Powder Limited Edition Packing is made with Creapure™ and is now in Proteinlab Malaysia, a creatine monohydrate known for its exceptional purity and potency. It's also micronized (to make the particles smaller), so our powder mixes easier and stays suspended in liquid longer than other creatine supplements.
OPTIMUM NUTRITION TRUE STRENGTH
True Strength is a journey. It never rests, it never quits. It's about overcoming obstacles, accomplishing goals, and recognizing achievements. And then it resets to achieve again. As your trusted sports nutrition partner in goal achievement, ON demonstrates that same passion while crafting our products. From the raw materials, we source to our state-of-the-art manufacturing processes, no compromises are made. You set the bar higher after every workout, we set the bar higher to redefine the industry standards and ensure you realize optimum results.
QUALITY
An extensively studied sports nutrition ingredient, creatine monohydrate has been shown to support muscle size and strength gains. ON's creatine powder has been micronized to stay in solution longer than non-micronized powders, and because it's unflavored you can stack one rounded teaspoon into your post-workout protein shake or mix the powder into the flavored beverage of your choice.
CONSISTENCY
Optimum Nutrition has been spotting the efforts of goal-driven individuals since 1986. As one of the few companies to operate state-of-the-art manufacturing facilities that are GMP compliant, ON assures that every shake will mix up effortlessly because of its first-to-market instantiation process. You also expect each shake to taste the same as the last and you're next. That's the kind of consistency ON delivers.
Optimum Nutrition 100% *CREATINE MONOHYDRATE*
- 3 Grams of Creatine Monohydrate per Rounded Teaspoon Serving
- 99.9% Pure Creapure® Brand Creatine
- Zero Added Sugar
- Zero Calories
Benefits: Creatine Monohydrate
- Increase Muscle mass, strength, and exercise performance
- Help lower blood sugar and improve brain function
- Increase workout intensity
- Improved cell signaling
- Raised anabolic hormones
- Increase cell hydration
- Reduced protein breakdown
Directions For Micronized Creatine Powder:
Add 1/2 rounded teaspoon of Micronized Creatine Powder to a glass filled with 8-12 oz of cold water or fruit juice. Then mix it up with a spoon. TIP: Power-up protein, meal-replacement, and weight-gainer shake with a rounded teaspoon of Micronized Creatine Powder. Take 1/2 rounded teaspoon of Micronized Creatine Powder with morning, afternoon, and evening meals and 1/2 additional rounded teaspoon before going to bed for 4-5 days. CREATINE MAINTENANCE: Take 1 rounded teaspoon with a meal or immediately after training with your post-workout protein shake. TIPS: Drink at least 8 glasses of water daily when supplementing with creatine. Consuming simple carbohydrates with creatine may help improve overall effectiveness.

Warnings:
Consult your physician before using this product if you are taking any medications or are under a physician's care for a medical condition. Not for use by those under the age of 18 or women that are pregnant, trying to get pregnant, or nursing. Store in a cool, dry place. Contents are sold by weight not volume.
*These statements have not been evaluated by the Food and Drug Administration. This product is not intended to diagnose, treat, cure, or prevent any disease.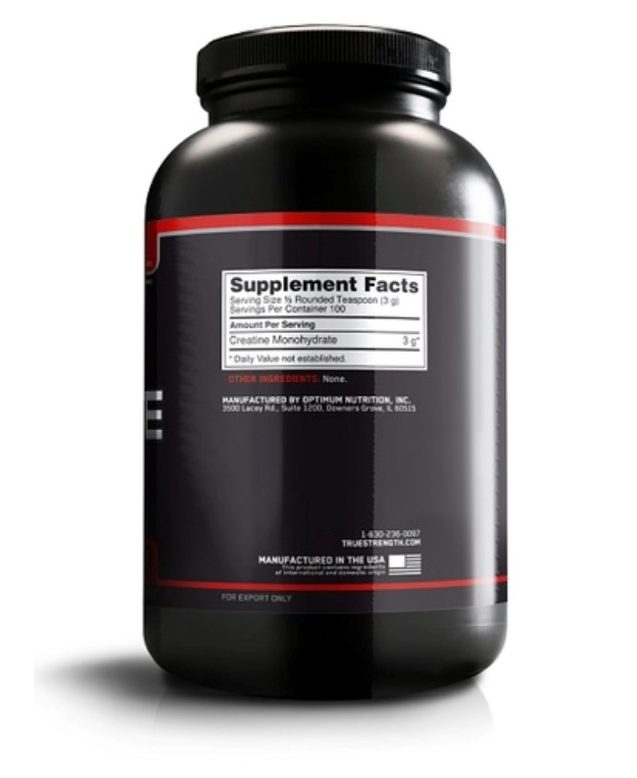 Warning: KEEP OUT OF REACH OF CHILDREN. CHECK WITH A QUALIFIED HEALTHCARE PROFESSIONAL BEFORE USING THIS PRODUCT IF YOU ARE UNDER 18 YEARS OF AGE, PREGNANT OR NURSING A BABY, OR IF YOU HAVE ANY KNOWN OR SUSPECTED MEDICAL CONDITION(S) AND/OR ARE TAKING ANY PRESCRIPTION OR OTC MEDICATION(S).STORE IN A COOL, DRY PLACE. CONTENTS ARE SOLD BY WEIGHT NOT VOLUME.
---